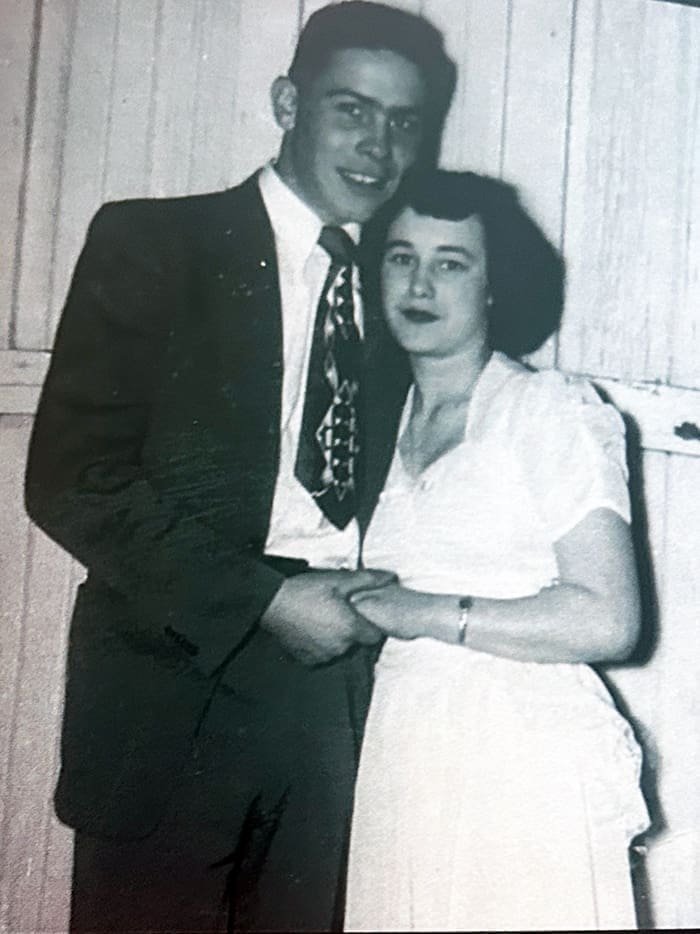 ---
By: Amy Wendt
THE VILLAGE REPORTER
If you ever attended the "Golden Wedding Anniversary Party" at the Fulton County Fair, you may recall Bill and Mona Schmitz among the couples with the longest marriage.
On June 21st, they celebrated an extraordinary 71 years together as husband and wife.
Both from the small unincorporated community of Assumption, Bill and Mona have known each other nearly their entire lives.
The two first met when Bill was in the first grade and Mona was in kindergarten at St. Mary's School (now known as Holy Trinity.)
---
In those days, the small parochial school housed multiple grades in one room so despite Bill being one grade older than Mona, they were often in the same homeroom during school hours.
Coupled with the fact that Bill was friends with Mona's brothers, the two were together quite often.
As the children transitioned to teenagers, they both moved on to finish their high school education at Metamora High School.
---
Bill and Mona went on their first date when Mona was a Sophomore and Bill was a Junior.
Eventually, the two decided to marry.  Bill elaborated, "(We) just kind of fell in love and it kept getting better and better and better."  "It just happened," Mona agreed.
On June 21, 1952, Bill, the son of Leo and Veronica Schmitz, took Ramona Simon, the daughter of Wilfred and Laura Simon, to be his wife.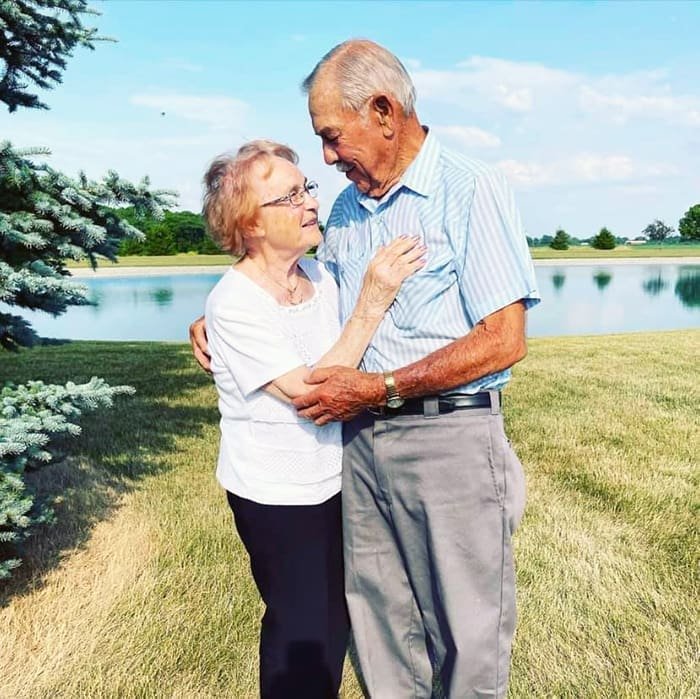 ---
The two were married at the same church they grew up in, St. Mary's Catholic Church in Assumption, and Father J. Fridolin Frommherz officiated the union.
Once married, the young couple moved to a property west of Metamora where they welcomed their firstborn son, Gary.
After over a year of living in Metamora, they relocated to a farm near Blissfield, MI where their son, Steve joined the family.
The Schmitz family then moved back to Ohio, this time near Liberty Center, and their next four children were born.
In 1957 Bill and Mona decided to move closer to where their story began and they established new roots on Ohio Highway 120 outside of Lyons where they would eventually have two more children.
They settled into the century-old farmhouse that stood on the property and raised their growing family.  In 1972 the Schmitzes built a house on the east side of the property where they live today.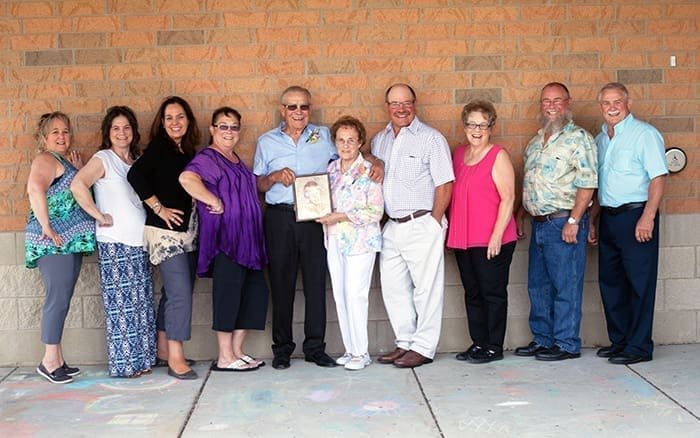 ---
A farmer, Bill continued to work diligently at the vocation that he loved once at their new home.  His journey in agriculture began at the age of 16 when he tended his first tomato field using a team of horses.
Over time, he expanded his farming pursuits, cultivating sugar beets, grains, cattle, hogs, and chickens.  He was also recognized with awards for being the top tomato producer on three separate occasions.
As the Schmitz family and farming operation grew, so did their water need and Bill tried his hand at digging a pond on their property.
Shortly thereafter, he began helping neighboring farmers dig ponds and eventually expanded his excavating business to service locations beyond the borders of Fulton County.
---
Bill taught his sons various aspects of agriculture and as young boys, they all worked on the family farm.
When they weren't working for their father, the boys were helping out neighboring farmers by cleaning barns and hauling manure.
Naturally, the kids wanted to participate in 4-H, however, at that time there were no clubs in the Lyons area so the Schmitz children joined a club across the state line in Michigan.
In a busy household of ten, there was undoubtedly a long list of tasks to keep everything in order, and Mona dedicated herself to nurturing their large family at home.
Along with managing a farm, the family tended to a vegetable garden resulting in plenty of canning during the summer months.
Mona enjoyed sewing and crafted numerous pieces of clothing for her children over the years. As her kids transitioned into adulthood and married, she played a role in almost every bridal gown, either through providing alterations or even by creating beautiful bridal gowns from scratch.
Using scraps from her grandchildren's 4-H sewing projects, Mona created personalized fabric teddy bears for each grandchild.
She also fashioned a very special bear for Bill that was made from brown corduroy and featured family photos printed onto the fabric.
Quilting, however, proved to be Mona's true labor of love.  Over the years she hand-crafted many quilts for her children, grandchildren, and even great-grandchildren for every special occasion.
Each masterpiece featured a personalized tag. Her quilts are so well loved (and well worn) by her family that on more than one occasion, some have returned their quilts to her so she could patch them back up and make them as good as new.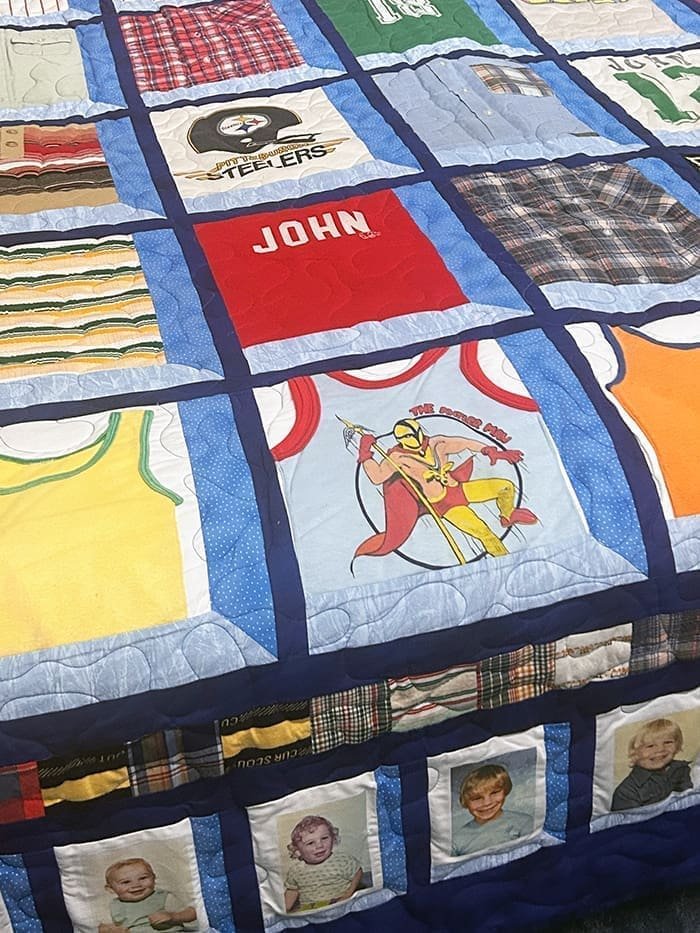 ---
The Schmitz family's strong Catholic faith has consistently been their foundation and they attended Our Lady of Fatima Church in Lyons for many years before its closing.  Bill added that many, if not all of their children were married there.
However, their journey took a heart-wrenching turn in 1981.  During that year, the Schmitz family faced tragedy as Bill and Mona's youngest son, John, lost his life in an ATV accident when he was just 10 years old.
Bill and Mona agree that while it was an incredibly difficult time, the entire family and their church helped them through the unimaginable loss.
Although John is no longer with them, not a single day passes without his parents remembering him.  On shelves in Bill's office, one will find toys that John once played with displayed in memory of their youngest son.
In recent years, Mona shared her love for John through her quilting talent, creating a quilt from his old t-shirts.
Despite the family's heartache in the early 1980's they went on to create many more priceless memories, making the most of every moment together.
The Schmitz household was a busy center of activity with Bill and Mona extending hospitality to numerous visitors over the years.
They hosted a foreign exchange student from Germany, Anya, who lived with them for a year.  Their basement also served as a gathering place for the local 4-H group and church youth meetings.
As grandchildren and great-grandchildren were added to the brood, new traditions were born including "Girls' Night" and "Boys' Night."
Girls' Night began as a pre-Thanksgiving tradition, bringing the women and girls of the family together to help Grandma Mona prepare a feast for the upcoming day.
Once work was out of the way, the granddaughters would raid the upstairs closets, seeking out "old-fashioned" clothes from the 70s.
The outfits were donned by the girls and they took turns walking the "runway," entertaining Grandma.
---
Of course, the girls couldn't be the only ones with their special day, and a few years later the Schimitzes decided to add "Boys' Night" to the family schedule of events.
Just like Girls' Night, Boys' Night was a special occasion for the men and boys in the family to gather and enjoy games.
This yearly event held around Halloween had an autumn feel, with Bill constructing a teepee from corn shocks for the younger boys to play in.
Meaningful gatherings with their children, grandchildren, and great-grandchildren like these have fortified the family's bonds. Bill and Mona have instilled in their family the significance of unity.
To commemorate their 65th Wedding Anniversary, one of their granddaughters created a poster entitled "Grandpa Bill and Grandma Mona's Words of Wisdom."
This cherished gift is proudly showcased near the entrance of their home, visible to all.  A few excerpts from that wall hanging display the impact Bill and Mona have had on their family…
-Dad taught me that mistakes and accidents happen. After my first traffic ticket, Dad went with me to court. I plead guilty and paid my fine. Then he took me to dinner to celebrate my very first ticket! -S.
-To be curious about new technology and to be creative whether it be sewing or figuring out how to solve a problem. -J.
---
-They taught me many things but I think the most important one to me is cherish your time with family. -J.
-Family is everything. And when I ask Grandma, "How do you do it all?" She always says, "You just do it!" -S.
-Grandpa taught me how to get the lawnmower out of the pond. -A.
-That there are big families in the U.S. besides the Waltons on TV. -A.
-That you're never too old to hold your wife's hand when out in public together. -K.
-They both taught me exactly how I want my family to be in fifty years. -L.
-They both taught me that decorating for holidays is some serious business! -H.
-They taught me that true love and a lifetime full of love and happiness really is possible.  Family is everything.  You always make time for family. -H.
-They have taught me to work hard – but make time for love, family, and fun, and laughter. That canning is a family affair – and more fun for it! -H.
-Grandma taught me what a great hug is! – M.
-Grandpa taught me the importance of a smile on your face. -M.
-Grandma and Grandpa are the least selfish people I know. They taught me to never be bored, always have a project to do. Going to church is important. -S.
– They taught me to share what I have… Just open the cupboard/fridge and help yourself to food/kool-aid /pickles. – H.
-They helped teach me how to care for the land around me and that I should care about the land around me. -H.
-Grandma and Grandpa taught us all that you can still be in love after 65 years, like real love, holding hands, dancing, kissing and hugging!  The gift of their love is tender and real and it stretches across 4 generations and all generations that will follow us.  I have never seen Grandma or Grandpa without a smile on their face.  Their door open to all at anytime. -S.
---
The Schmitzes have 8 children:  Gary (Shellie) Schmitz, Steve (Lynette) Schmitz, Cheryl (Denny) Rowland, Billy (Amy) Schmitz, Julie (Dave) Creque, Patti (Doug) Boger, SueAnn (Kent) Peete and John (Dec'd).  They have 25 grandchildren, 49 great-grandchildren, and 3 great-great-grandchildren (with one on the way.)
They also consider their bonus daughter, former exchange student Anya, to be one of their own. For those of you counting, with Bill and Mona, that makes 87 places at the dinner table when they are all able to get together!
Nowadays, though life has slowed considerably for the Schmitzes, they still keep busy with projects.
Often you can find Mona in her sewing room making a special creation for a loved one despite the fact her eyesight isn't as good as it once was.
Bill on the other hand spends time working on the farm that he first started many years ago, known as Countryside Farms.
In a journey that spans 71 years of marriage, Bill and Mona Schmitz exemplify the essence of love, resilience, and family.
Their unwavering commitment, hard work, and unbreakable bond have shaped a legacy that resonates deeply within their large and loving family.
Their story stands as a testament to the power of enduring love and the legacy it can leave behind, inspiring generations to come.
Amy can be reached at amy@thevillagereporter.com
---