---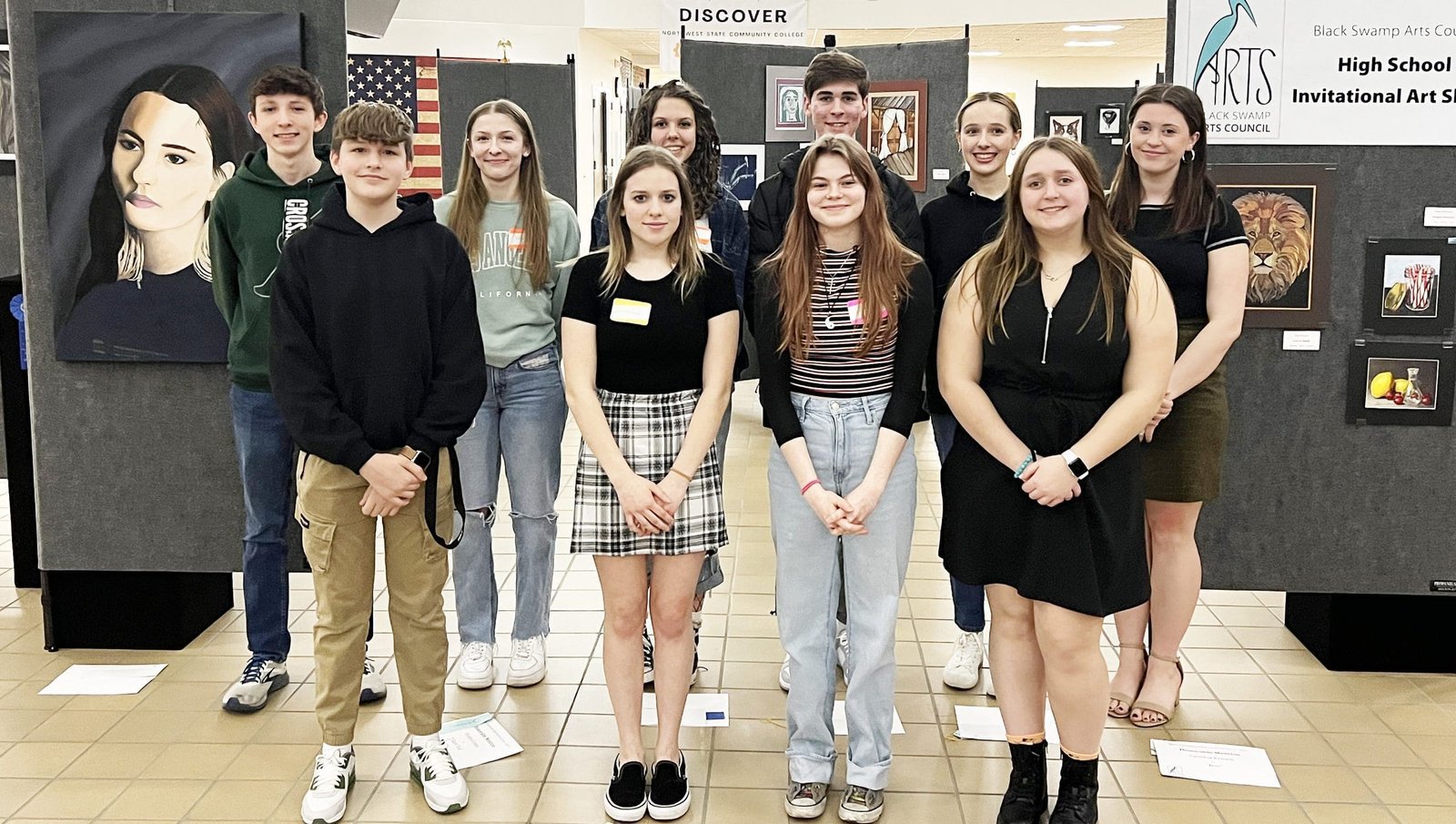 AWARD WINNERS … 1st row: Carson Wyse, Zebrianne Sanders, Sam Miller, Maci Sparks. 2nd row: Drake Rittenhouse, Evelyn Crone, Rosemary Baer, Koby Albring, Kelsey Bowers, Cynthia Fritsch. PHOTO PROVIDED)
---
Archbold, OH (March 7, 2023) – The Black Swamp Arts Council hosted their 16th annual High School Invitational Art Show, February 20 – March 2, 2023 at the Northwest State Community College atrium.
The show featured 100 works of art from students representing 11 area high schools. The awards night was held on Thursday, March 2.
"We love having the opportunity to showcase the talented young artists from our Four County area in such a beautiful and public venue."
"We hear so many positive comments from the faculty, staff, students and parents as they view the show," stated Diane Tinsman, BSAC president.
The judges were also very impressed with the quality, creativity, and variety of artwork displayed in the show and spent two hours deliberating the winners.
This year's jurors were Julio Suarez, Chairman and Assistant Professor of Art at Hillsdale College, and Natalie Gray, Youth Services Manager at The Arts Commission in Toledo.
Award winners of this year's show were:
Best of Show – "Unity" by Ryland Komon – Evergreen – Painting
Outstanding Painting- "Ella" by Marissa Bennett – Hilltop
Outstanding Drawing – "Striped Sweetness" by Drake Rittenhouse – Tinora; "Musical Expression" by Sam Miller – Evergreen
Outstanding Photography/Digital – "Bouquet" by Ren Hammond – Bryan; "Golden Hour" by Carson Wyse – Evergreen
Outstanding Mixed Media – "Unknown Identity" by Sydney Hageman – Archbold
Outstanding Ceramics – "Into the Swamp" by Allison Redhead, Bryan
Outstanding 3D – "Encounter" by Zebrianne Sanders, Bryan
Outstanding Printmaking – "Morel" by Rosemary Baer, Pettisville
Honorable Mentions:
1 "Self Portrait" by Sierra Miller –   Bryan – painting
2 "Queen" by Noah Ryan – Montpelier – sculpture
3 "I Dare You" by Evelyn Crone – Tinora – drawing
4 "Rockhopper Penguin" by Maria Shema – Wauseon – 3D
5 "Dance Practice" by Leah Heeres – Stryker – digital animation
6 "Chelephant" by Lydia Stimpfle – Montpelier – 3D
7 "Bubble Donut" by Koby Albring – Pike-Delta-York – ceramics
8 "A Cinderella Story" by Kelsey Bowers – Wauseon – painting
9 "Owl be watching you" by Maci Sparks – Tinora – drawing
10 "Marching Mannequin" by Athen Vankham – Montpelier – drawing
11. "Roe" by Cynthia Fritsch – Evergreen – mixed media
12. "Mentally Trapped" by Cydney Echler – Bryan – painting
Founded in 2000, the Black Swamp Arts Council is a non-profit organization serving rural NW Ohio.
---
---