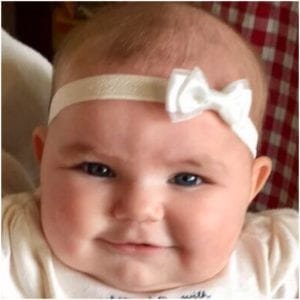 Brier Quinn Henry, 5 months old, from Montpelier passed away on Friday at Parkview Regional Medical Center in Fort Wayne. She was the daughter of Chase A. and Hallie E. (Hill) Henry. She was born on May 13, 2016 in Bryan and has two loving brothers Braxton Z. and Brayson A. Henry.
She is also survived by paternal grandparents Tim and Vonda Henry, maternal grandparents Bill and Lynne Hill, Jr., paternal great grandparents Wayne and Wanda Henry and Duane Trausch, maternal great grandmother Martha Teats, aunt Brea Henry and uncle Bill Hill III, as well as many great aunts and uncles.
She was preceded in death by paternal great grandmother Donna Henry, paternal great grandmother Vivian Trausch and paternal great grandfather Verdene Aschilman, maternal great grandfather Jerry Teats, and maternal great grandfather Bill Hill, Sr.
She was a member of St. John's Lutheran Church in Montpelier.
Visitation hours for Brier will be on Wednesday, October 12, 2016 from 4-8pm at the Thompson Funeral Home on Main Street in Montpelier. Services will be on Thursday at 11 am at St. John's Lutheran Church in Montpelier with Pastor Paul Gruetter to officiate. Interment will follow at Riverside Cemetery in Montpelier.
Donations may be made to the Montpelier Public Library. Condolences may be left at www.thethompsonfuneralhome.com.