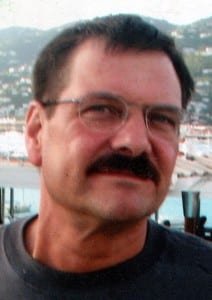 Bruce W. Oyer, 54 of Nettle Lake passed away peacefully Wednesday evening at the Evergreen Manor Nursing Home in Montpelier. Bruce was born in Montpelier on April 18th 1958 to Ronald E. and Phyllis (Rabara) Oyer. Bruce lived and grew up in Pioneer graduating from North Central High School in 1976. After school he studied Art for one year at St. Francis College in Fort Wayne, Indiana.
At one time Bruce worked at Aro Corporation in Bryan, Kexon, Inc. in Pioneer and Artesian of Pioneer.
Bruce was a very loving, caring brother, uncle and great uncle and was a friend to many. Bruce enjoyed fishing, mushroom hunting, NASCAR and football.
Bruce is survived by a brother Mark (Peggy) Oyer, Sr. of Pioneer, two nephews Mark R. Oyer, Jr. and Matthew (Georgia) Oyer both of Pioneer, and one great nephew Brantley M. Oyer.
He was preceded in death by his parents.
Services for Bruce will be on Monday, January 28th at 7pm at the Thompson Funeral Home in Pioneer with Reverend Michael Raypholtz to officiate. A time to receive friends will be from 4pm until the time of the service on Monday. A private interment will be at a later date at Floral Grove Cemetery in Pioneer. Donations may be made to the Pioneer United Methodist Church. Condolences may be made online at thethompsonfuneralhome.com