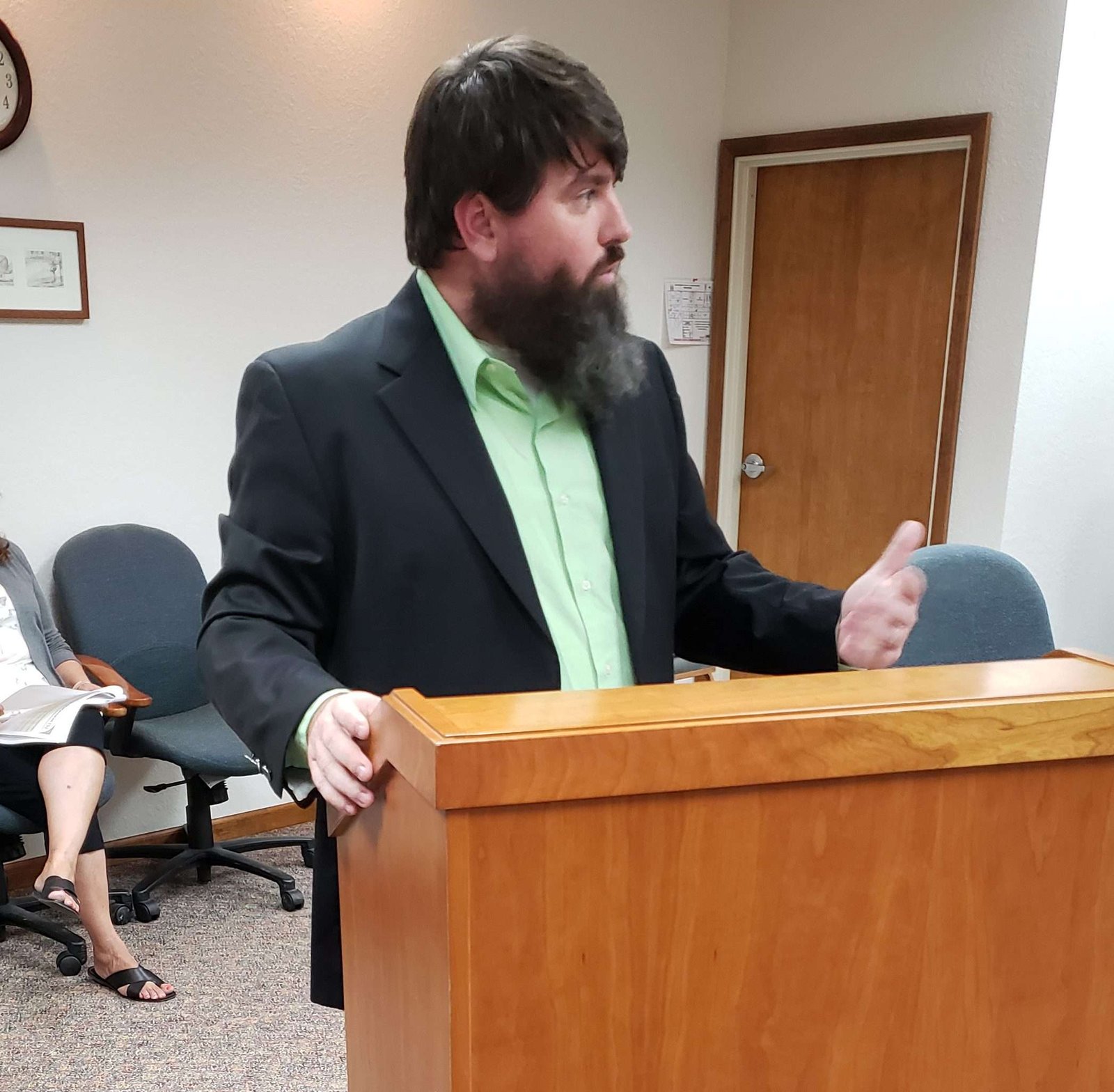 EXPLAINING RATE INCREASE … Trey Shepherd of SAWVEL and Associates gave a presentation to Bryan Public Affairs on the need for a rate increase, 3% to residential customers and 1-2% to small and large businesses. (PHOTO BY DANIEL COOLEY, STAFF)
---
By: Daniel Cooley
The October 5th Board of Public Affairs meeting began with the Pledge of Allegiance. All five board members, Tom Sprow, Jim Salsbury, Dick Long, Karen Ford and Annette Shreiner, were present.
In the first order of business, the minutes of the September 7 regular meeting was approved by unanimous vote.
Next, Russ Davies of the Bryan Development Foundation, gave a report of the status of Christkindl Market and pending approval, this first year event is a go.
Beginning with the traditional Meet Santa Night, there will be a strong shard of vendors available in the courthouse square. They will be available every Thursday through Saturday, through Christmas.
"There will be a lot of cool Christmas décor and various vendors from the tri state area will be here," Davies said. The first-year event met with unanimous approval. "I hope this event continues for years to come," Ford said.
Trey Shepherd of Sarvel and Associates, whose first client was the city of Bryan, gave a lengthy, but very organized and informative presentation. The presentation was entitled "Electric Cost of Service and Rate Design Study."
According to Shepherd, the study, in order to make up for the problems that occurred through COVID, cited the need for a rate increase of 3% for residential customers and one to two percent for everyone else (small businesses and large businesses). This will be discussed further at a later Board of Public Affairs meeting.
Next, a resolution for making October 3-9 as Public Power Week, along with giving recognition for Bryan Municipal Utilities' contributions to the Bryan community, passed by unanimous approval.
A request then came forward for the reclassification of Water Department employee Jimmy Dunning. Dunning is to be reclassified from Water Treatment Operator III to Probationary Water Plant Supervisor.
According to the employment status request, "Jimmy holds a class III Ohio EPA Water Supply license and has an in depth knowledge of the water treatment facility and lab, understanding the day to day operations."
The request for Dunning to be reclassified met with unanimous approval.
Next, a request to place Kris Bryce, a probationary local programming and production employee to local programming and production lead.
According to the classification request, "Kris has transitioned to this position well." Bryce's reclassification also met with unanimous approval.
That was followed by the resignation of engineering supervisor Bob Carter, whose last day will be October 15. The resignation, though with some sadness, was met by unanimous approval.
Next, a request to post for the refilling of the Operations Manager position, was met with a unanimous approval vote. The position has been open since January.
The semi-monthly disbursements met with unanimous approval.
Nathan Gardner, director of Bryan Municipal Utilities and two BPA members attended the American Municipal Power meeting on Sept. 20-22 "and they talked about several key issues."
BMU came away with several awards, too. "That just shows the class of people we have working here," Long said.
In addition, Gardner mentioned the importance of an "at large" winning an election at the AMP meeting. "It gives us a seat at the tables and gives us an inside track on things," Gardner said.
After some comments from each board member, the meeting was then adjourned.
Dan can be reached at publisher@thevillagereporter.com
---