---
Click below for a free photo album of this event to view all the photos.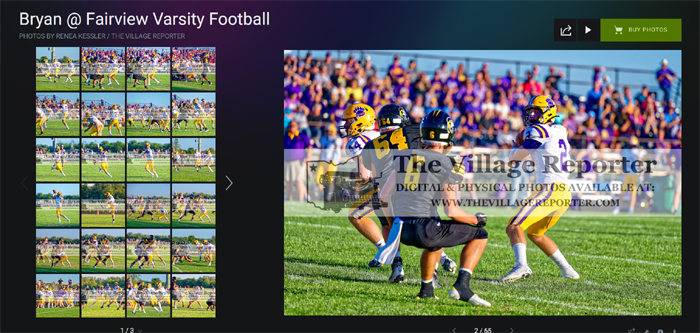 ---
Bryan 67 Fairview 46
SHERWOOD (September 1, 2023) – Bryan scored 20 or more points in three of four quarters in a 67-46 win over their State Route 127 rivals.
Jase Kepler accounted for five touchdowns for Bryan as he went 15/23 passing for 207 yards and two scores while running for another 125 yards and three touchdowns.
Sam Herold led the Golden Bears rushing game with 18 carries for 263 yards and five touchdowns.
UP NEXT: September 8 – Delta (2-1) at Bryan (2-1) 7pm
BRYAN      21 20 6 20 – 67
FAIRVIEW 16 16 14 0 – 46
B – Langenderfer 16-yard pass from Kepler (Oberlin kick)
F – Zeedyk 14-yard run (Williams run)
B – Kepler 10-yard run (Oberlin kick)
B – Herold 32-yard run (Oberlin kick)
F – Zeedyk 37-yard run (Williams pass from Brody Williams)
B – Hahn 23-yard pass from Kepler (Oberlin kick)
B – Herold 6-yard run (kick failed)
F – Olinger 49-yard pass from Zeedyk (Williams pass from Zeedyk)
F – Meade 78-yard pass from Zeedyk (Olinger pass from Zeedyk)
B – Herold 41-yard run (Oberlin kick)
F – Garza 10-yard pass from Zeedyk (conversion failed)
B – Kepler 10-yard run (kick failed)
F – Olinger 4-yard pass from Zeedyk (Olinger pass from Zeedyk)
B – Herold 6-yard run (kick failed)
B – Kepler 3-yard run (Herold pass from Kepler)
B – Herold 24-yard run (conversion failed)
---