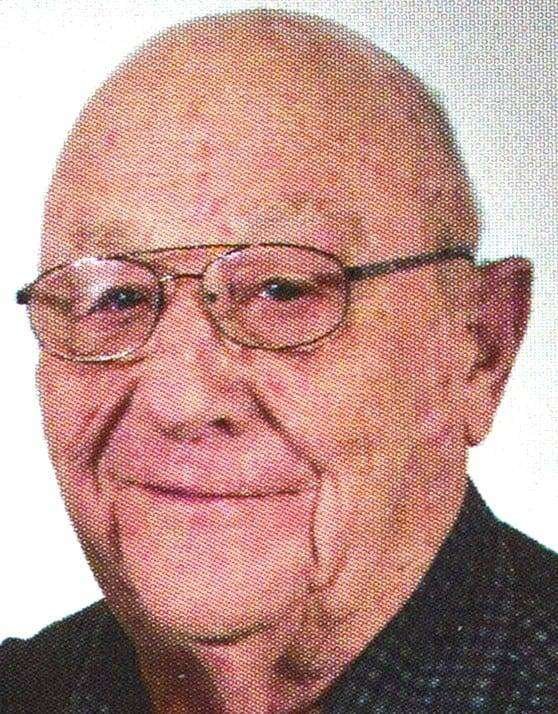 Chester G. Junior Reckner, age 98, of Wauseon, known to his friends as "Chet" passed away Thursday night, November 8, 2018 under hospice care at the Fulton County Health Center.
He was born in Wauseon on May 10, 1920 to George W. Reckner and Meta (Leibler) Reckner.  Chester graduated from Wauseon High School in 1939 and on April 4, 1944 he married Mary Pearl Skates and she survives.  Shortly after they purchased the farm where they resided for the next 74 years.
Until his retirement, Chet farmed and worked in a number of factories.  He retired in 1984 from Fulton Tubing in Archbold.  Chester was a member of the Fulton Union Christian Church in Delta and IAM Local #956.  Chet's favorite pastimes we're working on his lawn mower and taking care of his lawn.  He was still able to enjoy those activities until shortly before his death.
Left to cherish his memory is his wife of 74 years, Mary Reckner; children, Ann Austin, Mike (Lynda) Reckner, Dennis (Kim) Reckner, Patrick (Melanie Myers) Reckner and Tina McDowell; 14 grandchildren, 35 great grandchildren; and 2 great great grandchildren.  Chester was preceded in death by his son-in-law, Lowell Austin; daughter-in-law, Kathy (Sintobin) Reckner; granddaughter, Abby Jean Reckner and great grandsons, Michael James Autry and Freddie Alan Weder; foster daughter, Penny Carnicom; half-brothers, Clair, Clem, Clive and Clifford Reckner; half-sisters, Ruth Welch, Jenny Miller and Hazel Gunter.
Friends will be received from 2:00 – 8:00 PM on Sunday, November 11, 2018 at Barnes Funeral Chapel, 5825 St. Hwy. 109 in Delta.  A memorial service for Chester will be held at 11:00 AM on Monday, November 12, 2018 at Fulton Union Christian Church, 5232 Co Rd HJ, Delta, Ohio 43515.  Pastor Tom Bates will be officiating.  Private interment at Winameg Cemetery will take place prior to the service.
In lieu of flowers, those wishing a show of sympathy are asked to consider contributions to the Fulton Union Christian Church or Great Lakes Hospice, 3425 Executive Pkwy, Toledo, Ohio 43606 in Chester's name.  Online condolences may be sent to the family through our website at www.barnesfuneralchapel.com.
---