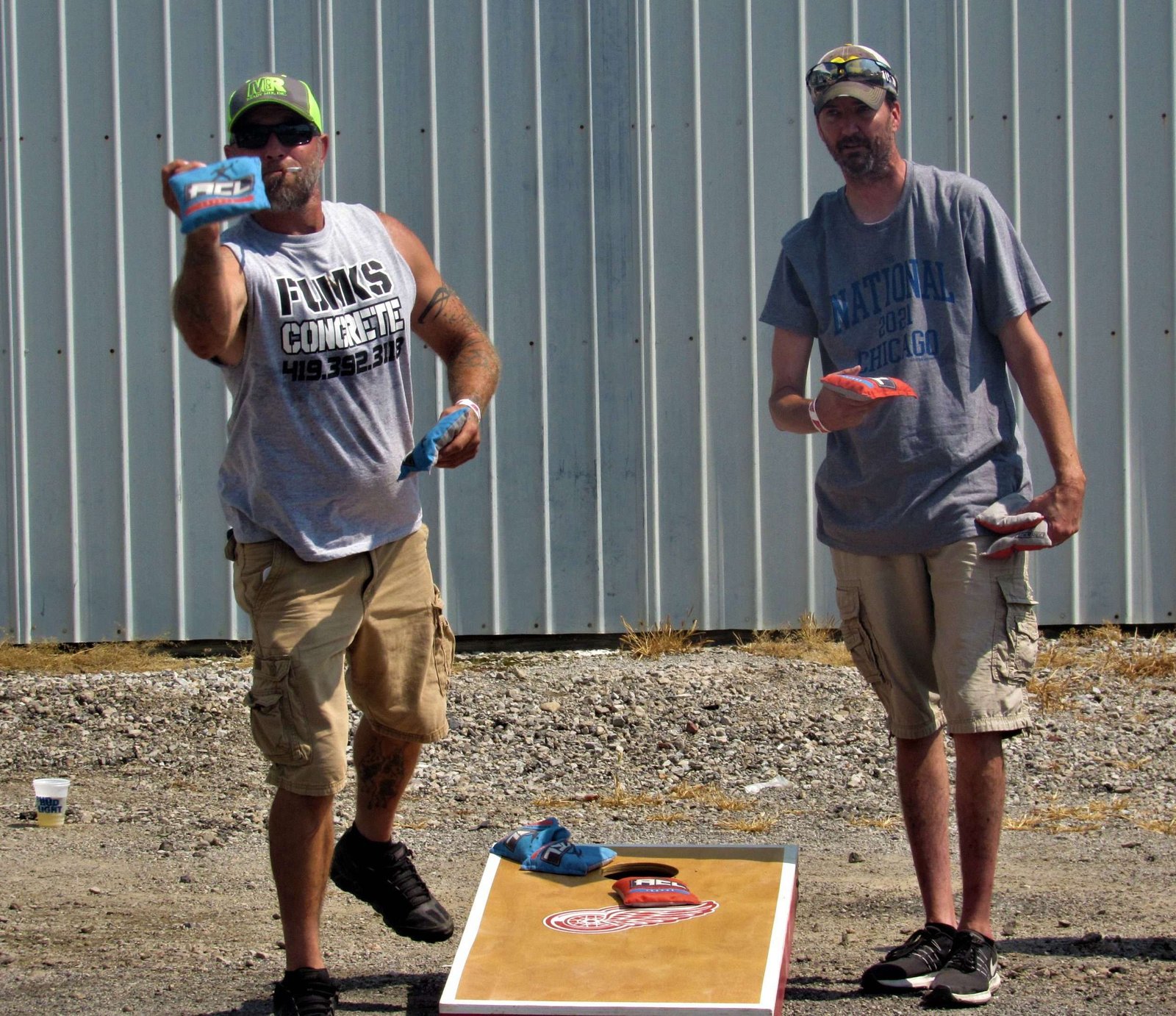 CORNHOLE COMPETITION … Jason Borton (left) and one of the tournament winners Chad Wagner (right). (PHOTOS BY LACIE FISH, STAFF)
---
By Lacie Fish
We can't help everyone, but everyone can help someone. And this is exactly what happened Saturday at the Block Party Benefit for Chris Lantz.
Chris was in a tractor-trailer rollover accident and is recovering from a broken neck and back, fractured ribs, and collapsed lungs.
Over 200 people showed up for this wonderful event. Fifty-eight bikes joined in the run and went 100 miles. There was a 50/50 drawing, Poker hand, gun raffle, cornhole competition, silent auction, live auction, and live music.
The silent and live auctions did amazing. Les Gleckler won the 50/50 drawing of $386 and donated 90% back to Chris and his family. Partners Chad and Dan won the cornhole competition and won t-shirts.
The poker hand was won by Rex, who won $155 and donated it back to the family also. Several certificates were donated for the benefit. Phantom Fireworks donated one for $200.
The live music was a big hit. Adrenaline played along with Heidi Paxton, TJ Reno, and others. The benefit went until 1 a.m., with Mel's closing at 2 a.m. Terry Brehm stated, " Thank the Lord for a very good day."
It might have been hot, but that didn't stop everyone from having a fantastic time and coming together for an excellent cause.
A big thank you to all the merchants who participated and Brenda Shoemaker for organizing the bake goods portion of the event.
Lacie can be reached at publisher@thevillagereporter.com
---
BIKE RUN … A member of the run directs bikes onto road from behind Mel's in Fayette last Saturday.
---