Note – This news story is a free sample from past newspaper editions. Like what you are reading and want news in a timely manner? Please support our family owned, locally operated newspaper by (subscribing today)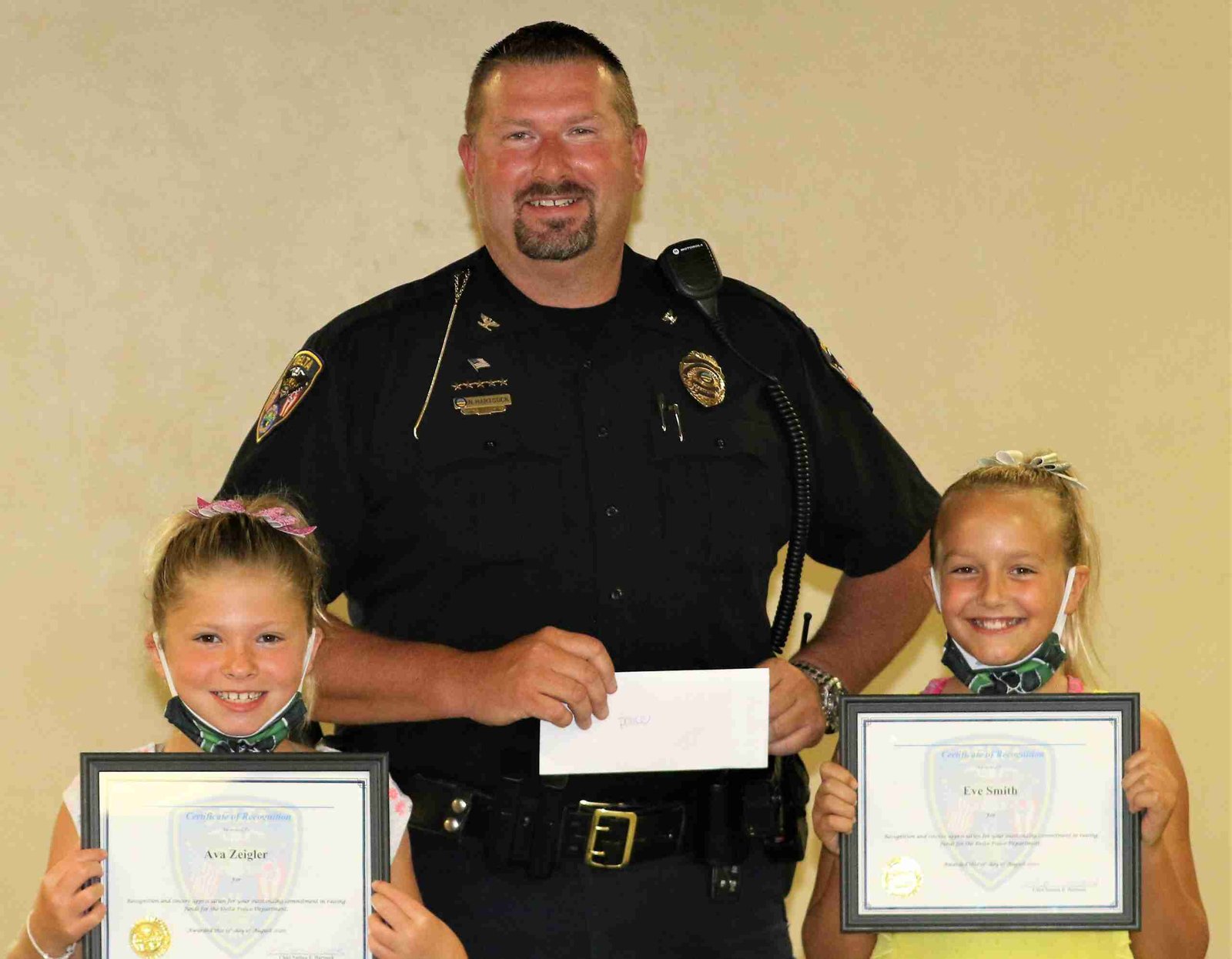 HONORED FOR THEIR WORK … Ava Zeigler and Eve Smith recognized for their contribution to the Delta Police Department with Chief Nathan Hartsock. (PHOTO BY BILL O'CONNELL, STAFF)
---
By: Bill O'Connell
Acting on their own initiative, Ava Zeigler and Eve Smith, fourth grade students at Delta Elementary, decided to open a lemon-aid stand on West Main Street in Delta and donate all the proceeds to the Delta Police Department (DPD).
The enterprising girls set their stand up in the front yard of Ava's parents' house, Angie and John, and did a brisk business. Eve and Ava were able to raise $140 and turned over all the funds to Police Chief Nathan Hartsock at a special Village Council meeting on August 31st.
"The reason why we did this was because it was a big thank you for all the police department does," said Ava, addressing the Council members and Mayor Bob Gilbert.
For their hard work and generous donation, Ava and Eve each received a Certificate of Recognition from Chief Hartsock and the DPD. Council later decided to place the funds into a special DPD trust account until a decision on where the money would be best spent could be made.
Village Administrator Brad Peebles reported that the Delta American Legion facility has been secured to hold the public meeting regarding the proposal to convert the traffic flow on Monroe Street between Main Street and Palmwood Street to a one-way North bound.
Notices for the meeting to be held September 23, 2020 will be prepared and sent during the week of September 6, 2020. Mailings will include all residents of Monroe Street as well as all downtown businesses.
Mr. Peebles also informed Council he is looking to rent approximately 12 acres of Village property located on Madison Street to a local farmer for agricultural purposes. He estimates the property will rent for $125 to $150 per acre but it may cost about $1500 to make it farmable.
The Water Department reported an unaccounted water loss of 11.2% for the most recent billing cycle. A loss rate of less than 15% is deemed acceptable by the Ohio EPA.
In legislative news, the third and final reading of Ordinance 20-16, authorizing the Village Administrator to execute an amendment to Contract 2017-67 with Fulton County Commissioners for the treatment of leachate from the former County landfill was approved. The second reading of Ordinance 20-17, to increase water rates for the Village of Delta amending Section 931.09 and repealing Section 931.08 of the Codified Ordinances passed as well as the second reading of Ordinance 20-18, to increase sanitary rates charged for sanitary sewer for the Village of Delta.
Also passing was the first reading of Ordinance 20-19, to supplement Ordinance 19-15 to make supplemental appropriations for the current expenses of the Village of Delta for Fiscal Year ending December 31, 2020.
The next Council meeting will be held on September 21, 2020 at 5:30 p.m. in Memorial Hall. All COVID-19 guidelines remain in place.  All Council minutes and audio recordings can be found on the Village of Delta website under Council Minutes.
Bill can be reached at publisher@thevillagereporter.com
---