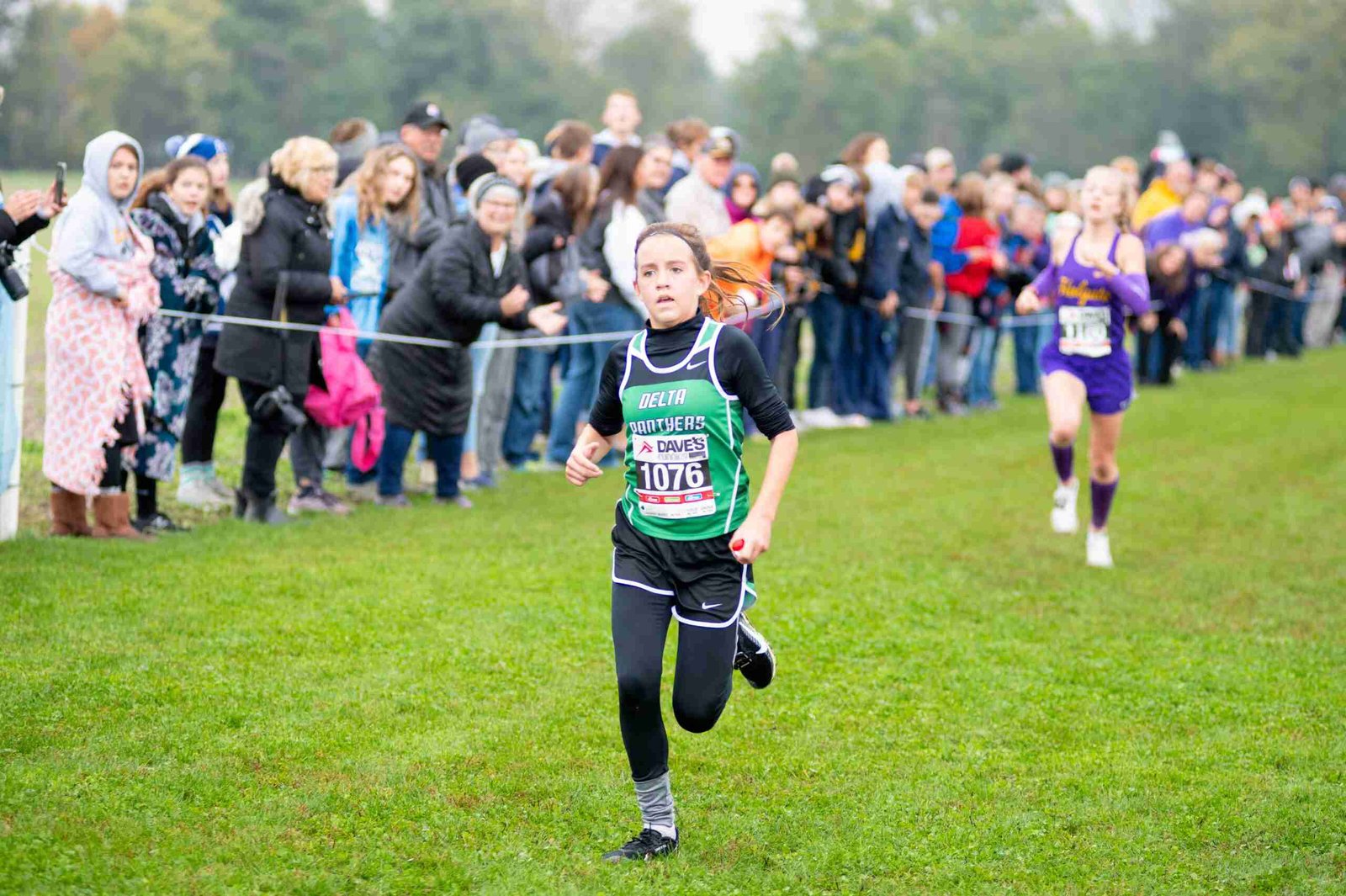 SCHOOL RECORD TIME … Josilyn Welch of Delta crosses the finish line with a school record time of 19:43 to take home the district championship. (PHOTO BY JACOB KESSLER, STAFF)
---
By: Nate Calvin
NAPOLEON – In the Division III districts at Leaders Farms near Napoleon, Delta had the district champion in the girls race while Pettisville took home the team title.
Delta's Josilyn Welch was the district champion in the District 2 race as the freshman had a time of 19:43, edging out Elisabeth Willett from Holgate by just two seconds.
Pettisville took first as a team topped by Grace Remington's third place finish with a time of 20:14 and Kendall Sears came home in sixth (20:18).
Archbold secured the third and final qualifying position as they were just three points behind the Blackbirds. Sophie Rupp led the Bluestreaks effort by coming home third (20:07) and Karley Ramirez was eighth (21:00).
Leslie Burrow of Fayette took fifth to move on to Tiffin, finishing just .15 seconds behind Remington.
In the girls District 1 race, Liberty Center took home the district title with Edgerton grabbing fifth paced by Luisa Rudersdorf who finished 12th in a time of 20:40 to qualify for Regionals.
Fayette advanced out of the District 1 boys race by placing third led Jose Blanco who finished fifth (17:16)  and Wyatt Mitchell took 11th in a time of 17:44.
Archbold was district runners up in the boys District 2 race led by top 10 finishes from Brady Johns (5th-17:01), Aden McCarty (8th-17:41), and Caleb Harrow (9th-17:54). Pettisville in took fourth place led by regional qualifier Zach McWatters who was 10th (17:57).
In Division II at Columbus Grove, Bryan's Joshuah Taylor was the district champion for the boys to advance as an individual while the Wauseon boys and girls teams qualified for regionals with top three finishes.
Hunter Wasnich topped Wauseon by finishing as district runner-up with a time of 16:22 and Aidan Pena had a time of 16:52 to place seventh to help Wauseon to the fourth and final qualifying spot.
The Lady Indians were led by district runner-up Grace Rhoades (19:21), Magdalena Duden who placed third with a time of 19:34 to finish third in the team standings.
Also qualifying as individuals from Bryan were Xander Fackler who was fifth (16:37) in the boys race and Kate Thormeier was seventh (20:14) on the girls side.
The Division II and Division III Regional meet will be Saturday, October 30th at Hedges Boyer Park in Tiffin.
---
BOYS DIVISION III DISTRICT 1 (@ Leaders Farms)
TEAM SCORES (*Regional Qualifiers) *1. Holgate 18; *2. Fairview 74; *3. Fayette 116; *4. Liberty Center 117; 5. Hicksville 124; 6. MVCD 152; 7. Antwerp 184; 8. Delta 185; 9. Patrick Henry 228; 10. N. Central 279
BOYS DIVISION III DISTRICT 2 (@ Leaders Farms)
TEAM SCORES: (*Regional Qualifiers) *1. Ottawa Hills 28; *2. Archbold 48; *3. Tinora 70; 4. Pettisville 113; 5. Montpelier 140; 6. Edgerton 172; 7. Northwood 172; 8. Hilltop 203; INDIVIDUAL REGIONAL QUALIFIERS: 10. McWatters (P) 17:57
BOYS DIVISION II DISTRICTS (@ Columbus Grove)
TEAM SCORES (*Regional Qualifiers): *1. Van Wert 68; *2. Defiance 68; *3. Lima Shawnee 84; *4. Wauseon 136; 5. Ottawa-Glandorf 148; 6. St. Marys 157; 7. Napoleon 195; 8. Bryan 195; 9. Kenton 238; 10. Bath 245; 11. Elida 307; 12. Paulding 314; INDIVIDUAL REGIONAL QUALIFIERS: 1. Taylor (B) 16:02; 5. Fackler (B) 16:37
GIRLS DIVISION III DISTRICT 1 (@ Leaders Farms)
TEAM SCORES: (*Regional Qualifiers) *1. Liberty Center 25; *2 Tinora 76; *3. Fairview 81; 4. Ottawa Hills 911;1 5. Edgerton 117; 6. Evergreen 141; 7. Montpelier 173; INDIVIDUAL REGIONAL QUALIFIERS: 12. Rudersdorf (Edg) 20:40
GIRLS DIVISION III DISTRICT 2 (@ Leaders Farms)
TEAM SCORES (*Regional Qualifiers): *1. Pettisville 65; *2. Holgate 67; *3. Archbold 68; 4. Patrick Henry 75; 5. Fayette 129; 6. Antwerp 146; 7. Toledo Christian 163; 8. MVCD 187; INDIVIDUAL REGIONAL QUALIFIERS: 1. Welch (D) 19:43; 5. Burrow (F) 20:14
GIRLS DIVISION II DISTRICTS (@ Columbus Grove)
TEAM SCORES (* Regional Qualifiers) *1. Lima Shawnee 63; *2. Ottawa-Glandorf 68; *3. Wauseon 94; *4. Van Wert 113; 5. Napoleon 1141; 6. St. Marys 146; 7. Defiance 148; 8. Kenton 152; 9. Bryan 193; INDIVIDUAL REGIONAL QUALIFIIERS: 7. Thormeier (B) 20:14
Nate can be reached at publisher@thevillagereporter.com
---