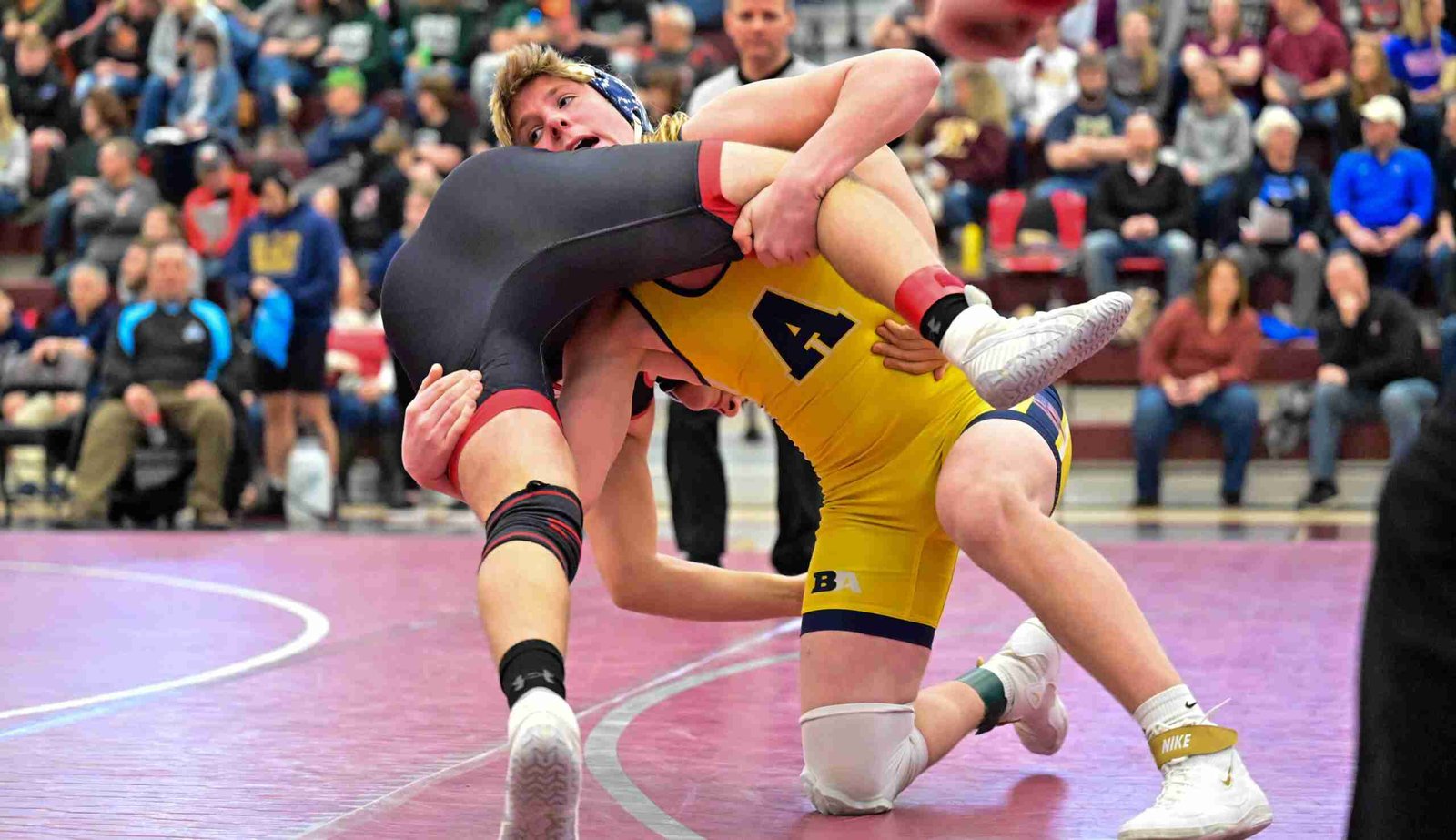 190 POUNDS … Archbold's Hayden Dickman started his tournament with a win by fall over Owen DeWeese from McComb. Dickman lost in the quarterfinals but battled his way back in the consolation bracket to place fourth and qualify for the state tournament. (PHOTO BY JACOB KESSLER, STAFF)
---
By: Nate Calvin
ROSSFORD – Delta had two wrestlers take district titles and they will send four wrestlers to the Schottenstein Center in Columbus for the state tournament this week after finishing as district runners-up in Division III at Rossford.
The Panthers earned their first title on the day at 126 pounds with Carson Chiesa (39-7) getting a md12-0 win over Antonio Salazar (36-9) from Gibsonburg.
Austin Kohlhofer was the other individual champion for Delta as he took the top spot at 285 pounds by pinning Owen Box (37-9) of Liberty Center in 2:41.
Also earning trips to Columbus for Delta was freshman Adam Mattin (37-10) who placed fourthin the 106lb. weight class and Evan Perry who was 3rd at 157.
Evan Hanefeld was the fifth and final placer for the Panthers as the took fifth at 120 pounds.
The Archbold Bluestreaks finished tied for fourth as team and had two placers led by Brodie Dominique at 144.
Dominique (45-3) won the district championship in convincing fashion by defeating Hunter Vogus (39-5) from Monroeville by technical fall 17-0.
Hayden Dickman (28-7) punched his ticket to state for Archbold by finishing fourth at 190 pounds and Mason Miller (38-19) will be an alternate after taking fifth at 106 pounds.
Also making the podium for the Bluestreaks was Dylan Aeschliman (49-10) as he was sixth in the 215lb weight class and Gabe Chapa (40-17) was sixth at 138.
Edgerton senior Hayden Herman (40-6) will make his first trip to state after taking third at 120 pounds with a 4-2 SV over Nathan Parks of Seneca East.
Evergreen sophomore Brodie Setmire was the lone placer for the Vikings by taking sixth at 113 pounds.
The OHSAA State Wrestling Championships will be held March 11th-13th at the Schottenstein Center in Columbus.
---
TEAM SCORES: (50 teams) 1. Milan Edison 136; 2. Delta 124.5; 3. Liberty Center 100.5; T4. Archbold 94, Tinora 94; 29. Edgerton 18.0; T32. Evergreen 16.0; T46. Swanton 0
FIRST-PLACE
106: Hunter Lacy (Seneca East) dec. Casper Caizzo (St. Paul) 3-1 SV
113: Max Hermes (Mil. Edison) dec. Trevor Wilcox (Otsego) 11-5
120: Phoenix Contos (Genoa Area) tech. fall Eli Guyton (Mil. Lake) tf15-0
126: Carson Chiesa (Delta) maj. dec. Antonio Salazar (Gibsonburg) md12-0
132: Alec Homan (Monroeville) dec. Hayden Kuhn (Ash. Crestview) 2-1 TB
138: Gavin Owens (Eastwood) dec. Ashton Homan (Monroeville) 3-2
144: Brodie Dominique (Archbold) tech. fall Hunter Vogus (Monroeville) tf17-0
150: Will Stieber (St. Paul) dec. Aiden Helmke (Tinora) 6-2
157: Connor Smith (Gibsonburg) maj. dec. Remington Bauer (Mil. Edison) md11-3
165: Shadrick Slone (Willard) tech. fall Camren Foster (Liberty Center) tf16-0
175: Kaden Basil (Bluffton) pin Colton Sparks (Plymouth) 2:55
190: Logan Lloyd (Mil. Edison) dec. Abe DeLano (Ayersville) 9-2
215: Bryant Pfeifer (Bucyrus) dec. Jacob Thompson (Mil. Edison) 3-1
285: Austin Kohlhofer (Delta) pin Owen Box (Liberty Center) 2:41
THIRD-PLACE
106: Abe Hermes (Mil. Edison) dec. Adam Mattin (Delta) 6-4
113: Zachary LaPlante (Toledo Christian) pin Nick Roberts (Plymouth) 2:19
120: Hayden Herman (Edgerton) dec. Nathan Parks (Seneca East) 4-2 SV
126: Connor Robbins (Willard) dec. Jackson Bartels (Liberty Center) 3-1
132: Cristian Lecki (Mil. Lake) dec. Joey Manley (Otsego) 5-1
138: Owen Miller (Oak Harbor) maj. dec. Jeff Camp (Patrick Henry) md11-0
144: Jace Margraf (Mohawk) dec. Cade Petersen (Oak Harbor) 3-1 SV
150: Xander Myers (Liberty Center) dec. Hayden Buhro (Oak Harbor) 3-1
157: Evan Perry (Delta) def. Dalton Wolfrum (Tinora) Default
165: Cannon Endicott (Elmwood) dec. Bryce Hesselbart (Eastwood) 3-1
175: Owen Berner (Ayersville) dec. Dominick Whetsel (Gibsonburg) 6-2
190: Owen Johnson (Liberty Center) dec. Hayden Dickman (Archbold) 2-1 TB
215: Micah May (Otsego) pin Zane Finley (Lucas) 2:10
285: Javen Gaines (Tinora) dec. Jackson Berardi (Mil. Edison) 2-1 TB
FIFTH-PLACE
106: Mason Miller (Archbold) dec. Ian Reynold (Eastwood) 7-4
113: Kaylor Reynolds (Calvert) pin Brodie Setmire (Evergreen) 4:16
120: Evan Hanefeld (Delta) pin Drew Matthews (Liberty Center) 0:27
126: Andrew Miller (Plymouth) pin Vince Barton (Mil. Lake) 3:48
132: Anden Ankney (Tinora) pin Lance Crawford (Hopewell-Loudon) 1:41
138: Aiden Naseman (St. Paul) pin Gabe Chapa (Archbold) 2:43
144: Xavier Escobedo (Eastwood) dec. Landon Emch (Woodmore)  11-7 TB;
150: Case Paul (Lakota) dec. Luke Bischoff (Seneca East) 9-5
157: Brencyn Evans (Monroeville) dec. Kael Margraf (Mohawk) 3-0
165: Kyler Blair (Sher. Fairview) dec. Gavin Bowers (Tinora) 5-3
175: Wyat Ripke (Archbold) dec. Gavin Gillig (Liberty-Benton) 3-0
190: Ryland Ernest (Arcadia) dec. Braylan Mullholand (Mohawk)  7-3
215: Isaac Carmen (Carey) maj. dec. Dylan Aeschliman (Archbold) md15-4
285: Brock Bushong (Carey) pin Dakota Lohmeyer (Mil. Lake) 0:53
Nate can be reached at sports@thevillagereporter.com
---