---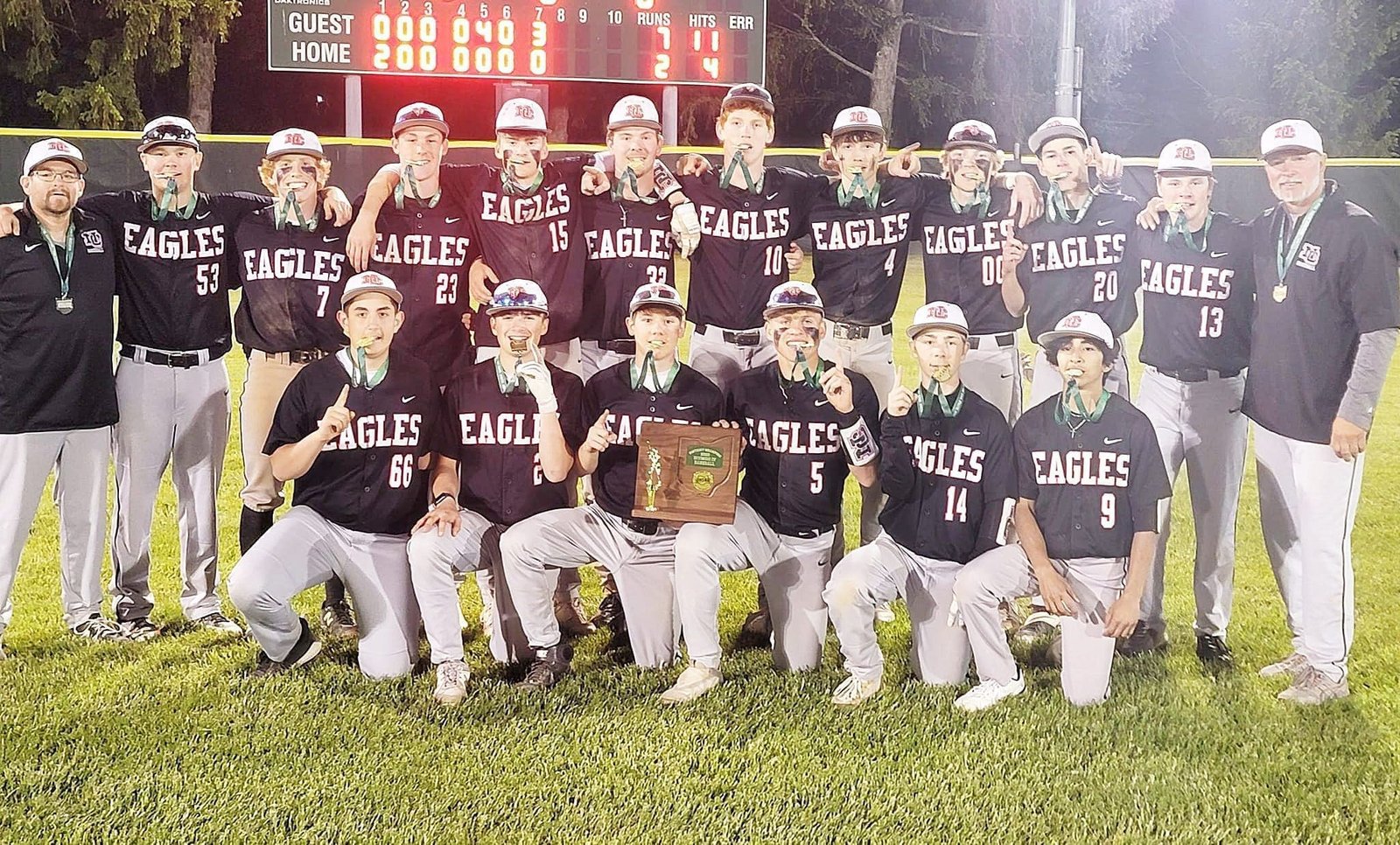 (PHOTO PROVIDED)
---
By: Daniel Cooley
BRYAN (MAY 26, 2023) – In the very first inning, it looked like fifth seeded North Central was in trouble.
Starting pitcher Connor Gendron was pulled, after giving up a bases loaded walk, his third walk of the inning and Edgerton already leading 2-0.
But in came Ben Pettit with the bases loaded and one out and promptly struck out the next two batters to end the inning.
Pettit was outstanding the rest of the game, only surrendering three hits and no runs over the final 6 innings.
Meanwhile, North Central pushed across four runs in the fifth inning and three more in the seventh, to claim a district title with a 7-2 win over Edgerton, the school's first since 1989.
"This is the third time I've come in this season with the bases loaded," Pettit said. "I just came in and thought, throw strikes and trust the defense to make plays for me."
"Honestly, my fastball was my main pitch tonight, with a few curveballs mixed in."
Pettit ended up with four strikeouts and three hits and did not allow a walk. The North Central defense fielded six groundouts, including one double play and eight fly ball outs.
"Ben harassed me a little bit afterwards about having him come in three times with the bases loaded, but I told him it's because I know you will throw strikes and let the defense do the work and that's exactly what he did," said North Central coach Josh Hicks.
"It may sound funny, but I picked this side of the bracket because we would be facing teams we hadn't played before."
"We're more aggressive when we haven't played a team before. We ended up beating the number one, two and fourth seeded teams in the bracket."
With Pettit on the mound, Edgerton only threatened to score one time, in the sixth inning, getting runners to first and second, with two outs.
But a strikeout ended the scoring threat. Pettit then retired Edgerton in order in the bottom of the seventh inning, on a groundout to the pitcher, a pop out to the first baseman and a groundout.
Meanwhile, North Central, which had just two hits over the first four innings, garnered nine hits over the final three innings.
The Eagles took the lead in the fifth inning, plating four runs, on four straight hits.
Sam Moore started things off with a one out walk and he then scored on Quin Burt's double.
After Edgerton replaced starting pitcher Nate Swank, North Central greeted Edgerton reliever Dylan Bass with three straight hits.
Kenneth Smeltzer hit a single and Gendron then tied the game with an RBI single. That was followed by Cohen Meyers, who knocked in two runs with a triple.
Meyers also knocked in two more runs in the seventh inning and finished with four runs batted in.
"The ball dropped down in the zone, right where I like it," Meyers said, regarding the triple.
"Then on the single, the ball was outside, and I hit it off the end of the bat, but right where no one could get to it."
Meyers' triple put North Central in front, 4-2. In the seventh inning, Gendron knocked in the fifth run with a single and Meyers then followed with his two-run single that put North Central up 7-2.
North Central's first four hitters accounted for 10 of the team's 11 hits. Gendron had four hits and two RBIs, with two doubles and two singles.
Burt hit a double and a single and knocked in one run, Smeltzer had two singles and Meyers collected a triple and a single.
I told the guys, be aggressive at the plate, especially on fastballs and our first four hitters really came through for us," Hicks said.
Cory Herman led Edgerton with two singles, garnering two of Edgerton's four hits.
North Central will travel to Elida for the regional semifinals, against St. Henry (22-6), on Thursday June 1, at 2 p.m.
N. CENTRAL 000 040 3 – 7 11 0
EDGERTON 200 000 0 – 2 4 1
Records: North Central 13-6, Edgerton 17-11
WINNING PITCHER: Pettit (6.2 innings, 3 hits, 0 runs, 4 strikeouts, 0 walks) Other: Gendron
LOSING PITCHER: Bass (2.1 innings, 6 hits, 5 runs, 5 earned, 2 striekouts, 0 walks) Other: Swank, Herman
LEADING HITTERS: (North Central) Gendron – 2 doubles, 2 singles, 2 RBIs; Meyers – triple, single, 4 RBIs; Burt – double, single, RBI; Smeltzer – 2 singles; (Edgerton) Herman – 2 singles
Dan can be reached at publisher@thevillagereporter.com
---