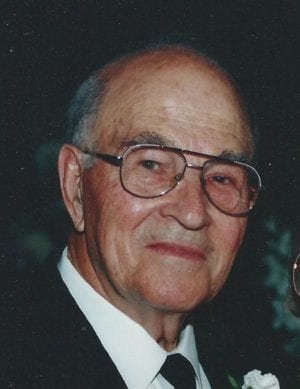 Don H. Garver, 98 years, of Bryan passed away Monday, July 4, 2016 in Community Health Professionals Inpatient Hospice, Defiance. Don was born September 21, 1917 in Ney, Ohio, the son of the late Arl and Susie (Connelly) Garver. He was a 1936 graduate of Ney High School and continued his education at Ohio State University until his induction into the United States Army.
On January 25, 1941, he joined the first group of Draftees in Defiance County for World War II. He was in the Infantry for five years and participated in the D-Day invasion at Omaha Beach, Normandy, France. Don was a weapons platoon commander. He received a Purple Heart while fighting through the hedge rows in France. He was honorably discharged as a Captain of the U.S. Army.
Don married Clela Etta Musselman on July 9, 1941 in Ney, Ohio and she preceded him in death on October 18, 2010 after 69 years of marriage. He worked as a metallurgist for General Motors in Defiance for 28 years until his retirement in 1983. Don attended the Ney Church of God. Don was also a life member of the Defiance Disabled American Veterans Post 36. Don enjoyed taking care of his garden and fruit trees.
Surviving are his children, David L. (Charleen) Garver of Spencerville, Indiana, and Sondra K. (Garry) Flightner of Edon, Ohio; four grandchildren, Jeffrey (Jaclyn) Garver of Fort Wayne, Indiana, Steven D. Garver of Fort Wayne, Indiana, Michael D. (Becky) Garver of Westfield, Indiana, and Jennifer (Kevin) Flightner-Bever of Hillsdale, Michigan; six great-grandchildren, Blake, Brayden, and Brock Bever, and Bree, Kate, and Mia Garver; one brother, Ned Garver of Bryan, Ohio; one sister, Maribel Duckworth of Bryan, Ohio. Don was preceded in death by his parents; wife, Clela and one brother, Mark Garver and one sister, Alice Sims
Visitation for Don H. Garver will be held Friday, July 8, 2016 from 2:00 – 4:00 and 6:00 – 8:00 p.m. in Oberlin-Turnbull Funeral Home, 206 North Lynn Street, Bryan. Funeral Services for Don H. Garver will be held Saturday, July 9, 2016 at 11:00 a.m. in the funeral home with Pastor Kevin King officiating. Interment will follow in Ney Cemetery with Military Graveside Rites accorded by the Bryan VFW Post 2489.
Those planning an expression of sympathy are asked to consider memorial contributions be made to Ney Church of God, 3413 State Route 15, Ney, Ohio 43549.
Condolences may be sent to the family or the online guest book may be signed at www.oberlinturnbull.com