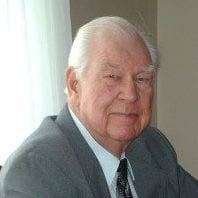 Gene L. Neidhardt, 89 years, of Hicksville, went to be with his Lord and Savior Jesus Christ on Tuesday, July 5, 2016. Gene was born October 1, 1926 in Milford Township, Defiance County, Ohio, to the late Earl L. and Hazel L. (Ensign) Neidhardt. He attended Hicksville High School. He married Mary M. Zartman on September 4, 1945 in Fort Wayne, Indiana, and she preceded him in death on January 17, 2015.
Gene served our country during WWII in the United States Navy, stationed in Bainbridge, Maryland. Upon his discharge, Gene worked for the B & O Railroad for a short period of time. He then worked for the Hicksville Bakery and also drove a milk route. He then began working at ARO Corp, where he was a Tool & Die Maker for 25 years. In 1975, Gene and his brother Ed, formed Nemco, a Machining shop in Hicksville. Gene ended his working career at Commercial Shearing in Hicksville. He was a member of St. John Lutheran Church, Hicksville, where he served in many capacities, including Church Council and singing in the choir. He was a member of the Hicksville Rotary Club, where he served as a Past President. He also served on the Hicksville Library Board and the Crippled Children's and Adult Society.
Gene and Mary wintered in Avon Park, Florida for several years. Gene was an outdoorsman, enjoying hunting, fishing and spending time appreciating nature. He also enjoyed taking Sunday drives in the countryside. What he treasured the most was his family. He always had a smile on his face and was the ultimate host, always wanting to make homemade ice cream and popcorn popped in bacon grease.
Surviving are his three daughters, Kathy (David) Schooley of Hicksville, Susan Eagleson of Paulding and Lisa (Tom) Turnbull of Bryan; ten grandchildren, Jim (Tonya) Neidhardt, Brent (Marsha) Neidhardt and Tom Neidhardt, Jason (Amy) Schooley, Jen (Carey) Gater, Jerome (Amy) Schooley, Sara (Paul) Prescott, Christen Turnbull, Josh (Alexis) Turnbull and Caleb (Emily) Turnbull; 19 great grandchildren and three great-great-grandchildren.
Gene was preceded in death by his wife, Mary; one son, Michael; two grandchildren, Tina Holman and Rich Sowers; two sisters, Anna Crow and Betty Rohrs and one brother, Ed Neidhardt.
Visitation for Gene L. Neidhardt will be held Friday, July 8, 2016 from 3:00 – 8:00 p.m. in the Smith-Brown Funeral Home, 706 North Main Street, Hicksville where funeral services will be held at 11:00 a.m. Saturday, July 9, 2016 with Pastor Jack Teeple officiating. Interment will follow in Forest Home Cemetery, Hicksville, with Military Graveside Rites conducted by Hicksville American Legion Post #223. Arrangements are under the care and direction of Oberlin-Turnbull Funeral Home, Bryan, Ohio.
Those planning an expression of sympathy are asked to consider memorial donations be given to St. John Lutheran Church, 812 East High Street, Hicksville, Ohio, 43526 or to the Crippled Children and Adult Society, 309 Wendall Avenue, Hicksville, Ohio, 43526.
Condolences may be sent to the family or the online guest book may be signed at www.oberlinturnbull.com