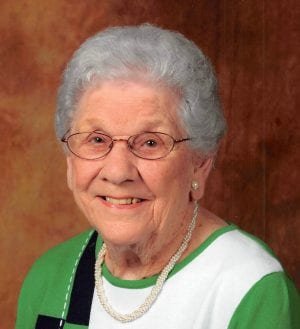 Doris E. Dilworth, 93, of Montpelier passed away Monday evening at Community Hospitals and Wellness Centers in Bryan. She was born on November 4, 1923 in Bridgewater Township to E. Leslie and Ethel May (Lanum) Brown. Doris graduated from Montpelier High School in 1942. She married R. Keith Dilworth and he preceded her in death on March 12, 1992.
Doris was a member of St. Paul's United Methodist Church in Montpelier. She was a homemaker until they moved to Walled Lake, Michigan in 1966. In 1988 she retired from Walled Lake Schools after 20 years. In 1989 they moved back to Williams County. She was a member of the Montpelier Hospital Auxillary and the Montpelier Moose. Doris was an avid Bingo and card player, and she loved to bowl into her late 80's. She loved her children and grandchildren and spent time with them whenever she could.
She is survived by three children, Judy (Ric) Dye of Montpelier, Shela (Alan) Word of Montpelier, and Robert (Linda) Dilworth of Bryan; seven grandchildren, fifteen great grandchildren; two brothers, Robert L. Brown and William (Dorothy) Brown both of Montpelier; three sisters-in-law, Vivian Brown of Montpelier, Venita Smith of Bryan, and Eloise Dilworth of Pioneer.
Doris was preceded in death by her parents, husband Keith, one sister Maurine Brown, two brothers, Si and Ronnie Brown, and one granddaughter Krisha Dilworth.
Visitation for Doris will be on Thursday, December 1st from 2-8pm at the Thompson-Geesey Funeral Home on Empire Street in Montpelier. Funeral services will be on Friday at 11am at St. Paul's United Methodist Church in Montpelier with Pastor Richard Blank to officiate. Interment will follow at Riverside Cemetery in Montpelier.
Memorial contributions may be given to Cancer Assistance of Williams County or the American Heart Association. Condolences can be left at www.thethompsonfuneralhome.com