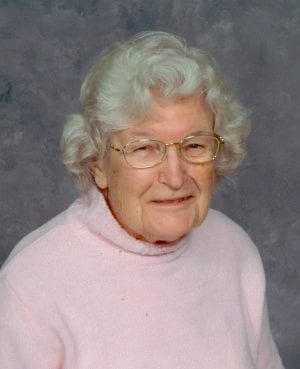 Shirley J. Kahle, age 96, of Wauseon, passed away Tuesday morning, November 29, 2016 at Fulton Manor in Wauseon.
Shirley was born in Lyons, Ohio on May 9, 1920, the daughter of Guy and Harriet (Raymond) Johnston. On June 8, 1941, she married Donald L. Kahle, and he preceded her in death in 2003. Shirley was a member of the Lytton Zion United Church of Christ, rural Delta where she had been active with Helping Hands. She was also involved with the Lyons Historical Society and enjoyed collecting dolls and quilting.
Surviving are three daughters, Peggy (Paul) Meeker of Wauseon, Susan Vonier of Sylvania and Judy Kahle of Wauseon; five grandchildren; 21 great-grandchildren; and one great-great-grandchild. She was preceded in death by her parents; husband, Donald, and daughter, Nancy Sue Kahle in 1942.
Graveside funeral services will be held at 11:00 A.M. Thursday, December 1, 2016 at the Lyons Cemetery, with Pastor Mary Jo Bray, officiating. There will be no visitation.
The family requests that memorial contributions be given to the Lytton United Church of Christ. Online condolences may be offered to the family at www.grisierfh.com. Edgar-Grisier Funeral Home in Wauseon has been entrusted with arrangements.