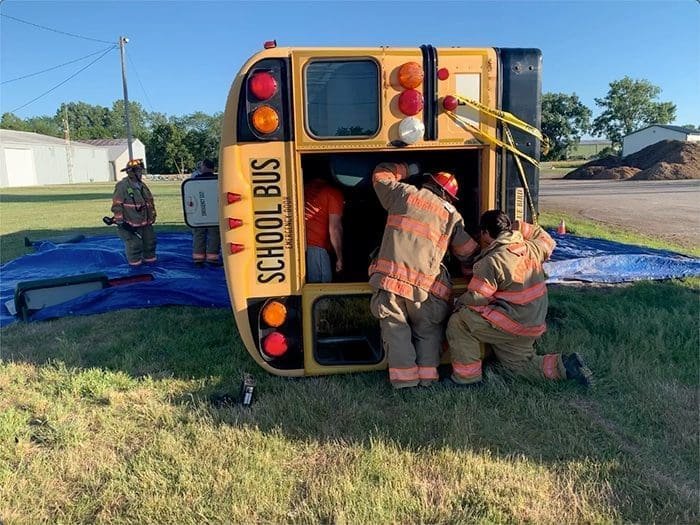 ---
By: Jacob Kessler
THE VILLAGE REPORTER
The Edgerton Fire Department has remained consistent this past year when it comes to calls for service. This year has seen an increase of ten calls when compared to the same time last year.
Chief Scott Blue explained that this increase has been due to wind and weather events such as numerous calls for trees and limbs in the wires, sparking and or burning.
Chief Blue also explained that, while fire has remained mostly the same, what is burning has changed greatly. "Fighting fire or reacting to whatever event we are called to has remained the same."
"What is burning is starting to create new challenges because of the batteries in EV's and the exotic metals used in today's vehicles and home furnishings."
"We try to keep up on the latest technology, but it changes quickly. At this point in time the EV issue has not affected us much, but it's coming, and we are prepared."
The Edgerton Fire Department is allowed to be comprised of 35 members. However, due to attrition, relocations, changes in family status, and a general lack of volunteerism, the department is down to 20 members.
The last time the department saw 35 members was over 10 years ago. Numerous applications have gone out, but none have been returned.
The department is also in need of a new and modernized fire station, as well as a new truck because one is coming up for replacement.
Chief Blue explained that the main issue being faced is money. "Replacing a station and/or a truck is also going to be directly related to getting folks to join us in our mission. Men and woman can be firefighters, but it takes a special heart to do the job."
"Unlike most departments we respond with a quick attack engine first where most departments send a full-sized engine.
This has always been our thing and it has served us well. That quick punch is sometimes all that is required to solve the problem at hand."
"We also use a firefighting product called F-500 that cools and quenches a fire much faster than plain water, saving time and eliminating pesky re-kindles."
"F-500 is also tough on EV fires along with a nozzle we purchased to apply it the underside of the vehicle."
When asked what the fire service means to him, Chief Blue stated the following. "The fire service to me means being there for the customer (the public) at all times, not just when it is convenient or exciting."
"The fire service is a family in two ways. The membership is one big family, but family tradition is also a large driver with grandfathers, fathers, sons, and daughters picking up the torch and carrying on."
Chief Blue also wanted to let everyone know a very important piece of information. "Smoke alarms save lives!"
"In partnership with the Red Cross and the State Fire Marshal's Office, the Edgerton Fire Department has installed 1129 alarms in 381 homes and still counting."
"This is a free program with the Red Cross supplying the alarms and the firefighters doing the installs."
Jacob can be reached at
jacob@thevillagereporter.com
---