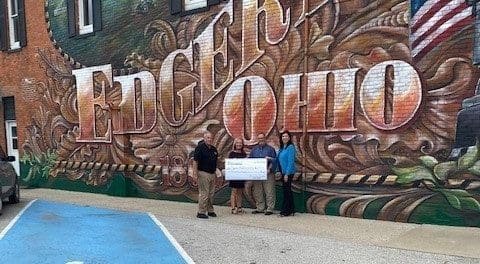 ---
The Edgerton Firefighters Association received a $2,500 Founders Grant from the Bryan Area Foundation (BAF) to help get an exterior mural designed by Edgerton native Carl Yarger and painted by Auburn, Indiana, native and retired art teacher Amy Buchs.
Located on the south side of Rita's Family Dining building in Edgerton's downtown square commercial district, this mural features the village's name and the year it was incorporated.
An average of 6,500 cars are estimated to pass through the community daily and have the opportunity to see this new grand-scale artwork.
Pictured from left to right in front of the mural are Village of Edgerton Mayor Robert Day, Village Administrator of Edgerton Dawn Fitzcharles, Bryan Area Foundation grant-making committee member Larry Harsila, and Bryan Area Foundation Director of Communications and Programs Jenny Horn.
---