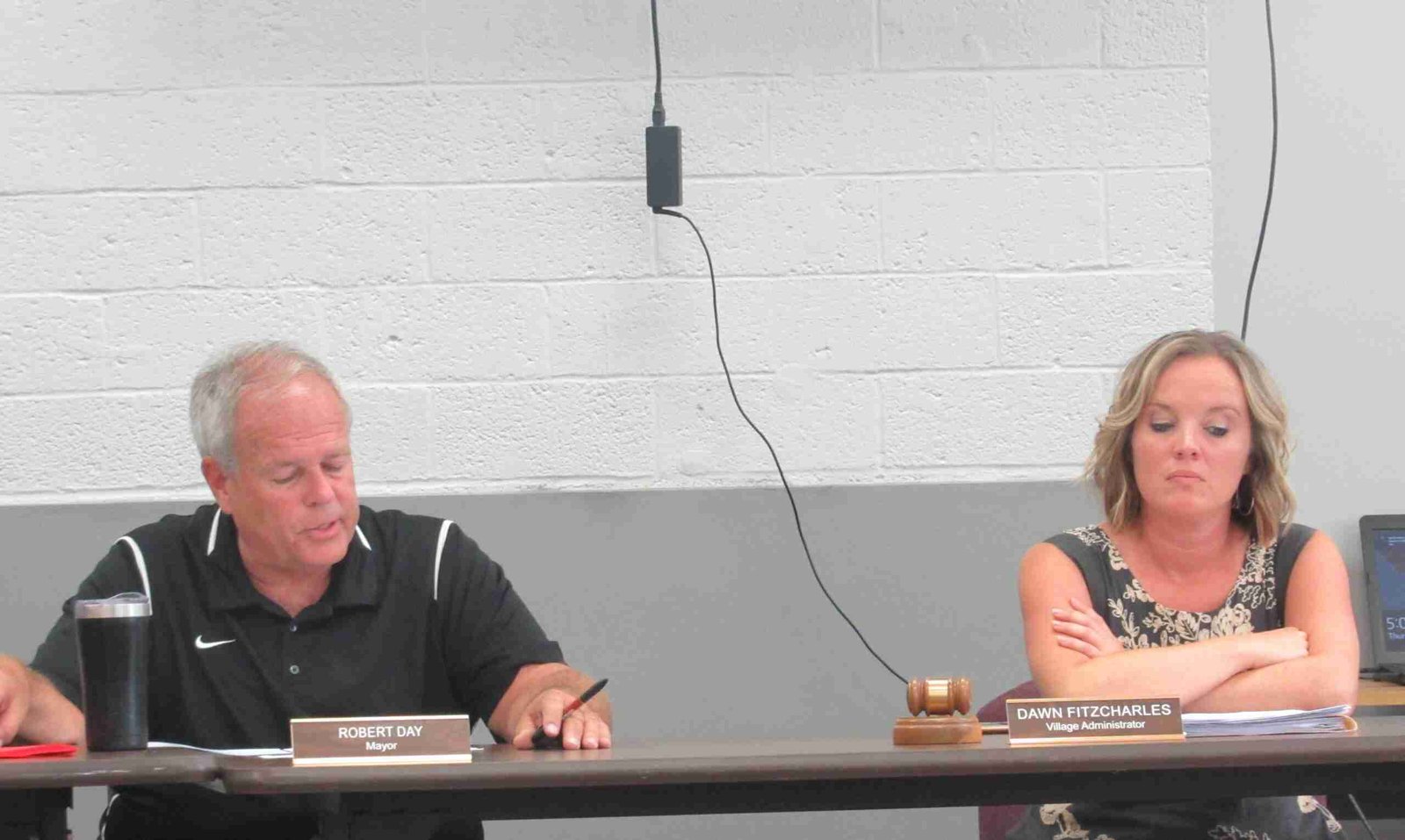 PARK IMPROVEMENTS … Mayor Day and Dawn Fitzcharles discuss park options (PHOTO BY LACIE FISH)
---
By: Lacie Fish
The Thursday meeting of Edgerton's Park Board started with The Pledge of Allegiance and a prayer. Afterward, Mayor Robert Day read a statement that he had written about the local parks and playgrounds in Edgerton when he started on the council 2 1\2 years ago.
Mayor Day spoke about the "embarrassing" conditions the parks and playgrounds were in at the time. People were wondering what was wrong with the town for not addressing these issues.
Today repairs to the parks have been made to ensure the safety of kids. New equipment will be coming to Miller Park and possibly other places in town.
Mayor Day received a message from a young man named Connor Landis about a basketball court in the middle of town by the fire hall.
knows kids in Edgerton and nearby towns that would love to come to a court to come to play. He feels it needs to be done in the right way to bring people in.
Connor stated in his message to the mayor, "The kids that I play with now in other leagues are not going to drive a half-hour to come to play at your typical rundown basketball court as we have at Miller Park."
The meeting went on to talk about surveying the people of Edgerton with options for them from a basketball court, a dog park, and a gazebo. Safety and usage of the parks were concerns that was mentioned.
A survey to see what the people of Edgerton would prefer for their town was agreed upon.
All Park Board members also agreed to have Park Board meetings every 2nd Wednesday of the month. The next meeting will be September 8th at 5:30 pm.
Lacie can be reached at publisher@thevillagereporter.com
---