---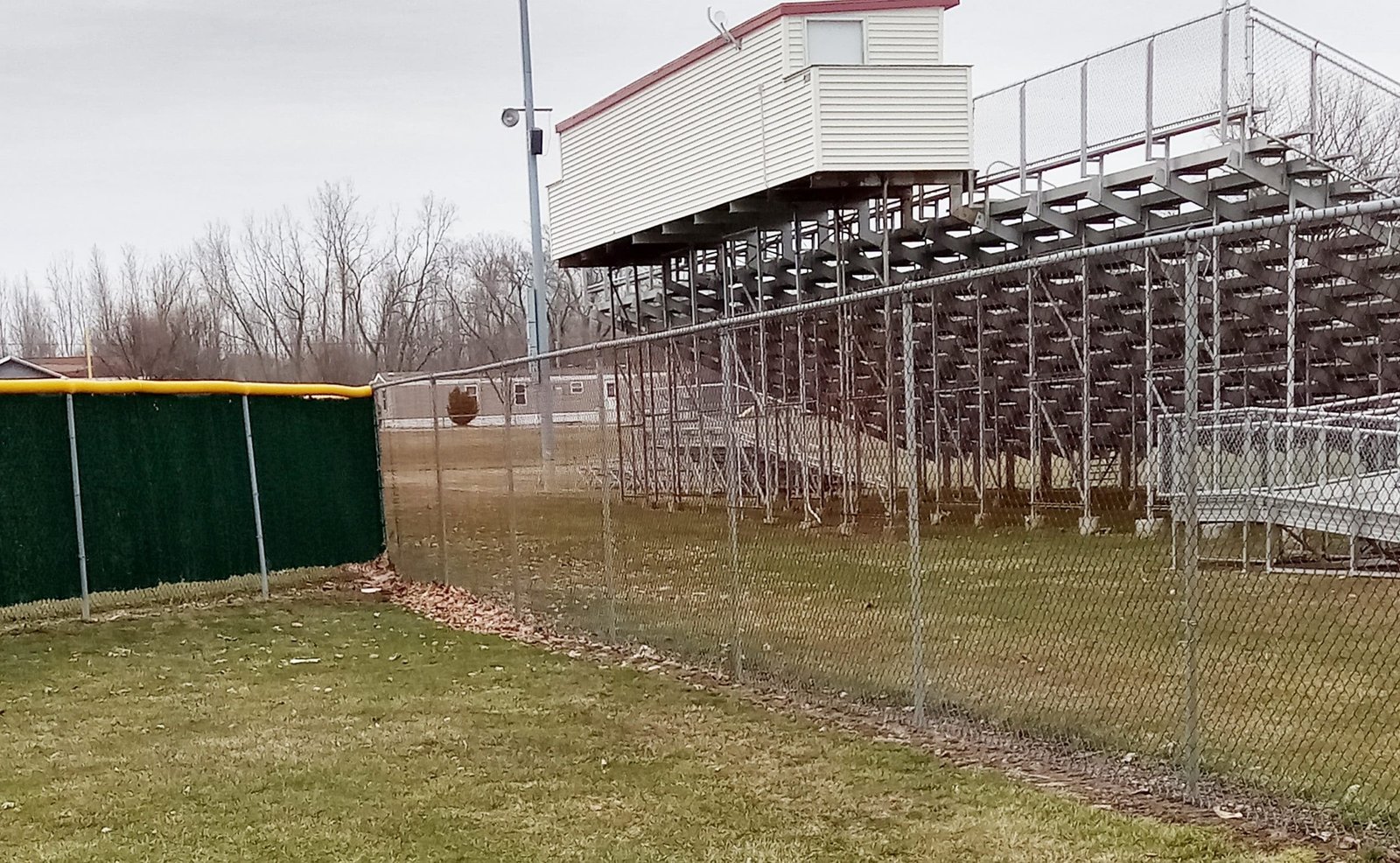 WAITING FOR UPDATED DRAWING … Pictured is the back of Edgerton's current press box. Next to the press box is the baseball field fence and there are project plans for the baseball field as well. That project will not take place until the press box project is complete. The school board is waiting on a drawing update before moving forward on the press box project. (PHOTO BY DANIEL COOLEY, STAFF)
---
By: Daniel Cooley
The Edgerton School Board meeting on March 13 began with the Pledge of Allegiance, followed by roll call.
All five school board members, Bob Siebenaler, Bill Swank, Nick Hug, Lyn Bowsher and Amanda Giesige, were in attendance.
In the first order of business, the board approved the minutes from the previous February 20 meeting.
Next, the board approved the financial report from February 28, which included bills for payment, appropriations, and estimated resource modifications.
The board then approved the then and now to Tristate Music and Audio Center, for the purchase of an electronic piano, in the amount of $3,990.
Next, superintendent Kermit Riehle gave a report. First, Riehle gave commendations to selected art students for their accomplishments and art displays, both for the State Ohio Art Education Association in Columbus and the Northwest Ohio Art Educational Association in Napoleon.
That was followed by the board approving the following donations: $3,000 from the Edgerton Music Boosters, to assist with the piano purchase; $1,000 from the Friends of Kevin Riehle, class of 1975, to assist with the piano purchase and $200 from the Williams County Pork Producers, for pork served for the annual banquet.
Next, the board approved of the superintendent's personnel recommendation for the NWOESC sub-list for teachers and professionals.
The board then approved of the following supplemental contracts: Marchetta Caryer, girls basketball varsity; Faith Herman, girls basketball assistant varsity; Brittany Drugan, girls basketball junior varsity; Makayla Smith and Nicole Thiel, junior high girls basketball; Caryer, fifth and sixth grade girls basketball; Brett Grieser, boys varsity boys basketball; Josh Giesige, assistant varsity boys basketball; Chase McClellan, junior varsity boys basketball; Nicholas Archer, freshman boys basketball; Brian Stiver and Brian Stark, boys junior high basketball; Grieser, fifth and sixth grade boys basketball; Tom Nye, varsity wrestling; Rick Herman, assistant varsity wrestling; Benjimin Brown, junior high wrestling and Nye, elementary wrestling.
Next, the board approved of the following contracts: one year for Cody Moser, 9-12th grade art instructor; one year contract for Amanda Mercer, seventh and eighth grade English Language Arts Instructor; one year contract for Zane Miller, K-sixth grade physical education instructor; Julie Meyer as full-time elementary art teacher and Jeff Hartig as substitute bus driver.
In updates, Riehle said that they are still awaiting quotes on the annex bathrooms and in the press box update, they are awaiting some changes to the press box drawings before they move forward.
Upcoming projects are a baseball infield upgrade, annex landscaping, annex gym painting, high school stage drywall and paint and the HOPE Center HVAC zoning.
in the elementary principal's report, Principal Brett Grieser reported that they recently celebrated FFA week and Jessica Cape came in and spoke to the students about the importance of good dental hygiene.
In upcoming events, there was a PTO fundraiser on March 13, there was a book fair from March 13-17, there was a PTO meeting and a Lego Club meeting on March 15, there was a fifth grade puberty talk on March 16, grades are due on March 29, LifeTouch Picture on March 30, the PTO Fundraiser ends on  March 31, staff dinner and bowling and Bulldog's Best on March 31, the Tincap deadline is April 1, the staff potluck, Lego Club meeting and Science Club meeting on March 5, perfect attendance treats on April 6, art club and science club meetings on April 12, RTI meeting day on April 14 and TinCap Day on April 15.
In the high school principal's update, Principal Ben Wilhelm reported that winter sports and academic seasons concluded and state speech and debate competition took place on March 3-4.
Also, Edgerton senior Ashlee Hug received the FB Walker Scholarship on March 6 and FFA Week will take place on March 21-25 and Isaiah Rupp was named the Four County Career Center Student of the Month.
In upcoming events, the FFA Banquet took place on March 16, March 17 marked the end of the third nine weeks, March 20-24 is spring break, March 25 is baseball and softball opening days and March 28 is track opening day.
The school board then moved into executive session.
The next Edgerton School Board meeting is slated for April 17, at 6 p.m.
Dan can be reached at publisher@thevillagereporter.com
---
---