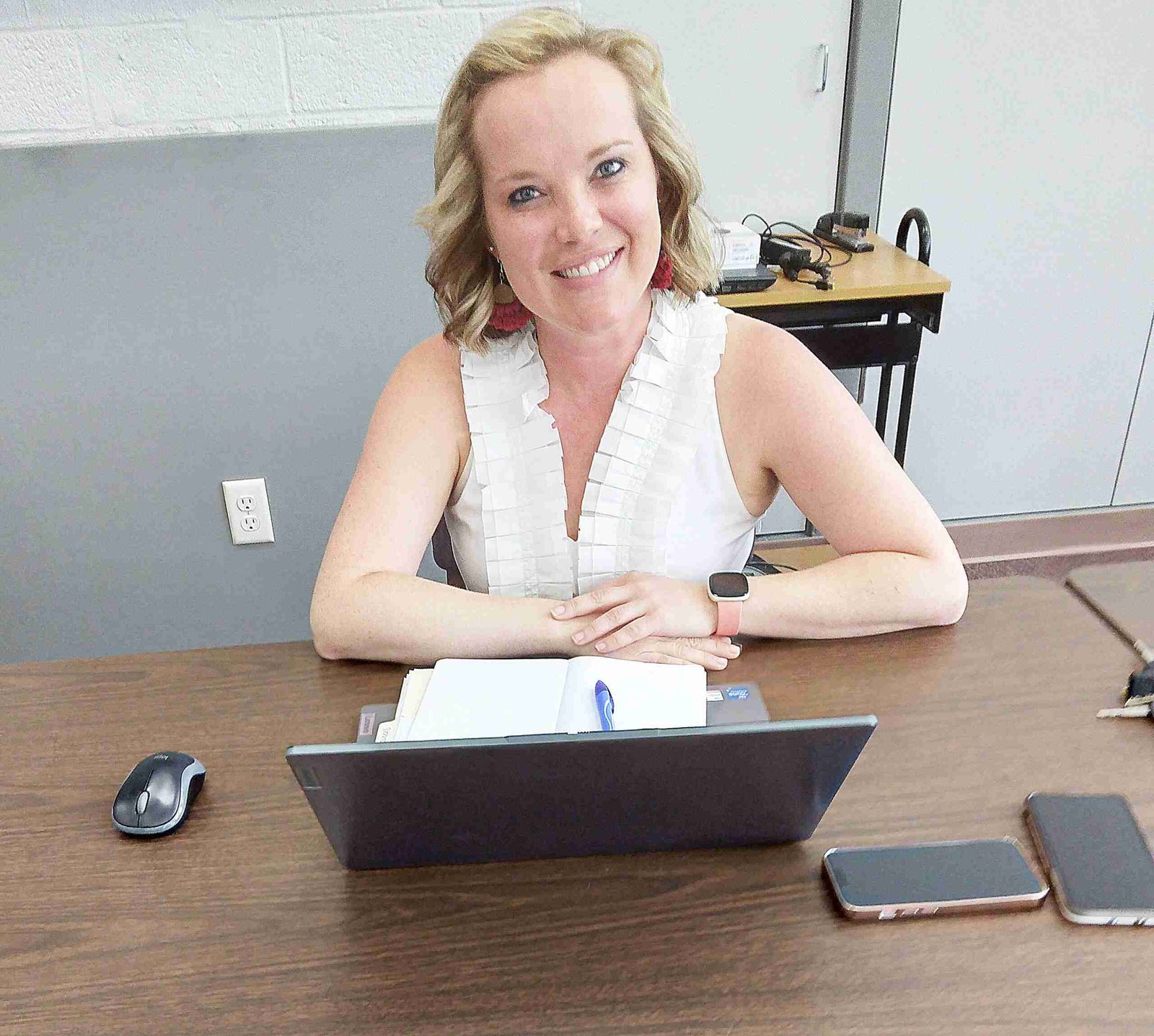 MONEY FOR PROJECT … Edgerton Village Administrator Dawn Fitzcharles stated that the $209,000 the village received will be applied to the water tower rehab project. (PHOTO BY DANIEL COOLEY, STAFF)
---
By: Daniel Cooley
The May 17th Edgerton Village Council meeting began with the Pledge of Allegiance, followed by a prayer from Mayor Robert Day. Five council members, Chuck Wallace, Jason Gruver, Tom Karnes, Leslie VanAusdale and Pam Wampler, were present.
In the first order of business, council approved the minutes from both the May 10 special meeting and the May 3 regular meeting.
Administrator Dawn Fitzcharles then gave an update. First, she stated that the nuisance abatement and clean-up project has started. Also, the mosquito control program is in progress.
The ODOT and Safe Routes to School Project decision has been made, but it won't be announced for another two weeks.
Regarding the playground equipment at Gerhart, a purchase has been made through Midland States. The amount is a savings of close to $10,000 and will be applied to a 50-50 matching grant from the Edgerton Area Foundation.
Fiscal Officer Denise Knecht stated that there will be a computer update on May 18, for council. Council may do the update at home, or leave it with the office staff, who can assist them.
A $300,000 check received from Williams County on May 13 will be used to help fund the Water Tower Rehab Project number two.
Regarding ROTA non-filing, the village will be sending non-filing delinquency letters and issuing subpoenas Thus far, with $28,000 in liabilities, $9,903 has been collected thus far.
Remaining balances will be billed and assigned for collection. Next, council approved of the paying of the bills.
Police chief Gary Plotts then gave a report. He stated that in CPT training 1/2 of the staff has been trained and about 1/2 will be trained by the end of the month. Also, the police department acquired a handheld radar system.
The police department applied for a body armor grant. Plotts said that the grant would pay for 75% of all police members. The grant would cover $24,000 and the village would need to pay $6,900.
Also, Plotts stated that the department received a grant from the attorney general's office for training. In addition, the police uniforms were switched to polo, which is more presentable to the public, is more comfortable and cost effective. Plotts also reported that all but a couple of policemen have qualified for handguns.
The park board purchased a used basketball structure, to replace some outdated ones.
Assistant Fire Chief Chad Schlie is resigning, as of June 1. Fitzcharles thanked Schlie for his service to the community. The village council approved the resignation.
Council also approved of the hiring of Zara McNalley as a probationary firefighter.
Next, council approved Ordinance 1099. This involves re-zoning of property owned by Pegge Sines. This reclassifies the property from residence to a business.
Next, council approved Ordinance 1102. Here, funds of $950 and $1,000 will be applied to the Park Pavilion project.
Council then approved Resolution 2022-010. Here, $209,000 received from Covid Relief will be used for the water tower project.
Next, council approved of making Larry Hussey and Fabian Aguilar part-time employees in the police department.,
Fitzcharles thanked Wallace for his many years of service to summer recreation programs.
Council then approved of adjourning the meeting.
Dan can be reached at publisher@thevillagereporter.com
---