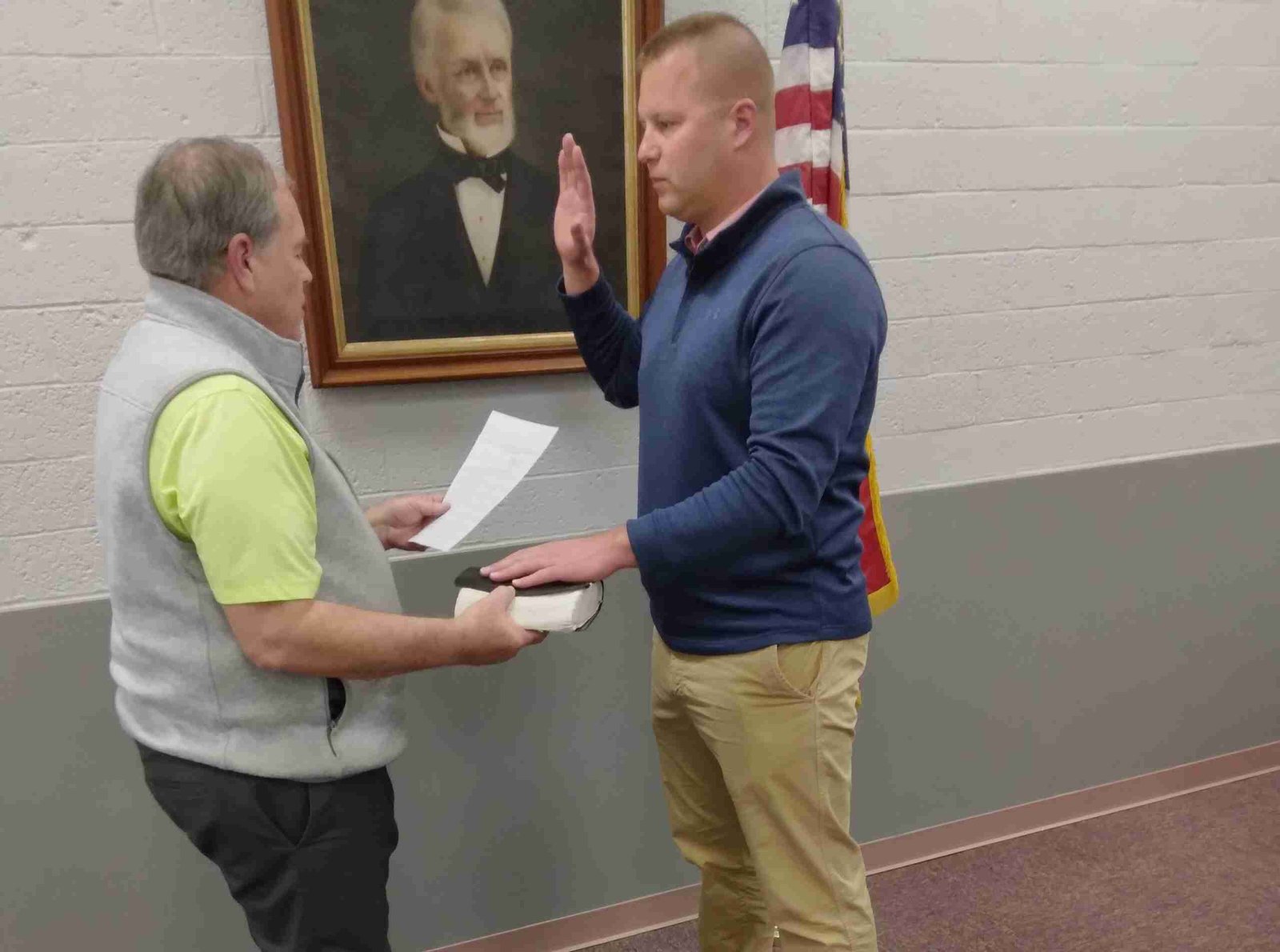 JOINING THE FORCE … Edgerton Mayor Robert Day swears in new Edgerton police officer Austin Cape. (PHOTO BY DANIEL COOLEY, STAFF)
---
By: Daniel Cooley
The Edgerton Village Council meeting of April fifth began with the Pledge of Allegiance, followed by a prayer from Mayor Robert Day. Council members Jason Gruver, Tom Karnes, Sharon Winzler, Pam Wampler and Chuck Wallace, were present.
Council began by approving the minutes from the March 15 meeting. New Edgerton police officer Austin Cape was then sworn-in.
Police Chief Gary Plotts reported that there are 21 staff, four full time police officers, 14 part-time police officers, a chaplain and an E.R. doctor.
Plotts also reported that one new police cruiser is done and was given to Sergeant Coffman. The other cruiser is almost done. Plotts also stated that he was at new chief training last week.
Wage and Compensation Committee and Rules Commission Committee held meetings recently and both discussed changing employee work week to Monday through Sunday. It was recommended that the change will be put in the books at the next meeting.
The CRA Committee brought on two new members, Lynn Bowsher and Pam Fitzcharles. Also, the CRA will hold a kickoff meeting at 12:15 p.m. on April 20.
At the Safety Committee meeting, ATV and UTV offroad vehicles were discussed, as well as taking care of blight and inoperable vehicles within the village.
The council then approved of the hiring of Eddie Bones to the fire department. He will start on a probationary basis.
Next, the council approved of the interconnection agreement with Railroad Enterprises for putting in a solar field at 407 West Railroad Street.
That was followed by Tomora Rhoden's presentation of Hometown Heroes banners. The banners will be placed on telephone poles within the village.
Next, the council approved of the advertisement of bids for the Water Tower number two project.
The council then passed Resolution 2022-077, authorizing for participation in the ODOT road salt contract for 2022.
Fitzcharles reported that plans are underway to repair potholes and there will be crack sealing in some places.
The council then moved into executive session.
Dan can be reached at publisher@thevillagereporter.com
---