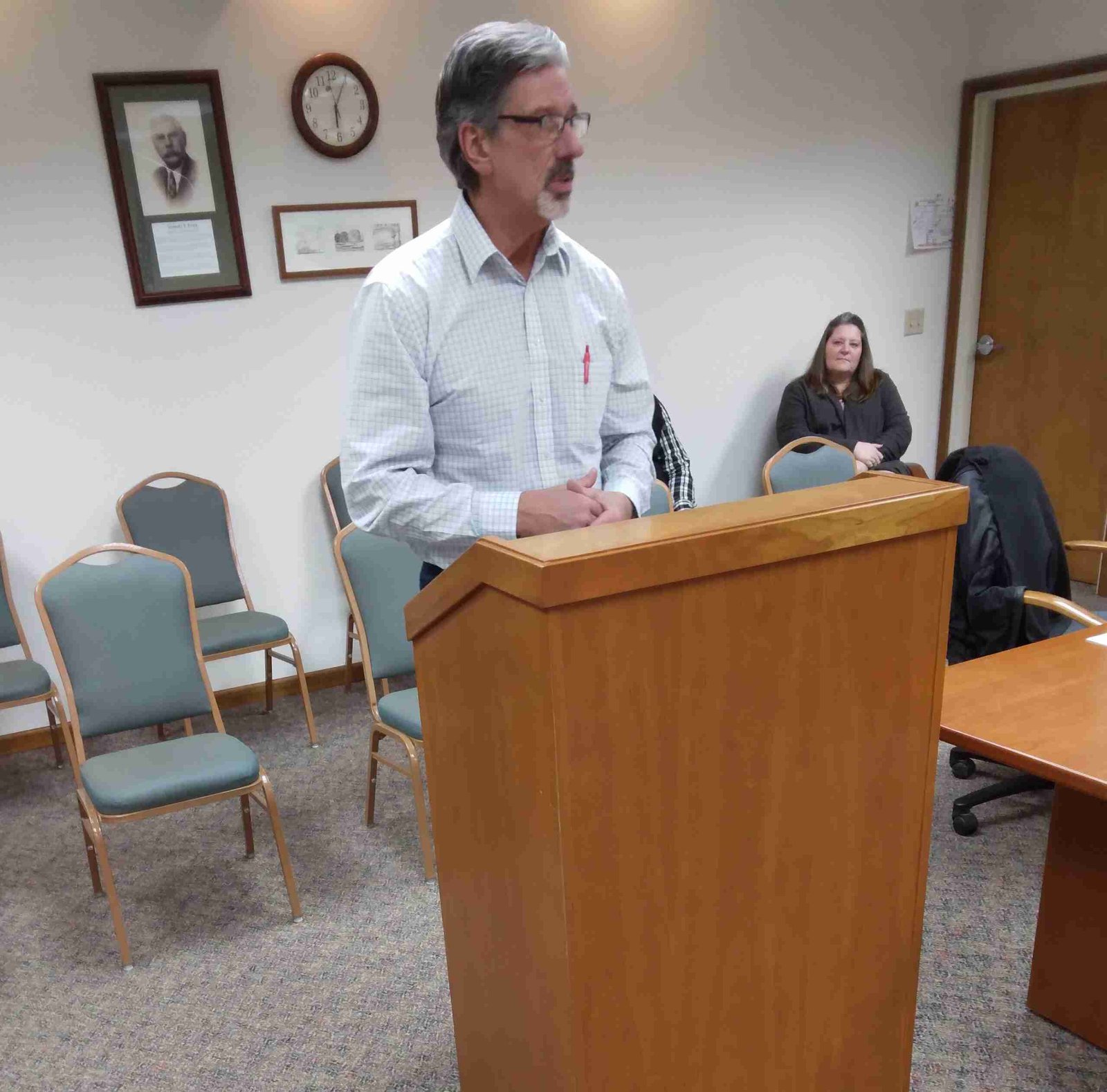 PRESENTATION … Bryan Power Production Superintendent Jim Coressel talked about the Power Plant Substation project. (PHOTO BY DANIEL COOLEY, STAFF)
---
By: Daniel Cooley
The Bryan Board of Public Affairs' (BPA) April 5 meeting began with the Pledge of Allegiance. Four of the five board members, Jim Salsbury, Annette Schreiner, Karen Ford and Tom Sprow, were present. The BPA quickly approved of the March 15 meeting minutes.
Next, several Bryan residents in attendance, sensing that the city was going to discontinue cable TV, asked how long they would have before they needed to contact another cable company, mainly Spectrum TV.
Also, some who lived just outside the village limits, with Spectrum not being an option, wanted to know what other options they would have.
"In cable TV, we've been losing over $2,000 per month and we can't continue with the path we're on," Ford said.
After lots of discussion between residents and BPA, the BPA then voted, with regret, for the city of Bryan to drop the cable TV option, as of May 31, as part of Resolution 17.
Next, power production superintendent Jim Coressel talked about Resolution 18. The Resolution allowed for acceptance of bids from four different companies concerning the Power Plant Substation project.
GE Grid Solutions put in a bid for circuit breakers, SEL Engineering Services put in a bid for Relay and Control Panels, Power Line Supply put in a bid for Major Equipment and Alum-Elec Structures put in a bid for all required Steel Structures. The BPA voted to pass Resolution 18.
A presentation was then given on the AMI (Advanced Metering Infrastructure) meter replacement program, which will take place throughout the city of Bryan.
Next, the BPA passed Resolution 19, to authorize revisions to Exhibit A Special Services Charges. Here, Electric Department General Rules state that customers must be given an opt out option on the new meter system.
The new meter would be replaced with the old one on this option, with a service charge of $75.
That was followed by a request to place Jimmy Dunning, off probation and onto regular employment. The BPA passed the request.
The BPA then approved the resignation of Electric Department employee Brad Plummer. Next, the BPA approved of the paying of the bills.
Bryan utilities director Nate Gardner reported that Bryan Muncipal Utilities (BMU) received a diamond level award for the second consecutive year. He also gave congratulations to Dunning and thanks to Plummer for his many years of service.
Jackie Schlachter, HR director, stated that the BMU team also won a safety of excellence award, with no accidents for 2021.
Schlachter also put in a request to start the process of hiring a new employee, to replace Plummer. The BPA approved the request.
Schreiner stated that dropping cable TV was a tough decision and thanked the residents for coming and voicing their concerns.
Salsbury said it was a tough night. He congratulated Dunning and wished Plummer the best.
The BPA then voted to adjourn the meeting.
Dan can be reached at publisher@thevillagereporter.com
---