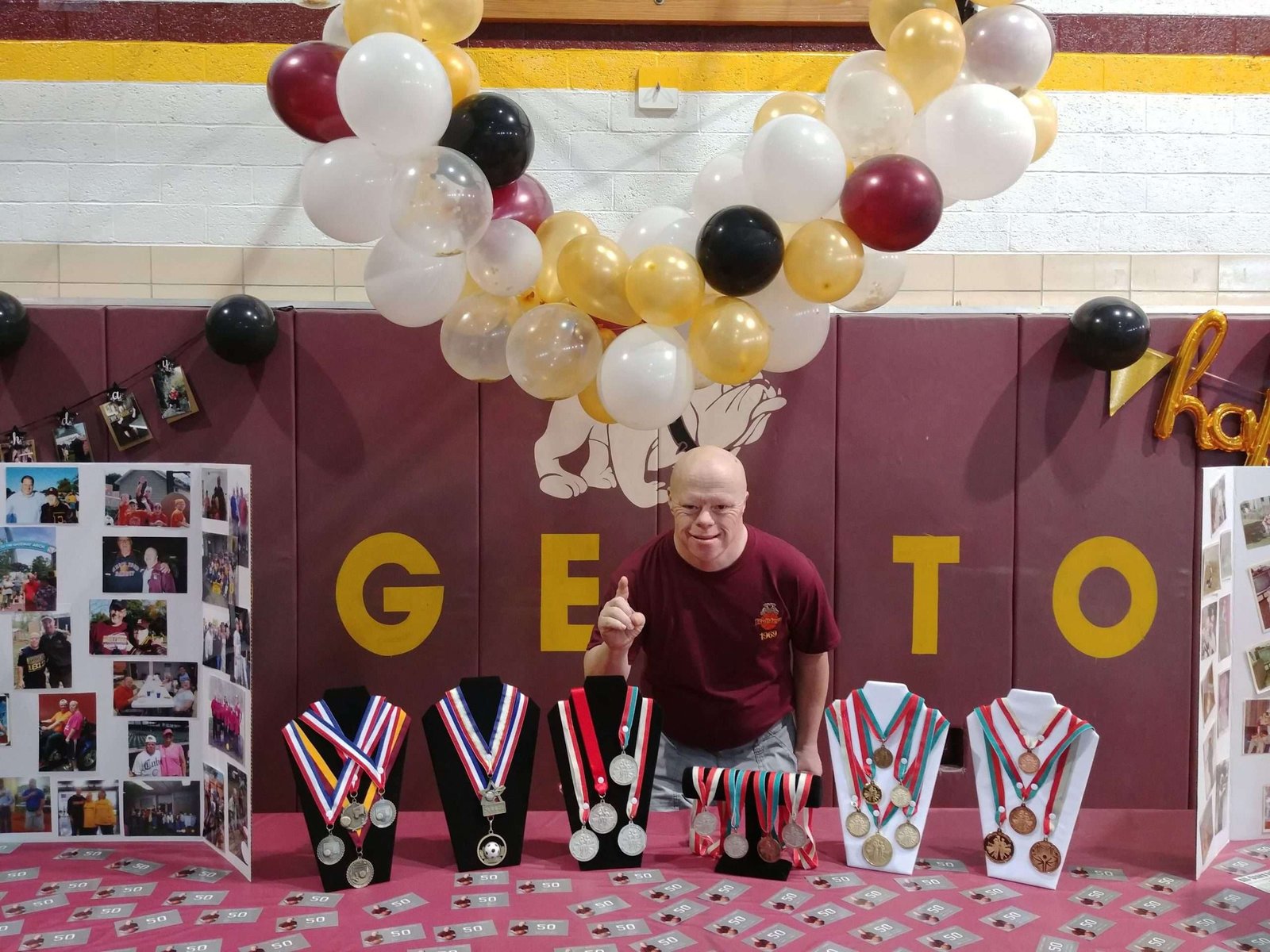 LOOK AT THOSE MEDALS! … Steve Kimpel stood to pose with his Special Olympic medals during one of his birthday parties. He is thrilled to celebrate everything, so this was a very happy day. (PHOTO PROVIDED)
---
By: Rebecca Miller
In Edgerton, Ohio, a town up in the northwest corner of the state, everyone seems to know Steve Kimpel. That goes for the surrounding area as well!
His big smile lights up any place he goes, with some of his favorite places being ball games and Subway at Marathon C-Store. He knows everyone, loves them all and they love him.
That is not the way his life began in 1969. As his mother and father, Edgerton residents, Ruth and Vernon Kimpel welcomed their eleventh, and last child, they were told by a specialist in Ft. Wayne that his siblings would never accept him because he has Downs Syndrome.
It was recommended that they place him in an institution, but they drove home with him instead.
His ten brothers and sisters loved him and cared for him from day one! Marlene Kimpel Oxender, his sister who was six when he was born, explained in an interview that in many ways he had lots of parents.
To this day, with both of their parents gone, his siblings are on it. He lives alone in the home in which they were all raised, but he is never alone at night as someone goes to sleep there and be sure he is ok. He also has a caregiver who helps Stevie have a full and happy life.
When it came time for school, Stevie began at Sunnyside but was one of the first with Downs Syndrome to be integrated into the Public School System.
The way it worked in the county he went to which ever school had the services he needed that year. He started in the public school system at Stryker and over the years attended West Unity, Bryan and Montpelier for his education. As an Edgerton boy he graduated from Edgerton High School in 1989.
When Kimpel bumps into people who say, "Hi, Stevie!" he still remembers what town they are from. Somehow, they are planted in his brain in that way and he has friends from everywhere.
If they drive past any of those schools he will say, he is an Edgerton Bulldog fan to the core and has come to be known as "Edgerton's #1 Fan."
He has attended every kind of ball game they have held over the years, always cheering and raising his fists in victory for great plays. Recently he was honored by the Hicksville, Ohio school at a Hicksville/Edgerton basketball game.
This was planned to take place at a Special Olympics basketball game between Defiance and Williams County teams "featuring Edgerton's own Steve Kimpel", but due to scheduling conflicts they were unable to play that game.
The announcer said that they still wanted to honor him, so as he stood at center court, smiling, raising his fists in victory and acknowledging the kind words being said about him, the crowd was all on their feet.
His sister Marlene shared that even though he is almost completely deaf and understands most of the time by lip reading, no one would have known that he probably did not understand what was being said as they honored him.
He nodded, made motions of agreement and understanding and accepted the honor with grace.
Stevie loves to play basketball and is known for his 3 pointers. Due to the raised shoe which he wears he is unable to run around during the games, but takes his stand, accepts the ball when his teammates throw it to him and proudly shoots those three-point shots for his team, the D5 Sharks.
The announcer sharing the honors said that Steve has been participating in Special Olympics for Williams County for 45 years!
"He really shines! Everyone get on your feet and show Stevie how much we really appreciate him," was said with joy and got great crowd response, right before both teams of girls ran out onto the court and gave him High Fives and hugs.
The refs gave him fist bumps as he came off the court, all smiles. Go #27!
Participation in the Special Olympics over these past 45 years has included Track and Basketball. Steve has a box full of medals and he has loved it all.
Many times, he has gone to State to compete in Columbus and is also on a team for Special Olympics Bowling in Bryan, Ohio every Tuesday.
Birthday celebrations have been big for this beloved Bulldog fan and records of his "big 4-0" and his 50th show that they were well attended as he never lets anyone forget when his birthday is coming up.
COVID was hard on Stevie as he loves to hug everyone he meets and when his 51st birthday rolled around in 2021, the townsfolk all climbed in their cars and drove by his home in a long and loud parade to wish him Happy Birthday. He was surprised and thrilled as he sat in his lawn-chair with family in front of his family homestead.
Rain or shine, Steve Kimpel doesn't miss a game of the Edgerton Bulldogs for whatever sport may be on for that season. No one could ask for a better and more well-loved fan.
As his sister Marlene said, "He helps everyone realize what is truly important in life." Congratulations Steve, on 45 years in the Special Olympics and Please Keep on Being a Great Fan and Friend to All!!!
Rebecca can be reached at rebecca@thevillagereporter.com
---