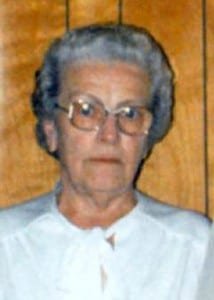 Eloise Love, 99, of Fayette, died Saturday morning, November 10, 2012, at Fairlawn Haven in Archbold, OH. Her life ended a month shy of her 100th birthday. She was born December 20, 1912, in Franklin Township, OH, to the late Fred and Freida (Double) Schang. She married John Ralph "Jack" Love on June 26, 1935, in Columbia City, IN, and he preceded her in death on July 7, 1992.
Eloise was a life-long resident of the Fayette area. She attended school through the 8th grade at the East Franklin School. Eloise and her husband Jack owned and operated the Sohio Gas Station for decades at their residence on N. Fayette St. In their later years, she enjoyed travelling with Jack, especially the fishing trips at Pleasant Lake and Silver Lake in Michigan. Eloise also enjoyed cooking and bowling.
Surviving Eloise are her daughter, Jacqueline Overmyer of Morenci, MI; two brothers, Edgar (Phyllis) Schang of Bryan, OH, and Robert Schang of Archbold; and a granddaughter, Sabrina (Lee) Schultz of Tecumseh, MI.
In addition to her parents and husband, Eloise was preceded in death by two sisters, Bernice Larned and Mary Baker; two brothers, Donald and Orville Schang; and a son-in-law, Clyde Overmyer.
According to Eloise's wishes, cremation has taken place. A memorial service for Eloise Love will be held on Thursday, November 15, 2012, at 11:00 a.m. at the Eagle Funeral Home-Barrett Chapel in Fayette. Interment of her cremated remains will follow at the Pleasant View Union Cemetery in Fayette.
Those planning an expression of sympathy may direct memorial donations in Eloise's honor to the Lenawee County Humane Society.
Friends can send condolences to Eloise's family online at www.eaglefuneralhomes.com.