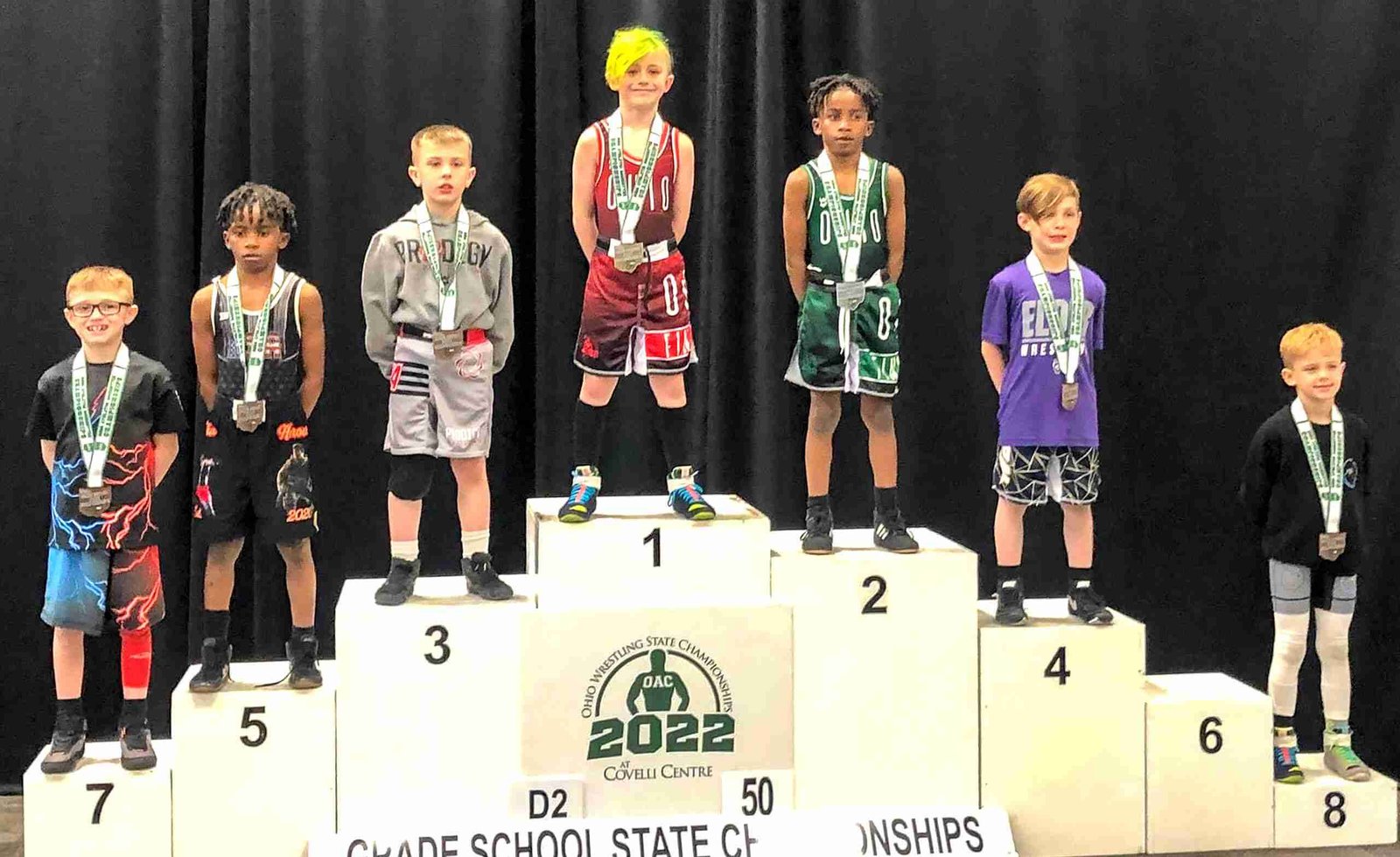 CHAMPION … Brady Fulton stands at the top in the number one position after winning the OCA State Wrestling Competition for Division II-50. (PHOTO PROVIDED)
---
By: Jacob Kessler
At the Evergreen Elementary School, a student named Brady Fulton learns academics. But for five days a week, he also trains to become the best wrestler he can be.
This must be working because Brady has recently won the State Wrestling Competition in Youngstown, Ohio as part of the State OCA competition.
The competition was held on March 26th and 27th at the Covelli Center. Brady participated in the Division II-50 competition with a bracket that was made up of thirty-two other competitors.
Over the two-day period he managed to only give up 9 points. Brady competed against five other wrestlers and won with three Falls, one Decision, and one Major Decision.
Brady pinned his last competitor in just two minutes and three seconds. His previous competitors lost with a pinning at just twenty-four seconds, and another at one minute and forty-nine seconds.
The decision round was won by a score of five to four and the major decision round was won by a score of thirteen to five.
Brady has been training with Kodiak Attack in Wauseon which is part of an elite wrestling club. He has been wrestling for three years with Coach John Bauman and for a year and a half with Coach Mike Ritter.
According to Brady and his mother Michelle Fulton, the coaches at Kodiak Attack are wonderful and have been doing all they can to see Brady achieve his dream.
That dream according to Brady is to become a two-time State Champion wrestler next year and to continue his career all the way to college.
With all the time spent practicing, and his already impressive record, it is easy to see how this dream could become a reality.
What helps the most is Brady's love for the "fast paced sport" and the friends he has been able to make from practicing and competing.
Jacob can be reached at jacob@thevillagereporter.com
---