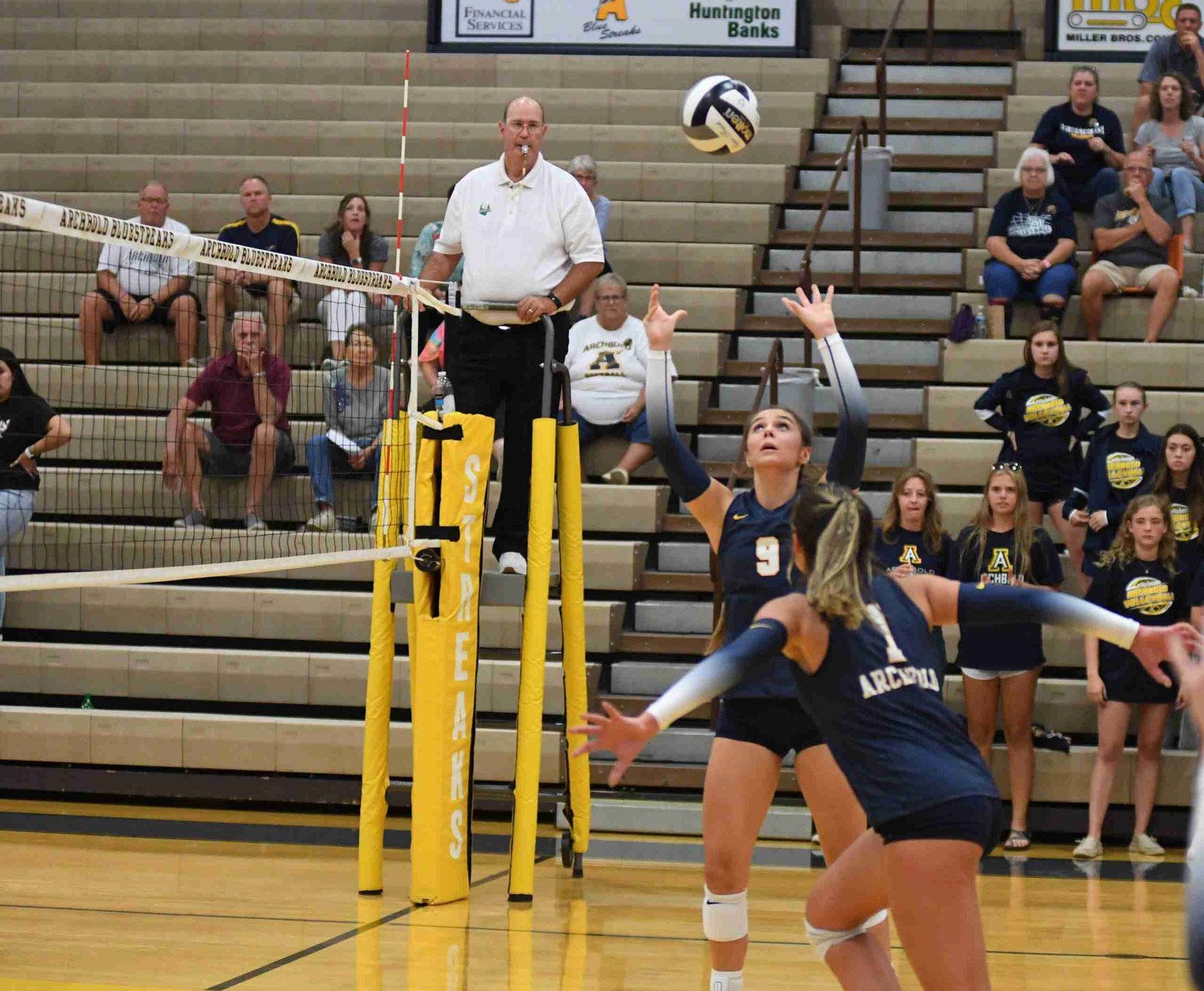 NWOAL RIVALS … Archbold senior Addie Ziegler sets for Ella Bowman in the second set of their straight set win over Wauseon. (PHOTO BY JACOB KESSLER, STAFF)
---
VOLLEYBALL
Varsity
Archbold 3 Wauseon 0
Addi Ziegler rung up 35 assists and Ella Bowman registered 12 kills to lead the Bluestreaks (6-0, 2-0 in NWOAL) past Wauseon (4-3, 1-1 in NWOAL) 25-16, 25-9, 25-7.
Bryan 3 Liberty Center 1
Bryan evened their NWOAL record at 1-1 and improved to 4-6 overall after a 18-25, 25-23, 25-23, 25-23 win at Liberty Center. Gwen Spangler tallied 10 kills and 17 digs, Blayze Langenderfer added 14 kills, and Crystal Fillman dished out 28 assists.
Swanton 3 Delta 0
After a close opening set win, the Bulldogs dominated the last two sets as they remained undefeated on the season 25-22, 25-6, 25-8. Katlyn Floyd registered nine digs and Sofie Taylor added 32 assists in the win.
Patrick Henry 3 Evergreen 2
The Vikings dropped a five-set NWOAL contest at Patrick Henry 25-18, 26-28, 19-25, 25-21, 12-15. No stats were reported.
North Central 3 Fayette 0
Kendal Bonney slammed 12 kills and added nine assists, 11 aces as North Central (6-0) rolled over Fayette (0-8) 25-11, 25-7, 25-2. Madison Brown chipped in with 17 assists for North Central and Lauren Balser added eight kills.
Hilltop 3 Montpelier 0
Mia Hancock went 20/20 serving (14 points) and Gabby Rodriguez racked up 18 kills on 36/38 hitting to lead Hilltop (5-1) past Montpelier 25-14, 25-18, 25-14. Jayma Bailey added a 14/14 service night with seven digs and seven kills for the Cadets.
Leading the Locos (4-2) was Chelsea McCord with five kills and three blocks, Lydia Stimpfle added five kills, and Cadey Hillard tallied 14 digs and two aces.
Stryker 3 Holgate 0
Emma Fulk was a perfect 22/22 serving (four aces) and 18/20 hitting with eight kills in a 25-8, 25-21, 25-18 victory over Holgate. Sage Woolace notched 14 digs for Stryker (4-5) and Kaitlyn Myers dished out 13 assists.
Edon 3 Pettisville 2
Edon recovered after dropping the third and fourth sets to pull out a five-set win over the Blackbirds 25-13, 25-13, 13-25, 15-25, 15-13. Emma Hickman paced the Bombers with 26 assists, 20 digs and Carlie Kiess registered 14 kills and 13 digs. Paris Coopshaw topped Pettisville in digs with 31, Leah Beck had 21 assists and Karen Pursel delivered 13 kills.
JV SCORES:
Archbold d. Wauseon 2-0
Delta d. Swanton 2-0
Patrick Henry d. Evergreen 2-0
Montpelier d. Hilltop 2-0
FRESHMAN SCORES:
Swanton d. Delta 2-1
Pettisville d. Edon 2-0
Evergreen d. Patrick Henry 2-0
BOYS GOLF
North Central 165 Stryker 208
The Eagles were led by Zack Hayes with a 37 as he earned medalist honors in the win at Riverside Greens in Stryker. Mason Sanford was next for North Central with a 40, Ben Petit fired a 41, and Colin Patten had a 47. Angela Soellner posted the low score for the Panthers with a 41 followed by Daniel Donovan (51), Gavin LaBo (57), and Michael Donovan (59).
Montpelier 178 Pettisville 206
Trent Thorp shot a 43 and Cooper Clark had a 44 to lead the Locos to a win over Pettisville @ Ironwood Golf Course. Jax Richmond fired a 45 and Drake Sommer added a 46 for the Locos. Pettisville was paced by Sam Myers who carded a 46, Caden Bishop tallied a 48 with Dane Waidelich and Ben Boger each posted a 56.
Hilltop 184 Holgate 231
The Cadets picked up a BBC dual win at Patriot Hills by the score of 184-231 over Holgate. No stats were reported.
Edon 278 Fayette (no team score)
Thomas Wehrenberg had a 59 as the Bombers got the win over Fayette as the Eagles were unable to post a team score. Blake Dulle had a 70 for Edon, Hope Siebenaler tallied a 74, and Dylan Buck added a 75.
Swanton 170 Wauseon 197
Wauseon's Andy Scherer was medalist with a 35 (-1) but Swanton used a balanced score sheet with four scores in the 40s in an NWOAL win at Ironwood Golf Course. Garrett Swank topped the Bulldogs effort with a 40 followed by Lucas Bloom (42), Ryan O'Shea (44), and Sam Betz (44). The Indians total was rounded out by Mykale Schneider with a 49, Jackson Gleckler had a 49, and Jesse Rittichier added a 65.
Bryan 168 Fairview 177 Paulding 177 Tinora 187
Drew Dauber was medalist with a 39 to pace the Golden Bears to a first-place finish in a quad match at Auglaize Golf Course. Nate Hess was next for Bryan with a 40, Noah Huard shot a 41, and Collin Shirkey posted a 48.
Patrick Henry 175 Liberty Center 218 Evergreen 225
Etan Rohrs fired an even par round of 36 as Patrick Henry knocked off Liberty Center and Evergreen at White Pines Golf Course. Teayte Dixon led Evergreen with a 53, Adam Schmidt had a 56, Caden Beier tallied a 57, and Brandon Cobb secured a 59.
GIRLS GOLF
Archbold 197 Wauseon 205 Fairview 207
Carly Grime's 45 led all golfers as Archbold got wins over Wauseon and Fairview at Ironwood Golf Course. Brayton Huffman and Alli Bickel each fired a 49 and Gabby Rodriguez had a 54 to complete the Bluestreaks scoring. Jaycee Perez and Jordan King topped the Wauseon effort with 48s, Ashley Fisher had a 52, and Olivia Tansel shot a 57.
Montpelier 219 Patrick Henry 228
Kinsey Word totaled a 46 to lead Montpelier in a win over the Patriots at Suburban Golf Course. Kelly Schaffter came home with a 53 while Mandy Taylor and Taylor Bard each fired a 60 for the Locos.
BOYS SOCCER
Varsity
Wauseon 2 Pettisville 1
The Indians started the second half strong with goals from Eli Delgado and Braden Vajen to take a 2-0 lead as they went on to a 2-1 win. The Blackbirds goal came on a break away by Zakkai Kaufmann.
Evergreen 6 Northwood 0
The Vikings raced to a 5-0 lead at halftime and cruised from there for a 6-0 win. No stats were reported.
JV SCORES:
Wauseon tied Pettisville 0-0
GIRLS SOCCER
Varsity
Wauseon 6 Northwood 2
Wauseon upped their record to 6-0-1 on the season with a 6-2 win at Northwood. Kadence Carroll paced the Indians offense with three goals, Abby Smith scored twice, and Rylee Vasvery added one.
Bryan 3 Lima Bath 1
Bryan responded after trailing 1-0 at halftime with an Allie Zimmerman goal to tie the game 1-1 in the 54th minute and Ella Miller scored off a Zimmerman assist in the 62nd minute for the game winning goal.
Bryan added a third goal when a cross by Zimmerman was deflected in as an own goal by Bath.
JV SCORES:
Delta tied Bowling Green 0-0
GIRLS TENNIS
Bryan 5 Rossford 0
SINGLES: 1. Posey (B) d. Logan 6-0, 6-0; 2. Adams (B) d. Boyd 6-1, 6-0; 3. Seaman (B) d. McConcha 6-1, 6-0; DOUBLES: 1. Shininger/Peel (B) d. Bieganowski/Clark 6-1, 6-0; 2. Nagel/DeWitt (B) d. Schaefer/Schaefer 6-0, 6-0
Bluffton 4 Wauseon 1
SINGLES: 1. Camper (B) d. T. Barnes 6-1, 6-0; 2. Couch (B) d. K. Bowers 6-0, 6-1; 3. Andrews (W) d. Coffman 6-2, 6-3; DOUBLES: 1. Nickel/Frazier (B) d. Hays/Holcomb 6-2, 7-2; 2. Klinger/Hoffman (B) d. Burt/Zientek 6-3, 6-7, 5-10
---