Wauseon Indians Drop The Hammer On The Holgate Tigers By 38 Strokes
DEFIANCE – Wauseon upped their overall season record to 51-7 by trampling the Tigers of Holgate, 160-198, on the links of the Auglaize Golf Course on August 19.
[divider]
Edon Kicks Off The BBC Campaign With A 201-220 Win Over Pettisville
EDON – The Edon Bombers opened BBC play against the Pettisville Blackbirds at Windwood Hollow on August 20, coming away with a 201-220 win.
The Bombers' Hayden Runyan earned medalist honors with a score of 47, one stroke better than Alex Kirkingburg at 48. Jim Peckham hit for a 52, and Kyle Long and Taylor Schuller each had a 54.
For the Blackbirds, Greg Kempf and Evan King each carded a 54. Matt Krill cleared the course with a 55, while Reed Behnfeldt had a 57 and Hannah Meller had a 61.
The Edon JV squad was also on the course, and played through unopposed. Graeden Rupp hit a 56, while Brayden Bauer had a 57, Evan Fisk a 59, and Josh Landel a 61.
[divider]
Fayette Eagles Give The BBC Boot To The Hilltop Cadets At Demor Hills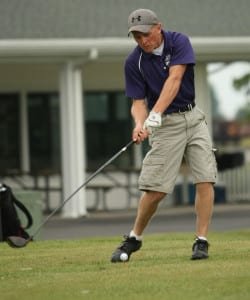 MORENCI – The Fayette Eagles and the Hilltop Cadets squared off for a round of BBC golf on the links of Demor Hills on August 20, with the Eagles defending their home turf by a 197-208 score.
Fayette's Riley Martin, Tharyn Colegrove and Justin White formed the links of what was a medalist triumvirate with scores of 49. Drake Bowditch had a 50, and Michael Brubaker a 56.
Colin Sabins of Hilltop also claimed a piece of the medalist action with a 49 of his own. Isaac VanArsdalen had a 50, and Trevor Shipman a 51. Levi Grant fired a 58, Josiah Law a 68, and Travis Haynes a 59 for the Cadets.
[divider]
An Understaffed Fairview Apaches' Squad Is Easy Pickings For The Wauseon Indians
WAUSEON – Way back in the 1980s, a group called Frankie Goes to Hollywood hit the charts with a song about two tribes going to war. On August 20 of 2013, two tribes hooked up in battle on the links of Ironwood. The Fairview Apaches arrived short-handed and in need of breakout scores and a lot of luck against the hometown Wauseon Indians. They got neither on this day as the Indians ambushed the Apaches by a lopsided 163-203 score.
Using only their four lowest scorers to match the team population of Fairview, Wauseon placed their four below the best score of Fairview, a 47 from Joe Macsay. Trevor Dominique earned medalist honors for Wauseon with a round of 38, with David Williams playing wingman with a 39. Clay Tefft and Brady Rupp each fired a 43, Anna Marshall added a 48 and Tyler Clausen cleared the course with a 49.
[divider]
North Central Golfers Down Stryker In August 20th BBC Opener
BRYAN – Although the schedule showed August 20th was the first Buckeye Border Conference golf match of the season, the atmosphere and crowd present at the contest between North Central and Stryker was reminiscent of an OHSAA tournament event. Uncharacteristic of a high school golf match, a crowd of more than 20 spectators were in tow behind the first foursome of the day. When the final quartet of golfers arrived at the clubhouse and the scores were totaled, North Central took a huge step in defense of their 2012 league title as they downed Stryker 166 to 177.
Branden Turner's round of 39 was good enough to claim Medalist honors, while teammate Dylan Hutchison was just one stroke back with a 40. Jordan Reeves was not to be outdone as he fired a respectable score of 41. David Pinc completed the score for North Central with a 46, while Joel VanDyke shot 50.
Chad Ruffer posted the low score for Stryker with a 42. Tanner Clingaman shot a round of 43, while Freshman Kaid Woolace finished with a 44. Hayden Clingaman and Austin Frisbie came in with a pair of 48's, while Cody Hall shot 51 for the Panthers.
[divider]