---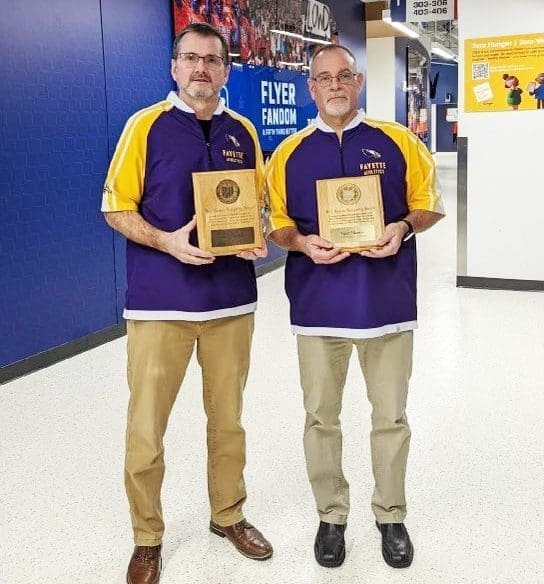 AWARD FOR LONGEVITY … Fayette boys basketball coaches Todd Mitchell (left) and Matt Maginn were presented the Bob Arnzen Award for their 22 years of coaching at Fayette. (PHOTO PROVIDED)
---
By: Joe Blystone
FAYETTE – There have been a few things that withstood the test of time in longevity. The first PB&J was made in 1901 and over 120 years later people are still knocking them down for breakfast, lunch and dinner.
Batman and Robin debuted in 1964 and nearly 60 years later not only are the originals syndicated but movies honor the Dynamic Duo.
And while the majority of marriages don't make 20 years, Fayette's basketball dynamic duo of varsity basketball coach Todd Mitchell and his sidekick Matt Maginn have stayed together for some 22 seasons now in Eagle Country.
Because of that fact, Mitchell and Maginn were given the Ohio Basketball Coaches Association Bob Arnzen Award at the recent OHSAA State Basketball Tournament.
The award is given to those who have devoted over 20 years of coaching and service to the same school.
"It's actually probably that our wives don't want us home and they would rather have us here so we don't have a choice," Mitchell joked as to how he and Maginn, along with volunteer assistant Rodney Kessler, have persevered for 22 years.
"Really we just get along," Mitchell explained of his relationship with Maginn. "He has been very loyal and good with the kids, and we haven't really ever had any rifts at all."
"It's been a good run," Maginn expressed. "I remember when (Mitchell) was athletic director he asked me if I wanted to take the girls' job at one point."
"I was like 'no, I'd rather stay right where I'm at'. We were doing good things and we decided to keep a good thing going."
Over the pair's coaching tenure, the Eagles have had success on the floor. Mitchell has had four Buckeye Border title teams, the most recent in 2016, a team that also won a Division IV District title that year.
The Eagles have also taken five D-IV sectional championships, the latest, two years ago in 2021.
Maginn's JV program has won the BBC seven times with the title in 2020 being the most current.
"All of them are special, the team in 2016 obviously that was a special year," Mitchell said.
"Even the years we didn't win are special also. I mean some years you just don't have the talent but it's not always about the X's and the O's it's about the Jimmy's and the Joe's and sometimes the best thing is when you see kids overachieve, when people don't expect anything out of you and maybe you won only eight games, but you had a great year."
"After 2016 we lost a ton, almost our entire varsity program and those kids were in every game. I think we only won eight games, but every game came down to a couple possessions. Those kids worked their tails off."
When asked about specific games he will remember, the veteran coach said two games against Ayersville will stick in his mind.
"Obviously the one at Napoleon in '16 where we beat them by a point for the district title, then in 2021 when we were down 10 with two minutes left and Tanner Wagner hit a three-pointer with five seconds to go to give us the lead and ultimately the win in a sectional final."
Both Mitchell and Maginn agreed that being on the same page has been a key for sticking together this long.
"We will go down and see his stuff then go back to our end and work on it ourselves," Maginn explained.
"We just explain to the boys that they have to pick it up if they want to be at that end of the floor, meaning with the varsity."
"The one thing we are very proud of also is that we have had a freshman team every year even being one of the smallest schools in the state."
"Every year is different," Mitchell added. "Somebody gets sick, someone gets hurt, we always talk to the kids how the JV is like the Mud Hens and the varsity is like the Tigers and sometimes you don't think you are going to get called up and suddenly someone is hurt, and you get called up and you have to be ready."
Both Mitchell and Maginn realize that after 22 years that someday the time will come that they will blow the whistle for the last season.
"Every year when the season is over, I give myself time to evaluate," Mitchell stated. "I have four more years teaching, will I go that whole time, I don't know."
"I'll see this summer if the kids are still invested. We have been very fortunate to where kids come to open gym, very good turnouts. We have never had an issue getting kids in during the summer."
Besides coaching JV basketball, Maginn is also the varsity baseball and assistant cross country coach at Fayette.
"I'll look at it similar to him," Maginn expressed. "If the kids are still wanting to learn and putting forth the effort and if I'm still enjoying it then I'll keep working at it."
Same philosophy and same ideas for the last 22 years. Maybe when they finish coaching, Fayette's Batman and Robin will start writing books on how to make a marriage last that long.
Joe can be reached at publisher@thevillagereporter.com
---