COMMUNITY SPIRIT … Officers stand at the dunk tank with the Little Miss Bryan and Teen Miss Bryan. Names appear left to right. Officer Dan Cline Montpelier Police Department, Emma Gillett Little Miss Bryan 2021, Zoey Gillett Teen Miss Bryan 2021, Officer Jake Ferrebee Edgerton Police Department, and Deputy Tyler Maynard Williams County Sheriff's Department positioned at the top. (PHOTOS BY JACOB KESSLER, STAFF)
---
By: Jacob Kessler
The first annual park with police took place at the Imagination Station Park off Horton Trail in Bryan on Saturday.
There were many different types of activities for children to do at the park but with a twist. Each of the activities allowed the children to interact with a police officer during the activity.
Activities included a bicycle safety course, a bicycle raffle, an obstacle course, and a dunk tank. Officers were also there to play on the playground and the basketball court.
Natures Nursery Wildlife Rescue and Rehabilitation also provided an hour-long lesson on what to do with local wildlife.
Deputy Tyler Maynard of the Williams County Sheriff's Department was the organizer of this event. "Ever since I started, I wanted to do something to help the public form their own opinions about law enforcement.
Park with the police is to bring the community together. The only way we can do our job is if we all work together," said Deputy Maynard.
Deputy Maynard also took his turn in the dunk tank to raise money for next year's Park with the Police.
"We are hoping to make it an annual event, grow from year to year and make it bigger. I am hoping that with the success we have had today that it will even be able to grow, and other counties will do something like this too," said Deputy Maynard.
While the money from the dunk tank and raffle is going to help support the event in the future, proceeds from the food will also go back into the community by contributing to the counties D.A.R.E. program.
Multiple departments from all over Williams County came out to support the event including the Ohio State Highway Patrol and the Ohio Department of Natural Resources.
The event went from 10 AM to 3 PM and helped to bring the community closer.
Deputy Maynard wishes to thank Kenn-Feld Group for their employee's participation and donations, as well as Natures Nursery for coming out and giving an educational experience to the children about the animals they brought.
He would also like to give a huge thank you to every business and person that donated to this to make it a great thing. As well as thanks to everyone for coming, from law enforcement to the families.
Jacob can be reached at publisher@thevillagereporter.com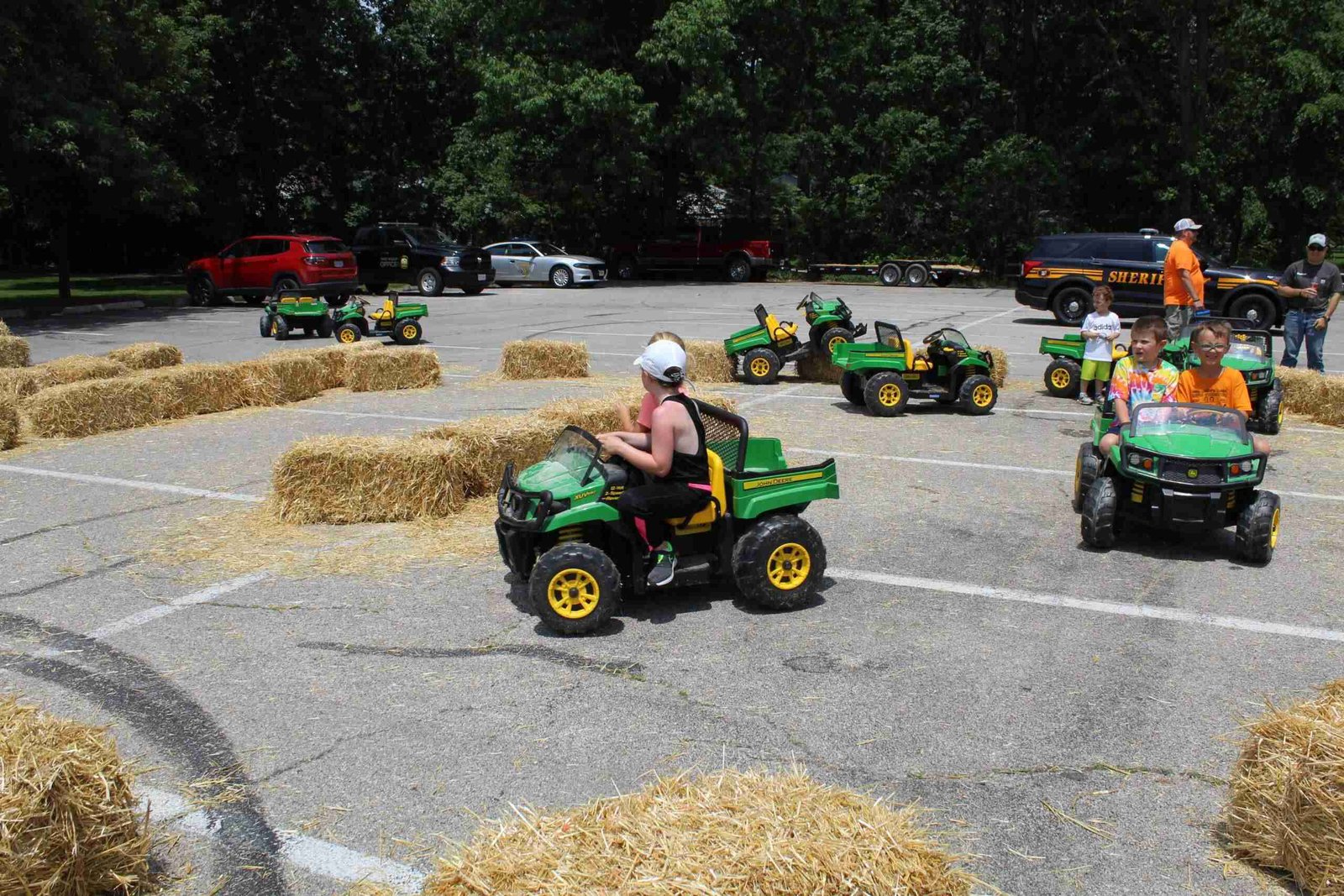 OBSTACLE COURSE … Children were able to have fun in an obstacle course in motorized gators generously provided by the Kenn-Feld Group.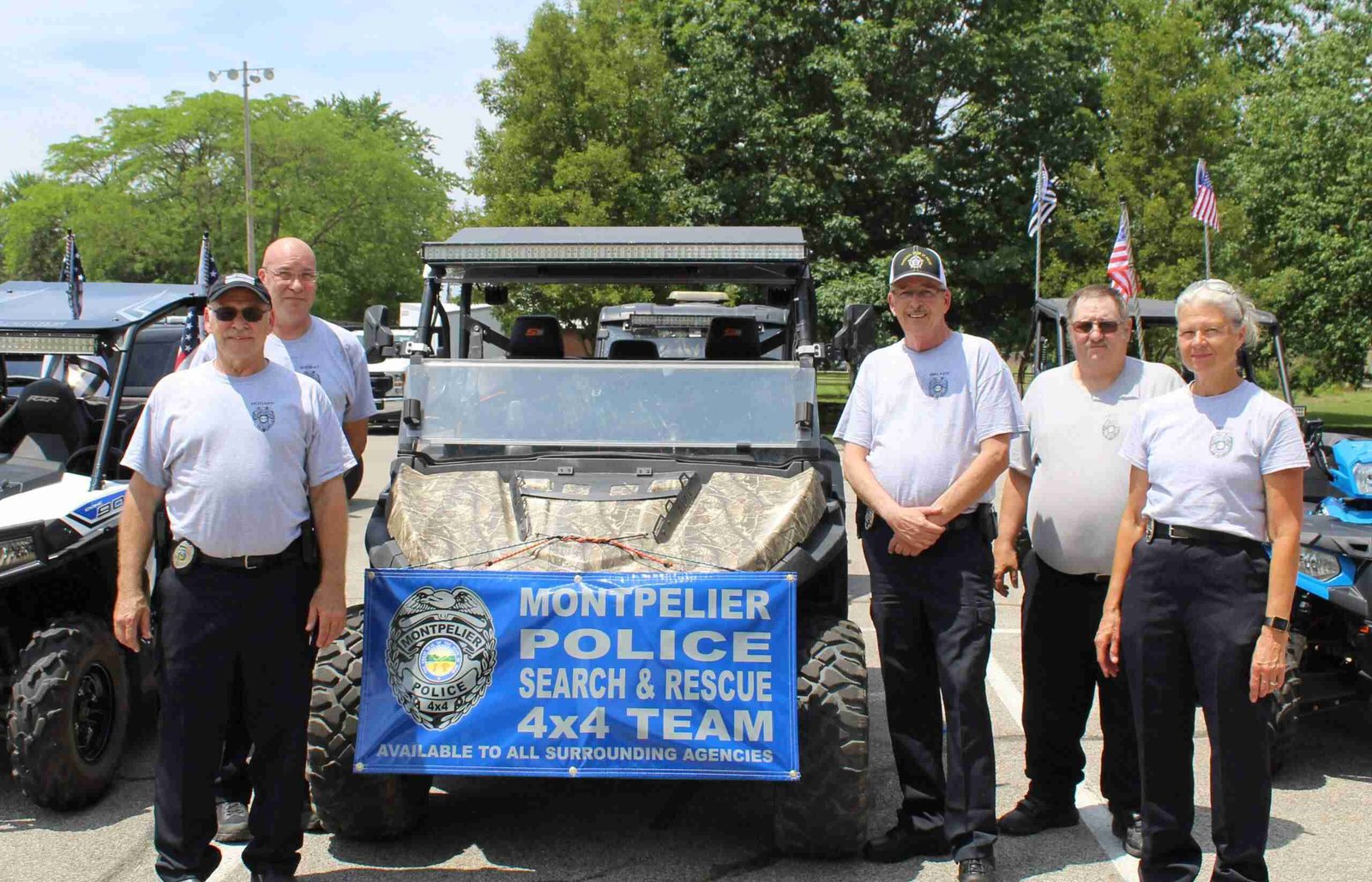 4X4 SEARCH AND RESCUE … The Montpelier Police Departments Search and Rescue team brought vehicles to the event to show to the children. Names appear from left to right. Officer Bill Hodapp, Officer Chris Bryant, Officer Jim Walker, Officer Bill Keck, Officer Joyce Wyse.
---