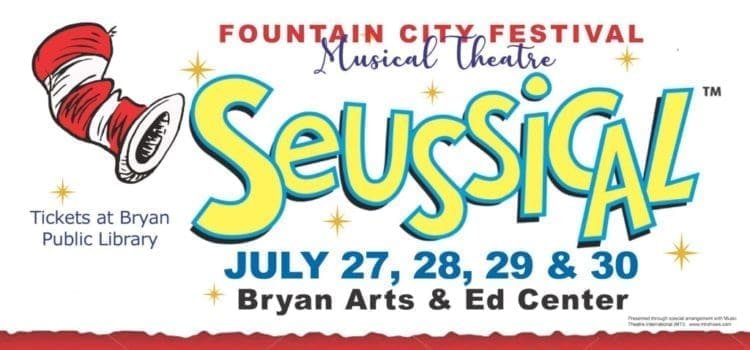 ---
Fountain City Festival's production of "Seussical" is a madcap musical adventure featuring favorite characters from beloved Dr. Seuss books.
The show brings to life Horton the Elephant, The Cat in the Hat, Gertrude McFuzz, lazy Mayzie La Bird, and many others. Even the Grinch makes an appearance.
Show dates are July 27, 28, and 29 at 7:30 PM, and July 30 at 2:00 PM at the Bryan Arts & Education Center, 325 W. High St.
Since this fun-for-all-ages musical debuted on Broadway in 2000, it has become one of the most widely produced shows in the United States.
It includes such delightful songs as "Oh, The Thinks You Can Think" and "Horton Sits on the Egg," as well as many others drawn from Dr. Seuss's books.
The songs are accompanied by creative choreography, and the cast will be dressed in unique costumes especially designed for their characters.
The plot is fast-moving and exciting. The Cat in the Hat conjures up the Jungle of Nool where Horton the elephant discovers a speck of dust containing Whoville. He meets Jojo, a Who child sent off to military school for thinking too many "thinks."
Horton has a double challenge as he must not only protect the Whos from nay-sayers but must guard an abandoned egg left in his care by Mayzie.
How Horton prevails when he faces danger, ridicule and even a trial, brings the show to a charming conclusion.
Heading up the cast are Casey Allman as Horton, Katie Davis as The Cat in the Hat, Emma Schlade as Jojo, Alex and Leslieann Wheeler as Mr. and Mrs. Mayor of Whoville, Brooke Ward as Mayzie, and Megan Allman as Gertrude. Among the entire large cast, six families have two or more members in the production.
Tickets for "Seussical" can be purchased at the Bryan Public Library's circulation desk on the lower level during regular business hours, and at the door. Ticket prices are $15 for adults, and $10 for seniors and students.
Fountain City Festival is a non-profit organization dedicated to producing professional quality theatre in Northwest Ohio.
---