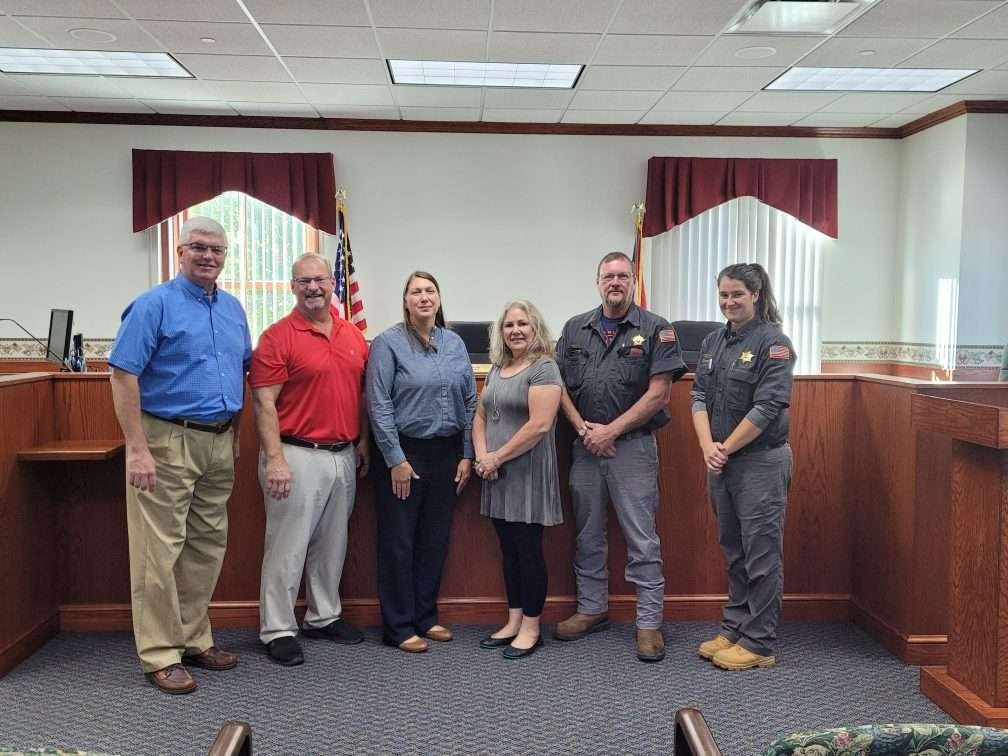 FC HUMANE SOCIETY … Commissioners Jeff Rupp and Joe Short met during the Thursday morning, Sept. 30, 2021, Fulton County Commissioners session, with Dr. Jessica Miller, CEO of the Fulton County Humane Society and Chairman of the Board, Rose Sorge. Dog Warden Brian Banister and Assistant Dog Warden Courtney Iwinski were also present. (PHOTO PROVIDED)
---
By: Rebecca Miller
Dr. Jessica Miller, CEO of the Fulton County Humane Society, along with Rose Sorge who is Chairman of the Board for the FCHS, met with Fulton County Commissioners during the September 30, 2021 commissioners session to discuss the displacement of the Humane Society.
Miller explained that for the past four years they have worked out of the building on County Road J, but recently they were informed that the building is bing sold, out of the control of the organization and they will need to vacate it by the end of 2021.
A report of what the Humane Society stands for and what it does was also given, including the following information.
The mission is to "Save the lives of homeless pets while building a strong community around our cause, to educate the public about our pet overpopulation situation in Fulton County, and to encourage our community to spay and neuter."
The organization has been in operation since 2017 with a board of directors that holds five members and a dedicated group of volunteers from the community. The animals come from the FC Dog Warden, surrenders from owners who can no longer provide care, as well as strays, injured and from other rescue and humane organizations.
Since 2017, they have adopted out 3 birds, 1,041 cats, 815 dogs, 13 guinea pigs, and 7 rabbits, totaling 1, 879 animals, so the need is definitely there for a Humane Society.
The current number of animals in their care are 9 dogs, 11 cats, 14 cats in foster homes and two dogs and one cat in permanent foster care. They work with the FC Dog Warden, Brian Banister, to provide shelter and care for unclaimed animals, leading to adoptions in new homes.
Other duties of the Humane Society include: working with Humane Ohio Transport for low cost spay/neuter of animals int Fulton County (since 2018 they have had 91 stray cats spayed or neutered) and enriching the lives of all those involved which are Volunteer community members, community service projects and the P.A.C.E. program with New Horizons.
This program allows students through New Horizons to come out and volunteer to do cleaning and some limited work with the animals.
With current status of the building being up for sale, they need to put their care "on hiatus," Miller said. hey are 100% committed to continuing their mission and were there to ask the Fulton County Commissioners to continue their funding, assistance with securing temporary and/or permanent facilities, support as they work to help the animals of Fulton County and build community good will. "We still need the funding for a place, with our precarious situation. If we lose our funding this could go away and it is so needed."
They have not figured out yet where to go when the lease is up at the end of the year. As an organization they still have donations and volunteers and will continue even if they don't have a building.
They will "still be there, staying positive and hopeful," adding that there have been some social media rumors and she felt a need to address that. A short term goal is to figure out what to do with all the animals that are in the facility presently, and they "would never just let them go."
They will have to get them adopted or move them to other rescue facilities. The Humane Ohio Transport is once a month and they need at least a heated garage to keep doing that. HO transport picks up at 6:30 in the morning and delivers them at 6:30 at. night.
They also asked the commissioners and community to support the mission by helping them in a number of ways:
-Help them find homes for the animals in their care
-Help them restructure
-Fund raising – they are developing a fund raising campaign
-Grant writing to help with the mission
-Short Term Goals – Locate a Temporary Site to allow for them to continue with Humane Ohio Transport for spaying and neutering; Locate Temporary office space for work/adoption, to meet and greet and to house some cats; Community outreach on Saturdays for adoption and education.
Their Long Term Goals are to:
– Locate a permanent facility to provide for all their needs – Quarantine area/sick room; Indoor-Outdoor runs for dogs; office space; Rooms for adoption process/meet and greet; possibly a Community Room which they could rent out for gatherings
-Ensure the best adoption home for each individual animal
-Training with a Dog Trainer to improve animal's lives and help with adoptions
-Expand the Public Outreach and Educational Services ("I have been there since the beginning and it has not always been welcoming and community oriented" she added.)
-Do better with screening for adoptions (Miller said, "In the past, a lot of adoptions have gone to the first person who said they want them and that is not always the best thing."
"We want to get better at screening. We also have a dog trainer who is working with us as a volunteer to get the dogs more adoptable."
Commissioner Joe Short asked if they have any ideas of buildings or facilities and Dr. Miller said that they have done some searches but have found nothing at this time. Commissioner Jeff Rupp asked if they have considered buying the building in which they currently work.
Miller stated that they have not been offered the purchase due to the current relations with the current owners and they have not approached the owners about it either. It was suggested that maybe they could get a third party to work with them on that possibility.
Dog Warden Brian Banister, who was also present shared that about 90% of the dogs they get are transferred to the Humane Society.
After the three day stray hold is over, they might have them for a week, so he is glad they have the Humane Society available just a mile away to find the dogs a home. They also work with several other rescue groups but the vast majority go to the HS.
He also said that he is pretty certain that Fulton County was the only county with no Humane Society until this started up four years ago.
Concerning the fundraising, Dr. Miller said that they do have some possible benefactors who have contacted them and are interested in a large donation but "that is still up in the air." Someone in the Archbold area was willing to sell them a large property for way less than it is worth, but the cost was still too high for them to consider.
She mentioned that some Humane Societies are government funded and some are run more by donations. Jeff Rupp suggested working on a Capital Campaign to renovate whatever they get, as anything will need to be adjusted quite a bit to be able to have a kennel and all the other needs.
The commissioners thanked her for the update and gave their appreciation to her and to Banister for working together so well. It ended with Dr. Miller saying, "We don't have a concrete plan, and I don't like that feeling, but this is how we start."
In regular business, the Commissioners voted to approve:
-Minutes from September 28, 2021 and agenda as presented
-Increase and Transfer of Appropriations for Various Departments
-Resolution 702 Authorize Board President to sign CDBG Economic Development Pre-Application
-Resolution 703 Authorize Board President to sign SF-424 Application for Airport Rescue Grant Program Funds
-Resolution 704 Certify Delinquent accounts for the NEWS
-Purchase orders and travel requests
With no other business, the meeting adjourned at 9:40 a.m.
Rebecca can be reached at rebecca@thevillagereporter.com
---