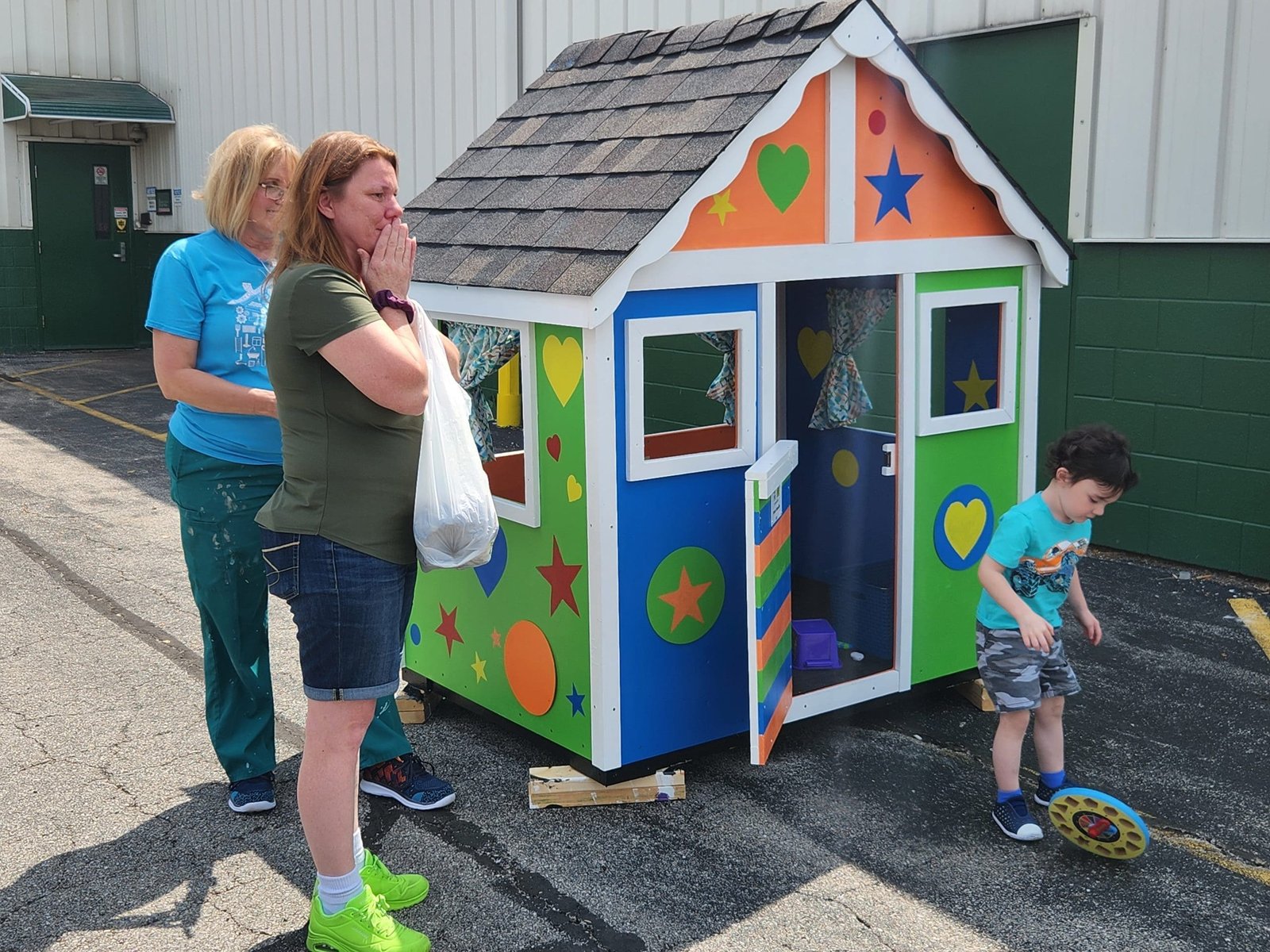 By: Jesse Davis
THE VILLAGE REPORTER
A pair of Fulton County families received playhouses for their children following a Habitat for Humanity build day at a Metamora business last week.
Parker Hannifin employees put the two playhouses together at their facility and finished them with colorful paint jobs and extra features like window boxes and toys inside.
The Demer family, of Napoleon, was the first to receive a playhouse. Belinda Demer had applied with Habitat for the opportunity to provide the feature for her son, Colton, who is non-verbal autistic. Her husband, Andrew, works for B & B Wood Products in Defiance.
"It means a lot," Andrew said. "It's something that we were looking at going and getting for him eventually, but just being the fact that not having a whole lot of cash and time to actually go get everything done."
"We just knew he'd enjoy it and plus it gives us a way to go and actually build onto it and get a swing set and everything like that you know."
Unbeknownst to the Demers, they were about to receive a swing set in addition to their playhouse that Parker Hannifin employees had just finished building from scratch. The additional gift brought Belinda to tears.
Second to receive a playhouse, theirs with a seaside theme, was the Gray family. Father Conor brought children Madeline, Dak, and Ruben to pick it up.
"I think it's pretty awesome," Gray said. "I'm pretty grateful, pretty thankful, and my kids are very excited." Gray works at Sauder Woodworking in Archbold, though they live in Wauseon.
According to Executive Director Heidi Kern, Habitat for Humanity of Fulton County completed two playhouses in 2021, their first year for the program.
An additional five were built last year, and there are already 10 committed for this year with another two in consideration.
Kern said interested families need only reach out and apply, explaining why it would be a blessing for them and why they can't provide it on their own at this time. It is not income-based.
"Those kids need something," she said. "They need something to take their minds off of whatever is burdening their family, and so a need doesn't necessarily have to be a financial need. It can be a medical need; it can be just about anything to be honest."
In addition to benefiting the family receiving the playhouse, it also helps raise funds for Habitat.
Sponsors' costs cover not only the materials for the playhouse – which brings their employees closer together during the build process – but also cover some operating costs for the organization.
"Tiny houses build big houses," Kern said.
Habitat for Humanity of Fulton County currently builds homes only in its home county, but also builds playhouses and mobility ramps as well as performing repairs in Fulton, Henry, and Defiance counties as the two additional counties don't have local Habitat offices.
According to Kern, the average monthly cost of rent in Fulton County is $910 for a 2-bedroom unit, $1,100 for a 3-bedroom unit, and nearly $1,300 for a 4-bedroom unit.
Habitat homeowners pay just $514/month including escrow for property taxes and homeowner's insurance despite being required to pay the full cost of the home, because the organization doesn't charge interest on the loans.
A new home is being built in Swanton this year and the organization is seeking volunteers. Kern also hopes to build several playhouses at their location onsite during the upcoming Fulton County Fair.
Jesse can be reached at publisher@thevillagereporter.com
---