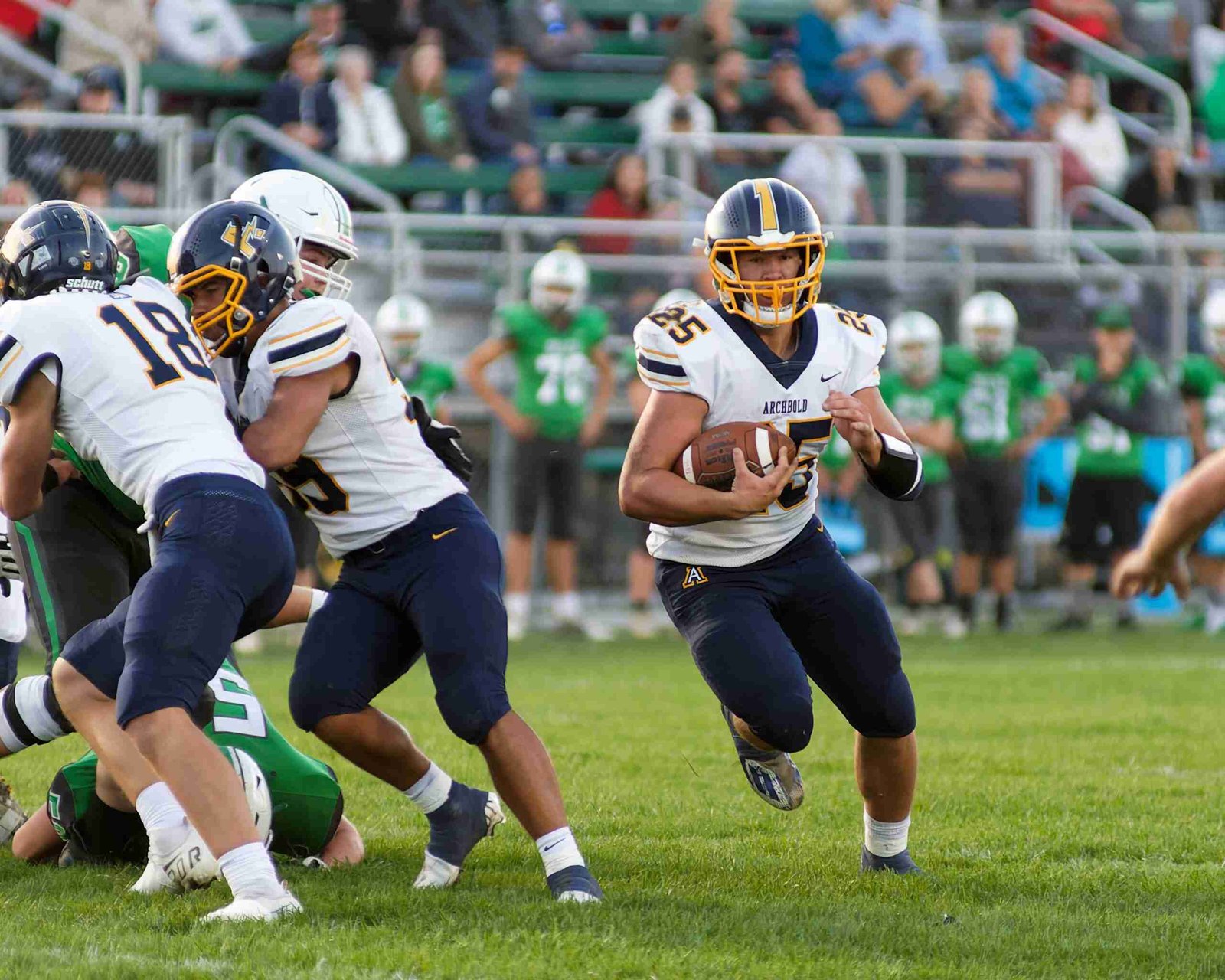 ROOM TO RUN … Bluestreak running back Carson Dominique runs through an opening. Dominique finished the night 90 yards rushing and two touchdowns. (PHOTO BY JACOB KESSLER, STAFF)
---
By: Nate Calvin
DELTA – Archbold's last two games have followed the same script. The opponent scores first and the Streaks storm back with six unanswered touchdowns.
The victim this time was Delta, who took an early 3-0 lead after forcing an Archbold turnover, only to see Archbold score on five straight possessions to take control in a 42-3 win at Panther Stadium.
It was a promising start for the Panthers as James Ruple picked off a DJ Newman pass that deflected off the hands of receiver Karter Behnfeldt to give Delta the ball at the Archbold 46-yard line.
Ruple would then turn in the key play of the seven play Delta drive that ensued with an 18-yard run on fourth and two to keep the drive alive.
The Panthers moved the ball to the Archbold 11-yard where they faced a fourth down and one before committing a false start penalty which forced them to settle for a 33-yard field goal by Phil Smithers to make it 3-0.
The Bluestreaks would then go to work with Newman engineering a 10-play, 66-yard drive culminating in a nine-yard touchdown run by Carson Dominique off a shovel pass from Newman to take a 7-3 lead with 1:17 left in the first quarter.
Delta would go three and out on their next possession and the Bluestreaks would block the punt of Smithers which was scooped up and returned for a TD by Gavin Bailey on the first play of the second quarter.
After another three and out by the Panthers followed by a short punt, Archbold had great field position starting their next possession at the Delta 38-yard line.
Archbold would need seven plays to find paydirt again as Newman turned in a 20-yard run on fourth down and then eventually scored on a 14-yard scamper to push the lead to 21-3.
With the Panthers running game stymied again, the Bluestreaks again benefited from a short punt giving them the ball back at the Delta 47-yard line.
It was a seven-play march from there, capped off by a one-yard TD plunge by Dominique as the lead grew to 28-3 with 2:30 left in the half.
Archbold's defense was able to get one more possession for the offense before halftime by forcing another Delta punt with around :50 to go.
The Bluestreaks moved quickly starting with a 14-yard run by Newman and then a Newman to Behnfeldt screen pass that covered 20 yards to move the ball to the Panther 11-yard line.
Archbold found the end zone on the next play with Newman throwing to Behnfeldt on an 11-yard pass for the score to make it 35-3 and meaning the second half would start with a running clock.
It was a balanced Bluestreak offensive attack as they threw for 182 yards and ran for 143 yards. Newman paced the passing game by going 14/15 for 135 yards with one touchdown and Dominique carried the ball 15 times for 90 yards and two scores to lead the running game.
The Archbold defense was just as dominant as they held the Panthers to just 80 yards of total offense and four first downs on the night.
UP NEXT: Archbold (6-0, 3-0 in NWOAL) will host Evergreen (2-4, 0-3 in NWOAL) for Homecoming and Delta (3-3, 1-2 in NWOAL) will head to Swanton (0-6, 0-3 in NWOAL).
SCORE BY QUARTERS
Archbold   7    28   0   7  –  42
Delta         3      0    0   0  –   3
Nate can be reached at publisher@thevillagereporter.com
---