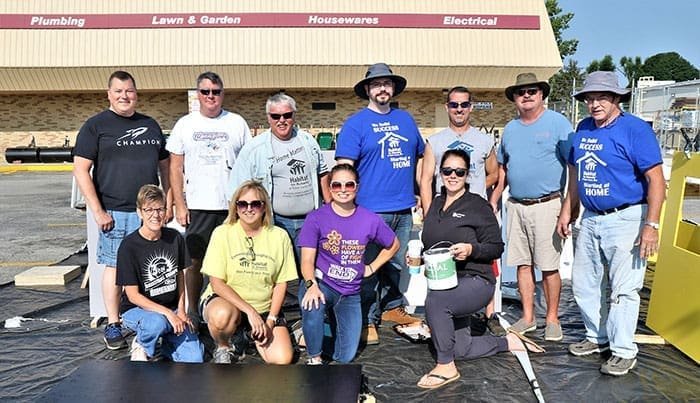 ---
By:  Amy Wendt
THE VILLAGE REPORTER
On Saturday, August 19 the Fulton County Habitat of Humanity Board of Directors showed their true colors by splitting into teams, Ohio State and the University of Michigan, to build two playhouses that will be raffled off to the community on the day of The Big Game.
As their team names suggest, the Buckeye playhouse was dressed in scarlet and grey while the Wolverine playhouse donned blue and maize.
The builds took place at Wauseon Ace Hardware's parking lot and progress was updated on Habitat's Facebook page during the event.
---
The completed playhouses will be on display during the Fulton County Fair in the Merchant's Building north of the grandstand.
According to Habitat's Executive Director, Heidi Kern, "My Board members are always on 'Habitat's team' and it was fun to see them split up and compete on behalf of Habitat's mission. All proceeds will be used toward our project expenses locally."
Any adult interested in entering the OSU-MI raffle can do so anytime before Game Day by visiting www.habitatfco.org.  Votes are $5 each or 5 votes for $20.
Every vote is an entry for a chance to win the playhouse.  The winner will be drawn during a livestream taking place on the day of the OSU/Michigan game.
Amy can be reached at amy@thevillagereporter.com
---