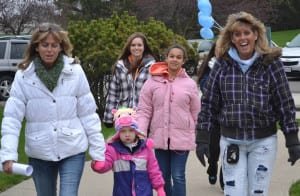 (WAUSEON, OH) On Saturday, April 25th, Fulton County Job and Family Services and Adriel Foster Care hosted a 5K Walk/Run for Child Abuse and Neglect Awareness including Fraud Awareness.
The event was attended by over 200 residents with 60 participating in the 5K and over 80 in the family fun walk. In addition to the walk and run, community agencies provided information and resources. The agencies included: Adriel Foster Care, Archbold Fire Department, Four County Family Center, Fulton County Health Center, Fulton County Health Department, Fulton County Job and Family Services, Fulton County Sheriff Deputy Simon and Maggie (K-9), Help Me Grow (Fulton County Board of Developmental Disabilities), NOCAC, Sara's Garden, Wauseon Fire Department, WMTR and Youth Works. Also guests of the event were "The Winter Sisters," from Laurel's Princess Parties, Doc McStuffins, Diego and Happy the Clown.
"We are thrilled with the way this event turned out, especially on such a chilly spring day," noted Jackie Wallischeck, event coordinator and Adoption and Foster Care Assessor with Fulton Job and Family Services. "We are already looking forward to planning for next year's event!"
This event was made possible in part from the assistance of the Ohio Children's Trust Fund and their "Pause for a Child Campaign," promoting the safety and well-being of children, youth and families as well as Fraud Awareness.
Top 10 finishers for the Adult Race were:
1. Justin Gailbraith
2. Logan Feffer
3. Tim Myers
4. Brook Ruffer
5. Connor Vorner
6. Heather Myers
7. Tim Klopfenstein
8. Heather Gailbraith
9. Kim Rex
10. Coleen Fether
To report suspected child abuse or neglect in Fulton County call 419-337-0010 and press 3. Reports can be made anonymously. For more information about child abuse prevention programs and activities in Fulton County, visit www.fultoncountyoh.com/jfs
INFORMATION PROVIDED