---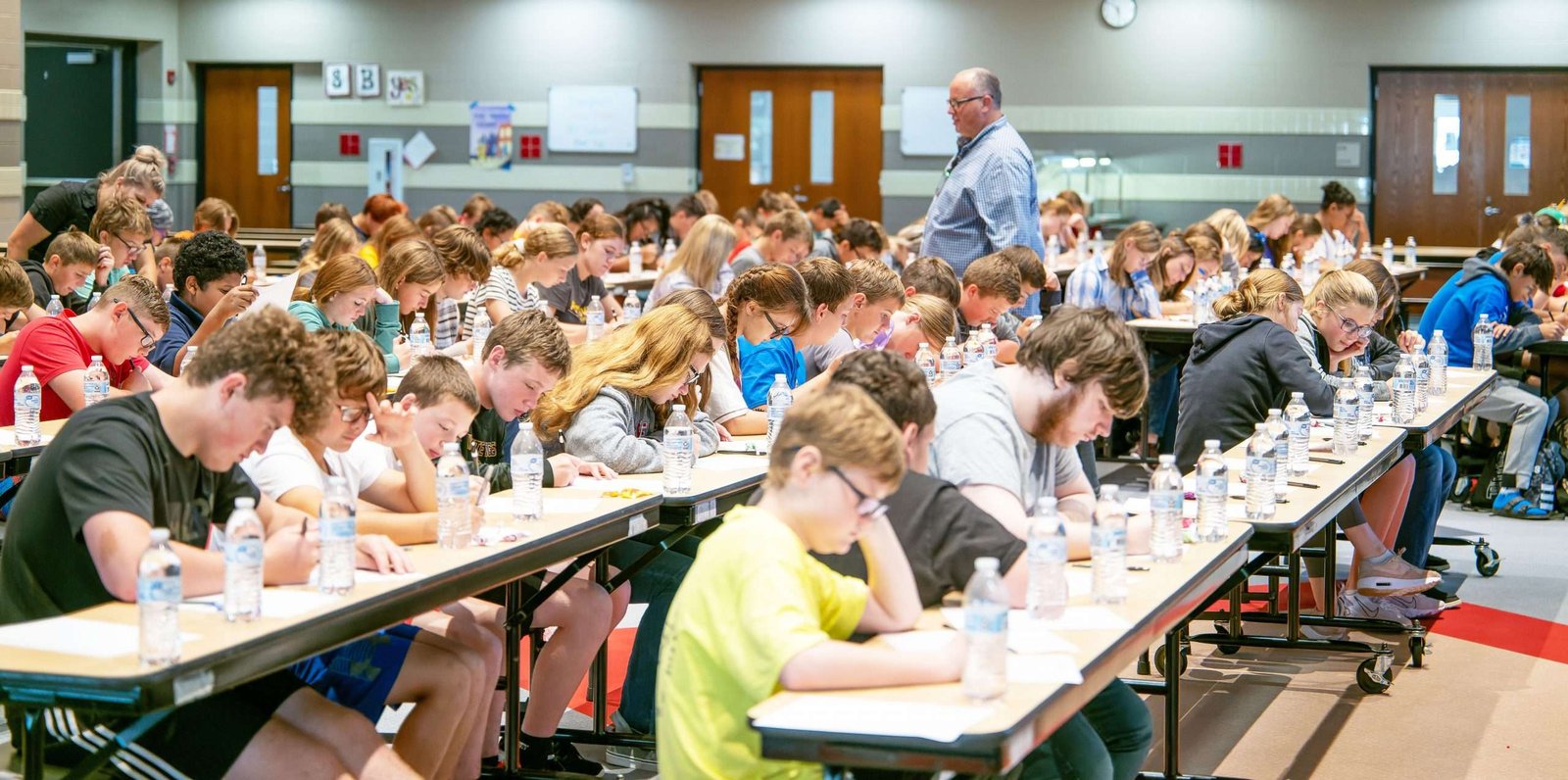 HARD WORK … Speaker Ty Sells instructed the students to work on an assignment that was a bit of a brain teaser. Later, he allowed them to work together telling them they could ask anyone for help. When the time was gone, a lesson was learned by the students that you need to work together and that sometimes you should leave the circle around you to find help. (PHOTO BY REBECCA MILLER, STAFF)
---
By: Jacob Kessler
Middle school students from across the county participated in a workshop put on by the Fulton County Health Department.
Led by Beth Thomas and utilizing organizations such as YAC (Youth Advisory Council) and BOSS (Beyond Ourselves in School), students from schools in the county were able to hear presentation given by Youth International.
Founded in 1982 and headquartered in Columbus, Ohio, Youth to Youth is a community-based drug prevention and youth leadership program focused primarily on middle school and high school students.
Youth to Youth also partnered with Care Source which is a medical insurance company.
Care Source provided funding to the company in order for them to go to as many schools across the state that they can reach.
The event spanned two days with the first day taking place on Tuesday, September 20th.
Students in grades seven and eight from Archbold, Fayette Evergreen, Delta, Wauseon and Pettisville heard from keynote speaker Javier Sanchez.
Mr. Sanchez spoke about knowing who you are, where your headed and what your story is.
He also gave out the idea that your reputation is only a suggestion of who you are, and that you define who you are.
On Wednesday, students from Archbold, Fayette, Evergreen, Wauseon and Pettisville traveled to the Wauseon Middle School to hear a presentation from Ty Sells.
Mr. Sells spoke about mental health and ways to maintain it. "We touched on the four areas such as beauty, strength, skill and connection."
"Beauty meaning acts of kindness and looking out for each other. Strength is strength in numbers, normalizing the talking about issues and struggles and also connecting to the right people that can help us."
"Skill is hope in action. Things can get better and working on skill development is proof things can get better. Connection is about finding connections," said Ty Sells.
He continued with, "We are trying to highlight behavioral health. I have spoken to over 25,000 young people from across the state and have been to many schools."
"Kids now have been through something that is different and, as adults, hopefully we have the skill sets to help. It is important to continue to check on young people."
Students from the Youth Advisory Council were also at the event. This council is made up of thirty students from across Fulton County and represent five of the seven school districts.
The group is youth led with a goal to strategically identify and change a part of the community they think is an issue of concern.
As for the event, the council members were there to support the students, help in any way they could and also get to experience what the speakers had to teach.
Jacob can be reached at jacob@thevillagereporter.com
---