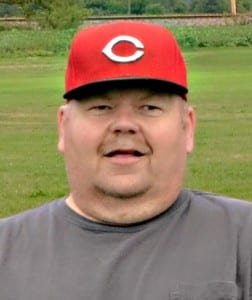 Garry A. "Big E" Eschenbrenner, 54, Stryker, passed away unexpectedly in his home on Thursday, August 30, 2012 when the Lord called him home. He had worked at CE Electronics in Bryan.
Garry was born in St. Mary's, Ohio on May 8, 1958, the son of William and Patricia (Smith) Eschenbrenner. He was a 1976 graduate of Stryker High School and attended Four County Auto Mechanics School. Garry played softball for many years in the Bryan Industrial League. He was a member of the Scott Ellis Committee. He loved NASCAR, the Cincinnati Bengals, the Cincinnati Reds and golfing. He also loved to build model trains and lightbars.
Surviving is his father, William Eschenbrenner and special friend, Marsha, of McClure; sister, Elaine (Mike) Perdue of Stryker; nephew, Chad (Jeannette) Perdue of Bryan; two nieces, Brandy (Monte) Breen and Kaylene Collins; and great-nieces and nephews; Alex Toffler, Lane Breen, Brent, Damien, Justine, Grant, and Warren. He was preceded in death by his mother, Patricia Eschenbrenner and nephew, Matthew Perdue.
Funeral services were held at 11:00 A.M. Wednesday, September 5, 2012 at the Life Changing Realities Fellowship in Edgerton, with Pastor Scott Carlin and Pastor Byron Adams, officiating. Interment was in the Evansport Cemetery. Friends called at the Grisier Funeral Home in Stryker on Tuesday. The family requests that memorial contributions be given to the charity of the family's choice. Online condolences may be offered to the family at www.grisierfh.com