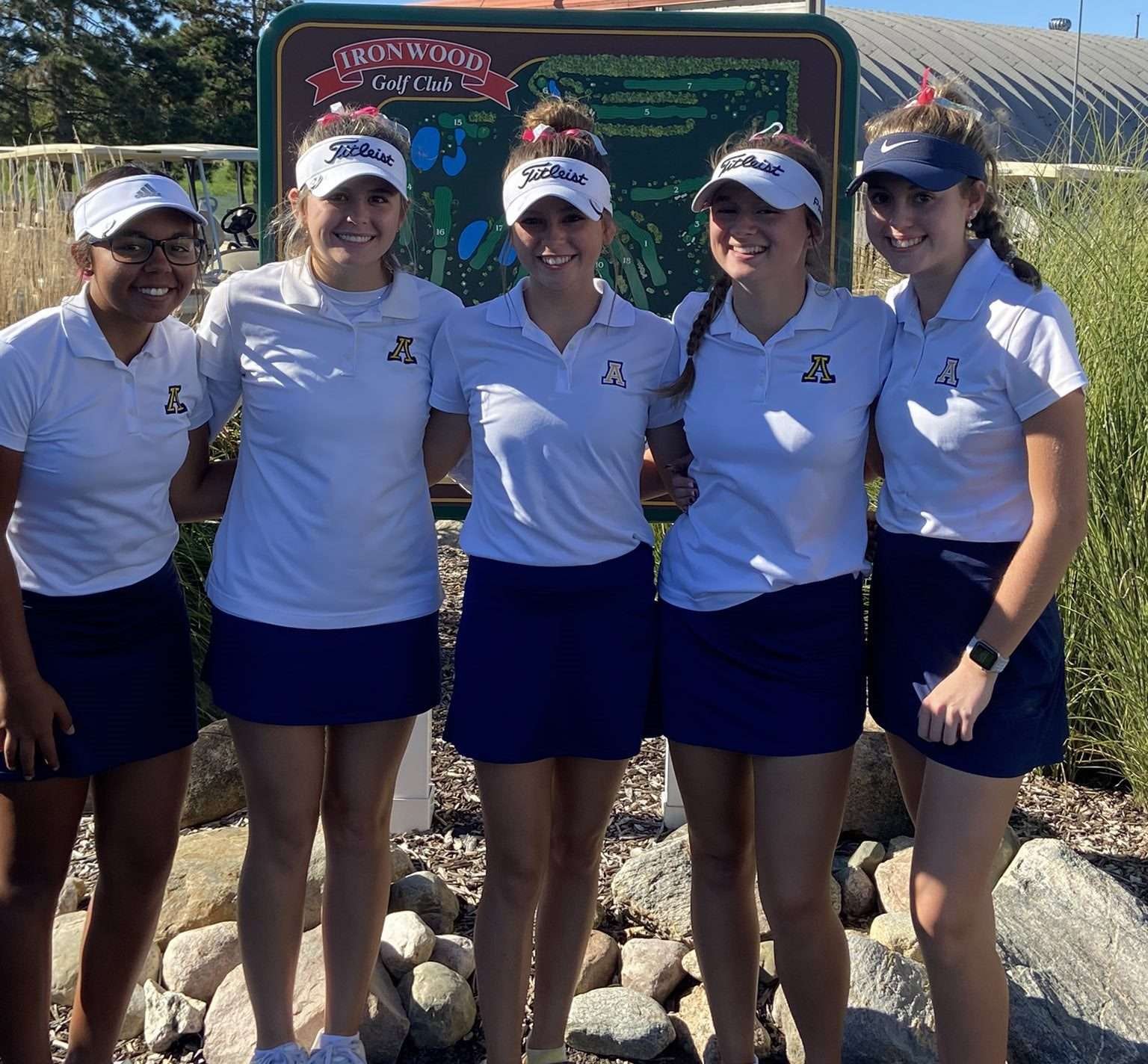 DISTRICT QUALIFIERS … The Archbold Lady Bluestreaks finished as runners-up led by medalist Brayton Huffman to move on to next week's district tournament in Sycamore Springs. Archbold will be joined at districts by NWOAL rival Wauseon (shown below) as the Lady Indians placed third, one stroke behind Archbold.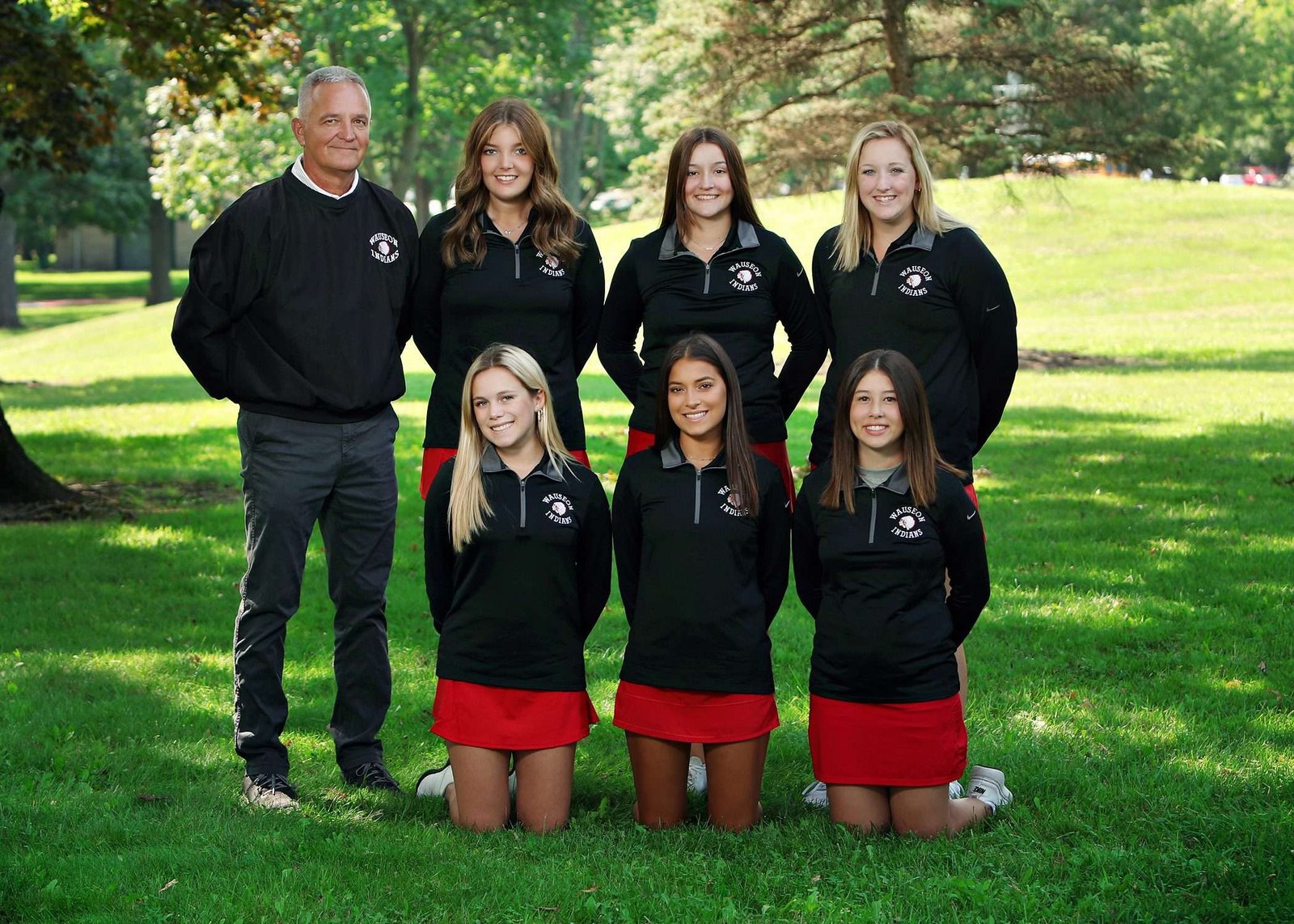 ---
By: Nate Calvin
WAUSEON – NWOAL rivals Archbold & Wauseon finished second and third respectively in the Division II Sectionals held at Ironwood GC in Wauseon to advance to the district tournament.
Brayton Huffman paced the Lady Streaks by shooting an 83 as she posted a 43 on the front nine and 40 on the back nine to take home medalist honors. Carly Grime joined Huffman in the top five individually for Archbold with a 90 to place third, Aniyah Copeland shot a 108 (T-29th) and Alli Bickel had a 113 (T-35) to finish out the Bluestreaks total.
Wauseon was led by a top five finish from senior Jordan King with a 93 (4th), Halle Frank was next for the Indians with a 99 (T-13th), Calaway Gerken had a 100 (15th), and Ashley Fisher shot a 103 (T-19th).
Hilltop ended up fifth (425) led by Avrie Johnston who shot a 94 (T-5th) to grab one of the three individual qualifier spots. The Cadet's total was rounded out by Jamie Chester with a 96 (T-8th), Ella Calvin carded a 99 (T-13th), and Ingrid Hoffman tallied a 136 (64th).
Delta was the next area school as they finished 9th led by Kalleigh Mignin with a 102 (T-16th), Evergreen came home 11th paced by Chloe Creque's 103 (T-19th), and Montpelier was 12th as Kinsey Word had the low score for the Lady Locos with a 97 (T-10).
Stryker sophomore Angela Soellner also qualified as an individual with her round of 95 to place seventh overall.
Other area golfers competing individually were: Sam Doty (Bryan, 115); Tara Morr (Bryan, 129); Elizabeth Thiel (Bryan, 129); Nevaeh Powers (Fayette, 123); Mina Wesche (Pettisville, 115); (Lily Wiemken (Pettisville, 120); Kennedy Morr (Stryker, 112).
In Division II at Moose Landing CC in Ottawa, Edgerton placed fourth just eight strokes behind GMC foe Fairview for the last qualifying spot.
Lola Giesige turned in the low score for the Lady Bulldogs with a 99 to tie for 11th overall, Ashlyn Sleesman and Breana Reliford fired 107s (T-21st) and Gretta Brown carded a 113 to finish tied for 27th.
The Division II districts will be played at Sycamore Springs Golf Course on Monday, October 4th, 2021 at 9:00 a.m.
Division II Girls Sectionals (@ Ironwood GC-Wauseon)
TEAM SCORES: (*Qualifying team) 1. *Gibsonburg 389 (Stout 94, Albanese 96, Sworden 97, Spanfellner 102); 2. *Archbold* 394 (Huffman 83, Grime 90, Copeland 108, Bickel 113); 3. *Wauseon 395 (King 93, Frank 99, Gerken 100, Fisher 103); 4. Lake 418; 5. Hilltop 425 (Johnston 94, Chester 96, Calvin 99, Hoffman 136); 6. Eastwood 440; 7. Rossford 447; 8. Woodmore 457; 9. Delta 462 (Mignin 102, Stickley 107, A. Ford 126, G. Ford 127); 10. Genoa 490; 11. Evergreen 490 (Creque 103, Lutrell 122, Miller 130, Vaculik 135); 12. Montpelier 499 (Word 97, Taylor 128, Bard 137, Kriesher 137); 13. Ayersville 0; 14. Bryan 0; 15. Fayette 0; 16. Holgate 0; 17. Pettisville 0; 18. Stryker 0
TOP 10 INDIVIDUALS: (*Qualifying Individuals) 1. Brayton Huffman (Archbold) 83; 2. Autumn Osborne*(Ayersville) 85; 3. Carly Grime (Archbold) 90; 4. Jordan King (Wauseon) 93; T5. Ellie Stout (Gibsonburg) 94, *Avrie Johnston (Hilltop) 94; 7. *Angela Soellner (Stryker) 95; T8. Morgan Albanese (Gibsonburg) 96, Jamie Chester (Hilltop) 96; T10. Taylor Sworden (Gibsonburg) 97, Sarah Patrick (Lake) 97, Kinsey Word (Montpelier) 97
Division II Sectionals (@ Moose Landing CC-Ottawa)
TEAM SCORES: (*Qualifying Teams) 1. *Van Buren* 357; 2. *Hicksville 412; 3. *Fairview 418; 4. Edgerton 426 (Giesige 99, Sleesman 107, Reliford !07, Brown 113); 5. Otsego 430; 6. Antwerp 444; 7. Wayne Trace 466; 8. Patrick Henry 502; 9. Miller City 532; 10. McComb 557; 11. Liberty Center 0; 12. No. Baltimore 0; 13. Ottawa-Glandorf 0; 14. Ottoville 0; 15. Pandora-Gilboa 0; 16. Tinora 0
Nate can be reached at publisher@thevillagereporter.com
---