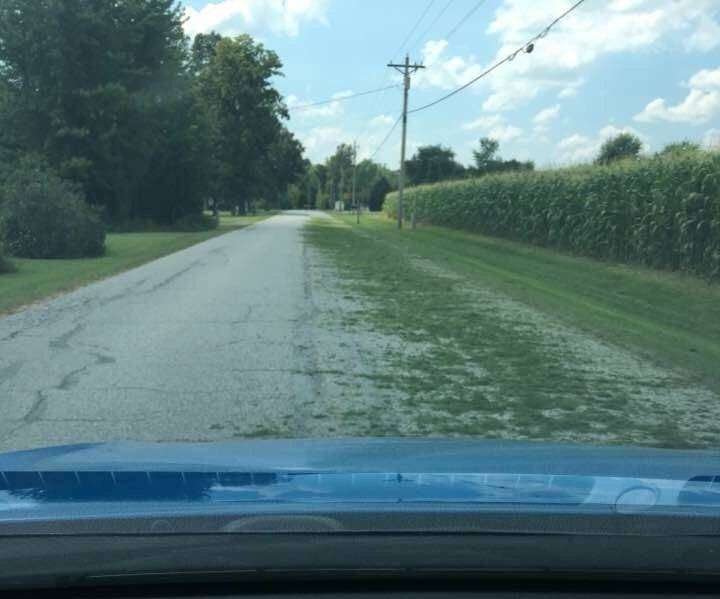 "No person shall place or knowingly drop upon any part of a highway, lane, road, street, or alley any tacks, bottles, wire, glass, nails, or other articles which may damage or injure any person, vehicle, streetcar, trackless trolley, or animal traveling along or upon such highway, except such substances that may be placed upon the roadway by proper authority for the repair or construction thereof.
Any person who drops or permits to be dropped or thrown upon any highway any destructive or injurious material shall immediately remove the same.
Any person authorized to remove a wrecked or damaged vehicle, streetcar, or trackless trolley from a highway shall remove any glass or other injurious substance dropped upon the highway from such vehicle, streetcar, or trackless trolley.
No person shall place any obstruction in or upon a highway without proper authority." – Ohio Revised Code 4511.74  Effective January 1, 2004
So…It's against the law for someone to blow their grass clippings onto the road. Right?
"Here's where people get confused," said Fulton County Sheriff, Roy Miller. "The county does not have an ordinance, nor does the State of Ohio. The State of Ohio just talks about putting 'injurious materials' on the roadway, and if you look at (Ohio Revised Code) 4511.74…that doesn't mention lawn clippings. We even had the prosecutor look under some case law to try to find it, because this comes up every year, and it never even mentioned this grass or lawn clippings. However, your villages, Wauseon and municipalities, they probably have ordinances – I know they do – against blowing grass clippings in the roadway. However, where the issue comes up is if somebody would wreck or something would happen, and it was found to be because of the negligent homeowner shooting that out into the roadway, then civilly…it's happened."
Sheriff Miller went on to recall a lawsuit brought by a Plainfield, Illinois woman who claimed that the motorcycle accident wherein she was injured, was brought about by grass clippings in the road. "So basically the civil liability of the homeowner being negligent is what they should be worried about," he said. "But as a law, no, there isn't anything in the Ohio Revised Code that says that they can't do that. We had a gentleman last week, actually. Somebody videotaped the guy doing it, put it on Facebook and it went viral, but you know we talked to the guy. It was cleaned off to the best of his ability. We talked to him, and we tried to explain to him the liability side of it, and that it could cause accidents and what have you. He seemed to understand; I hope he does. But for me to go back out there and cite him…I couldn't do it."
The bottom line is simple; from the standpoint of Ohio Revised Code 4511.74, no state-level law exists prohibiting the blowing of grass clippings onto the street. "We even went further," Sheriff Miller said, "…and tried to have the prosecutors look up case law to see if they could find anything in there, and basically what it amounts to is if somebody becomes injured, there's lawsuits."
Your local municipality may well have something in their codified ordinances banning the practice of blowing grass clippings onto a public thoroughfare, but the State of Ohio has nothing. Therefore, with a criminal conviction not forthcoming at the State level, the best that could be hoped for, barring a local code violation, should such a code exist in that municipality, would be a remedy sought through civil litigation.
Timothy can be reached at tim@thevillagereporter.com
---