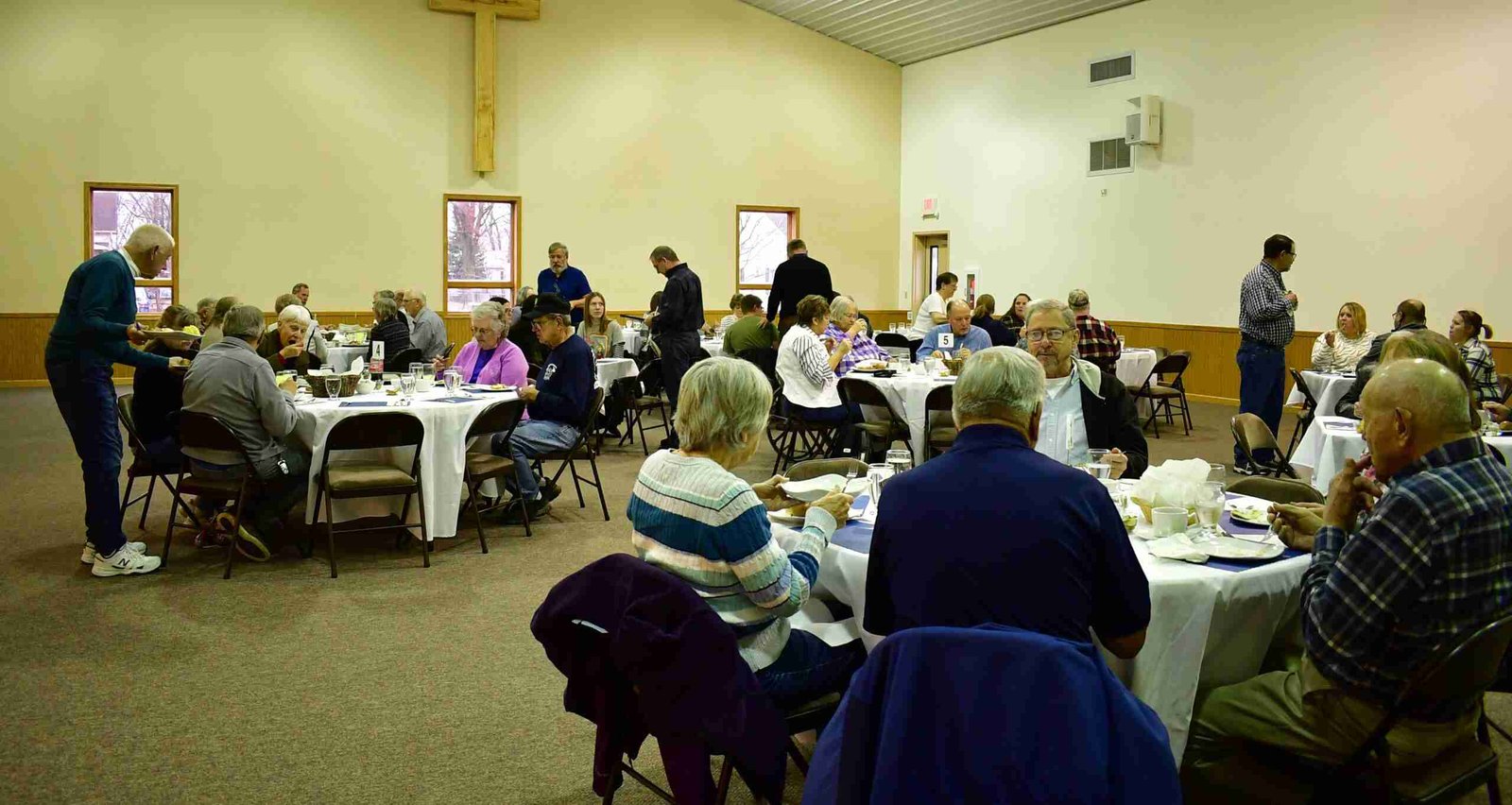 GENEROUS DONATIONS … Members of the Fayette community came out to the Family Life Center to support pickleball coming to their village. (PHOTO BY LINDSAY PHILLIPS, STAFF)
---
By: Lindsay Phillips
As a up and coming village, Fayette is adding pickleball courts to their current tennis courts at Normal Memorial Park.
A delicious homemade dinner was provided by the Fayette American Legion Auxiliary on March 19, 2022, from 5:30 p.m. to 7:00 p.m. as a fundraiser to raise money toward fixing the village's tennis courts, and making them game ready for pickleball.
As community members came in one after another, they were greeted and seated by Connie Wagner from the Fayette American Legion Auxiliary.
Waiter/waitresses then came to the tables to gather drink orders and offer a tossed salad as the appetizer.
Dinner included three options of pot roast with potatoes and carrots, chicken with rice and broccoli or vegetable stuffed manicotti with broccoli. After the main entrée was served, guests got to pick from numerous options of pie.
While attendees enjoyed their food and conversation, Amy Beaverson, Northwest Ohio Tennis Representative, went around to each table to talk about what pickleball is, and how to play it.
With funds for the pickleball court needing to be raised by April 15, 2022, Fayette Community Development Corporation (CDC) and the Ministerial Association donated a significant amount. Also donated were two nets from Amy Beaverson.
Karen King from CDC stated she is, "looking forward to getting things done at the parks in Fayette." King shared the CDC is hoping for a splash pad and a disc golf course, which is being ran past the Village Administration.
After the fundraiser, Fayette's pickleball courts are only seven hundred dollars away from their goal. With a turnout of sixty people and donations amounting to one thousand three hundred dollars, the original four thousand five hundred dollar goal was almost reached.
The American Legion Auxiliary is still accepting donations for the Pickleball courts. These can be mailed to Lucy Seiler, American Legion Auxiliary, 20073 Co. Rd. L, Fayette, Ohio 43521.
Lindsay can be reached at publisher@thevillagereporter.com
---