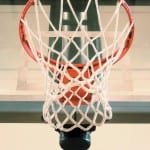 SWANTON – Talk about 'The Long March', the Hilltop Lady Cadets had to endure three quarters and overtime period to march out from under Swanton on February 5, 49-44.
The hometown girls ran off a 15-8 first period, but the Lady Cadets began chipping away at the deficit in the second period. Trailing by four going into the fourth, Hilltop went on a 12-8 run to force overtime, then completed the rally with a 7-2 fifth frame to come away with the win.
Sam Lillemon hit on a game-high 16 points and 12 rebounds to lead Hilltop, with Emily Armbruster connecting for 11 and Hannah Bleikamp 9 points. Jackie Smith had 6 points and 5 boards, Cierra Carpenter added 4 points and 6 dimes, Kayla Settlemire had a deuce and Kelly Geis buried a free throw.
SCORING BY QUARTER:
Hilltop  8  7  15  12  7 – 49
Swanton  15  6  13  8  2 – 44