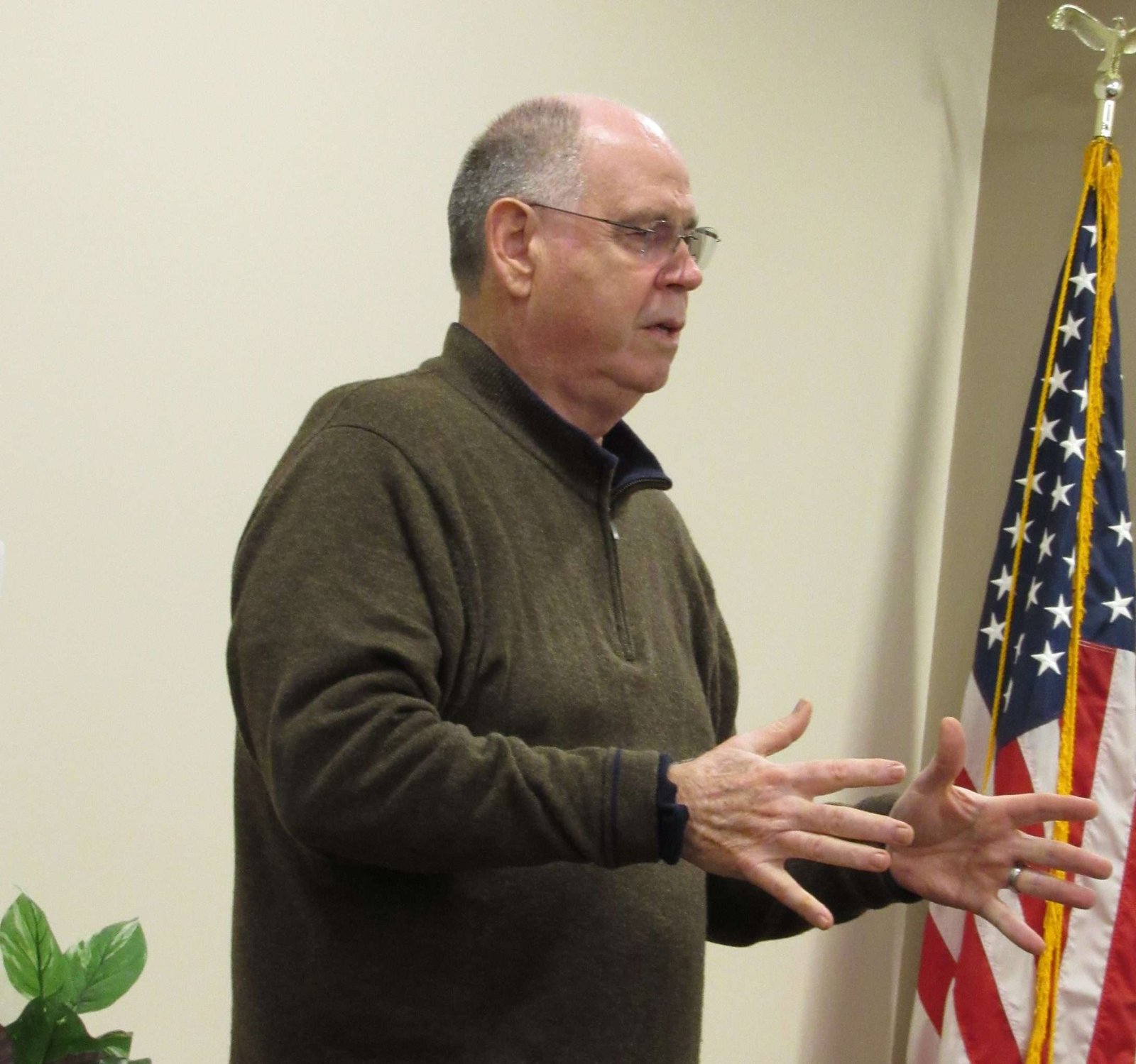 PORT AUTHORITY REPRESENTATIVE … David Newcomer from the Williams County Port Authority makes a presentation to the Holiday City Village Council. (PHOTO BY LACIE FISH, STAFF)
---
By: Lacie Fish
The regular meeting of the Holiday City Village council came to order on November 18 at 7:03 pm. Roll call was taken, all were present except Tyler Rupp and The Pledge of Allegiance was said by all. A motion was made to excuse Tyler Rupp from the meeting and it was seconded.
Minutes from the November 4, 2021 special meeting of Council were approved.
Then David Newcomer from the Williams County Port Authority made a presentation. Dawn Fitzcharles, who is part of the Port Authority, was also present.
Fitzcharles passed out a summery of the powers of the Port Authority. As a private entity they can do things to assist in what Holiday City wants to do for housing. An important part of bringing in the Port Authority is they have the right to sell the lots where the city does not.
He told the council that the percentage of houses sold in this Country in 2020, under $200,000 was only 1.2%. He would like to figure out how to get quality housing built, with 2 or 3 bedrooms, and a garage for something very close to $200,000.
Mr. Newcomer would like to put together a good deal that the Council agrees on that would bring some significant housing to Holiday City.
The Port Authority will start meeting monthly, on a Wednesday, at the East Annex in Bryan and it will be open to the public.
ORDINANCES
2021-9- Regarding 2022 compensation- 2nd reading; 2021-1D- REVISED 2021 appropriations; Ordinance 2021-9 went into executive session at the end of the meeting.; Ordinance 2021-1D A motion was made and seconded; a motion was made for Resolution R-2021-20- T&N PO's (58&59-2021) and seconded.
There was nothing except invoices for the Fiscal Officer Report. There was a motion to pay the bills and it was seconded.
The Legal Report went over a medical marijuana dispensary and a location. It was also mentioned that there is no zoning in the village.
Economic Development Corporations was looked into per request of the Mayor and the information was given to the council members.
The Mayor Report talked about the Cops & Kids Program that will be taking place on December 11th at 9pm. They will be going to Wal-Mart to shop and they will also be watching a movie.
If anyone wants to donate to it you can take your donations to the local police office and tell them its for Cops & Kids.
In the Administrators report a siren replacement was talked about. A motion was made and it was seconded. Voltage regulators should be in at the end of the month.
The meeting went into executive session to discuss Ordinance 2021-9
Lacie can be reached at publisher@thevillagereporter.com
---