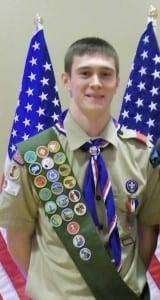 Hunter Clingaman of Stryker has recently achieved the rank of Eagle Scout, the Boy Scouts of America's highest honor. He is a member of Troop #79 chartered by the First Lutheran Church, Stryker. Craig Miller serves as Scoutmaster and Mike Dilyard and Kevin Short serve as Assistant Scoutmasters.
Hunter's scouting career started in 2003 when he joined Stryker Cub Scout Pack #3079 as a Wolf Scout. He worked his way through the Cub Scout Ranks earning Cub Scouting's highest honor, the Arrow of Light Award in February of 2006. He then crossed over into Stryker Boy Scout Troop #3079 in March of 2006 and earned his way up to Life Scout holding several positions within the Troop such as Senior Patrol leader and Patrol leader. He was elected to the Order of the Arrow (Scouting's Honor Society) in July of 2008. He completed 21 merit badges and planned and completed an Eagle project in August of 2012 to earn his Eagle Rank on December 10, 2012. During his years in Scouting, he has participated in many community service projects such as the annual Scouting for Food drives and working with the Village of Stryker on the Knight's landing project.
Hunter's Eagle project consisted of the design and construction of a cement walkway installed around the flag pole at Knight's Landing, Stryker. Two memorial markers were also installed as part of the project, one commemorating William J. Knight of whom the landing is named after. The other marker is in honor of the Stryker Boy Scouts who have constructed their Eagle Projects at Knight's Landing.
He is the son of Jamie and Dawn Clingaman, Stryker and has 3 brothers, Tanner and Hayden, at home, and Terence of Stryker.
A senior at Stryker High School, he plans to attend NW State in the fall in the field of Engineering. During his high school career at Stryker he served as Class President his freshman year, is a member of the National Honor Society, 4 Year member/letterman in Golf (advancing to State in 2009 & 2011), member of the Varsity basketball team and was selected for the All Star Cage Classic to be played April 5th, 2013, a 4 year member of the Stryker High School band and is a member of this years track team. He has received BBC Scholar Athlete awards his Junior and Senior year and has received the All Ohio Scholar Athlete awards for the Fall and Winter Sports seasons.
He has worked weekends at John's Sons Donuts since October of 2011 and attends Stryker United Brethren Church where he is active in the youth group.
Hunter will be receiving his Eagle Scout award at a Court of Honor on Sunday, April 7, 2013 at 3:30 pm at the Stryker United Brethren Church. Hunter will receive a special badge commissioned to recognize the 100th year of Eagle Scouts.