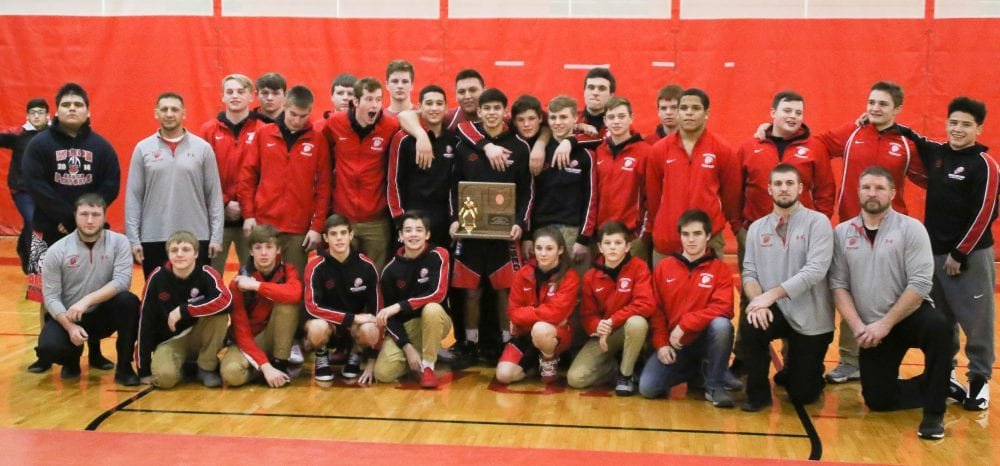 The Wauseon Indians, behind two impressive wins, captured the Division II Regional Championship for the second year in a row in front of their home crowd at Wauseon High School. With the win, the Indians return to the State Duals Tournament held ay Ohio State's St. Johns Arena on February 12.
In the semi-final match the Indians pinned the Defiance Bulldogs 46-30. The most exciting moment of the match was when senior McKayla Campbell pinned Defiance's Lupe Martinez with 3:17 gone in the dual. Other winners for the Indians during the match were: Gavin Ritter (106, 15-6 Major Decision); Nolan Ray (120, with a pin in 4:17); Hunter Yackee (132, with a pin in 1:22); Sandro Martinez (145, by forfeit); Xavier Torres (152, with a pin in 1:55); Andrew Bailey (160, by forfeit); Trent Davis (170, with a pin in 3:20).
With the win, Wauseon moved on to the Regional Championship match against Sandusky Perkins. Wauseon made the win look effortless as they grabbed, decisioned and pinned their way to the 40-23 victory. The two first matches went to the Tribe with a forfeit at 106 (Jameson Gray) and Ritter winning his second match of the night with a 7-2 decision at 113.
Jarrett Bischoff and Hunter Yackee followed with wins at 126 and 132. Bischoff won with a 14-6 major decision and Yackee won a tough 1-0 decision over Drew Crabtree. Sandro Ramirez and Xavier Torres won the 145 and 152 matches for the Indians to go up 28-6. Ramirez won by pin in 3:40 and Torres also won by pin in just 1:07. Andrew Bailey followed suite at 160 with a 1:50 pin to expand Wauseon's lead to 34-6. The Indians dropped four of the final five matches with Alex Sosa winning at 285 by forfeit but they had already sewn up the title.
"It's a great honor to be going back to the State Tournament," coach Mike Ritter said. "Our kids are really excited to get another chance to compete in the State Finals. They got a taste of it last year, and it was an exciting event, so they are very anxious to get back to it. Now they know what to expect and can be more prepared going in. It was great qualifying in front of our home crowd. Defiance and Perkins are both good teams, so we knew we had to wrestle at a high level to advance. I think our kids did just that, and now we can completely focus on getting ready for the State Tournament. We need to get everyone as healthy as we can so when arrive in Columbus Sunday we can put out our best line up."