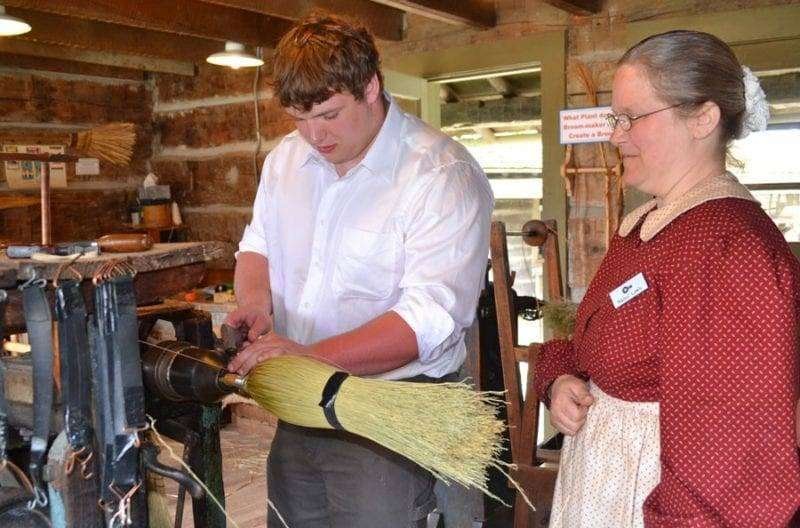 Archbold, OH – If you are interested in learning something new, Sauder Village is certainly the place to be this year for education and inspiration! Why not invite a friend and try your hand at chair caning, quilting, cooking or soap making! The Sauder Village Winter/Spring Class Schedule is now available online and registrations are being taken for the many unique opportunities for fun-filled learning.
"Education has been a cornerstone of the Sauder Village mission since the historic village opened in 1976," shared Kim Krieger, PR/Media Relations. "There aren't many places in the region where you can learn so many unique crafts! From broom making, cooking, and quilting to gardening or making a penny rug – our schedule of classes and workshops at Sauder Village is truly quite impressive."
For those interested in fiber arts, there are a variety of class opportunities on the schedule. Learn to use fabric scraps to make a "Penny Rug" in late February or sign-up for a chair caning class for beginners in March. Many unique quilting/sewing classes are available year 'round in addition to quilting events including Quilt Retreats, OH-MI Shop Hop and the 40th Annual Quilt Show and Workshops in late April. A broom making apprenticeship is also on the schedule, with ates available by request.
A variety of cooking classes will offer an opportunity to try making something new in the kitchen. Cooking classes will focus on homemade soup, scones, cheesecakes and homemade breads from around the world. A new Gardening Class is available and Soap Making classes are also being offered for both the beginner as well as those with soap making experience.
In addition to classes and workshops, Sauder Village also offers many special events throughout the year. Upcoming events planned at Sauder Village include the Bridal Show on Sunday, March 6 and the Toledo Symphony Orchestra Concert on Thursday, March 10. The Historic Village will open for the 2016 season on Tuesday, April 26 with the 40th Annual Quilt Show in Founder's Hall. Other early spring events include Spring on the Farm on May 14 and the Antique Car Gathering on Saturday, May 21.
For detailed class dates, descriptions, fees, supply lists and instructor information visit the Sauder Village website at http://www.saudervillage.org/classes-events/classes or call 800.590.9755. Explore your creativity and make new friends while attending a class this year at Sauder Village!
INFORMATION PROVIDED