---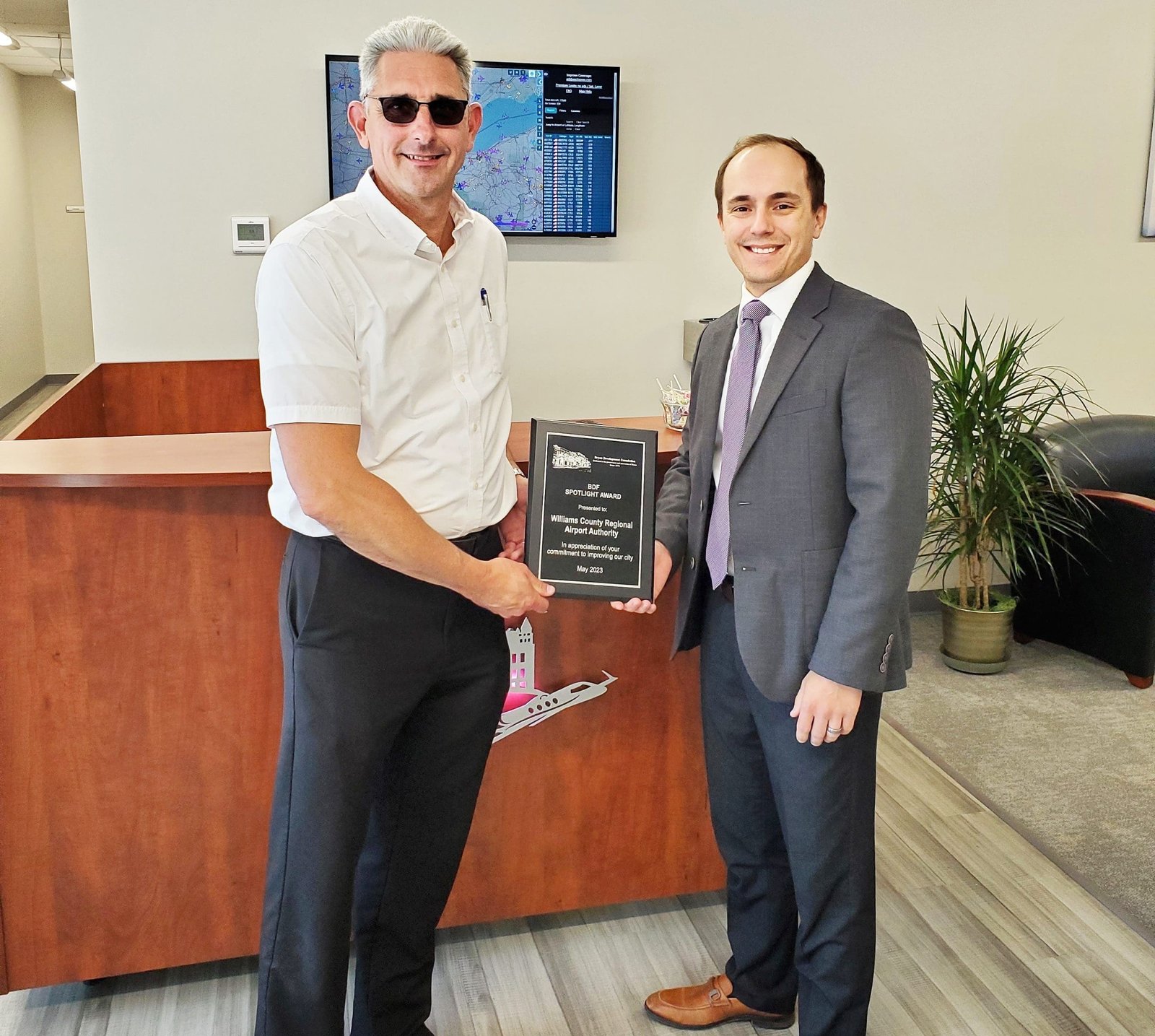 MAY WINNER … Pictured receiving the Spotlight Award is Brent Wilson (left) of the Williams County Airport Authority. Presenting the award is Jacob Willey, representing Bryan Development Foundation. (PHOTO PROVIDED)
---
To recognize local investment in buildings, landscaping, and other improvements, the Bryan
Development Foundation created a monthly "Spotlight Award."
The May recipient is Williams County Regional Airport Authority for the construction of the 0G6 Aircraft Storage Hanger and Emergency Management Agency Facility.
The Airport Authority board, with the backing of the Williams County Commissioners, felt constructing additional commercial aircraft hangar space was essential.
With FAA funds of $8.8 million that have accumulated since 2006, money was available to invest thus bringing in more consumer traffic to Williams County.
The new hangar area was also designed to be used as Williams County's emergency center.
The Airport Authority Board members credited for the project's inception include President David Newcomer, Vice President Brent Wilson, Kirk Vashaw, Burton Blalock, Aaron Herman, Dan Eshman, Scott Wyse and Steve Fortner.
Thiel Construction Company was the contractor, and the engineering was provided by Bell Engineering, Ltd.
Special thanks is extended to sponsors of the project that include Andres O'Neal & Lowe, BJ Wilson Enterprises, LLC, Dan Schiebel-Proflite, Inc., DW Farrell, Jason Dietsch Trailer Sales, Midwest Community Federal Credit Unit, Midwest Pipe "in memory of Marvin Thiel", Saneholtz-McKarns, Inc., Spangler Candy Company, The State Bank, YNOT Air, LLC, and 20/20 Custom Molded Plastics.
The Bryan Development Foundation's mission is to enrich the community by encouraging economic activity, preservation, and community pride.
The BDF presents the Spotlight Award to a resident, business, industry, or institution that has invested in new events, construction, preservation, restoration or beautification efforts, in Bryan.
Spotlight Award recipients are recognized by the BDF with a plaque and through social media and local news outlets.
Plaques are provided by Image Pro Group. The community is encouraged to submit Spotlight Award Nominations at developbryan@gmail.com.
---