---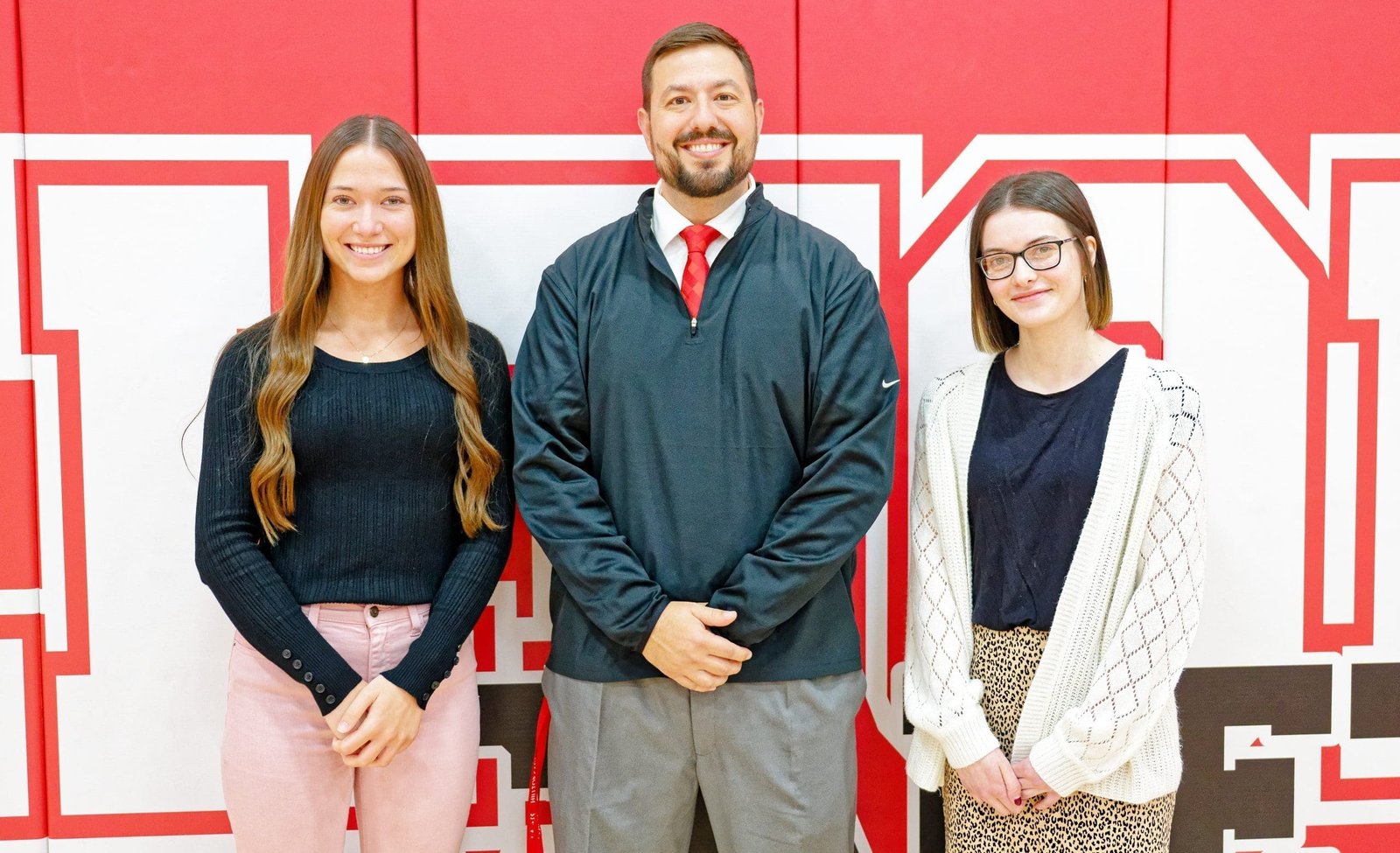 NEW FACES … New kindergarten teacher Kendal Pursel, Hilltop Elementary Principal Jason Mansfield, and new 2nd grade teacher Kara McCann stand in the high school gym in front of the Hilltop Cadets mats following the May 8th, 2023, school board meeting. (PHOTO BY JACOB KESSLER, STAFF)
---
By: Jacob Kessler
The Millcreek-West Unity Local Board of Education held their meeting on Monday, May 8th. The meeting began at 6:04 p.m. with Mr. Wyse presenting the second reading of the NEOLA policy updates.
Superintendent Jim Wyse then spoke to the board regarding the upcoming levy renewal opportunities for the district.
With two levies needing to come up for renewal, the board moved to start with one of them instead of putting them both up for election at the same time.
The substitute levy will be placed on the November 7th ballot for consideration first. It was stated that this renewal will not raise taxes for anyone. The other levy to be considered later is a safety levy renewal.
The building principals then gave their reports with the High School being discussed first. As part of the report, some of the following items were discussed.
Students of the month selected by their teacher for the month of April, a Career Day held on April 28th, Junior/Senior Prom, and additional upcoming events.
Students in the 9th grade previously toured local industries, students in 10th grade visited area businesses that were tailored to their specific career interests, 11th grade students performed community service with the school custodians and the village administrator, and 12th grade students went to Quality Inn at Holiday City for the Senior Next Day that saw seniors play the game of Life by the OSU Extension Office.
Abby Smith was also congratulated for obtaining a grant to purchase a Green Energy Machine. The machine is a solar generator on wheels that teachers can use to instruct students on solar energy.
The elementary report was then given. It was stated that testing has been completed at the elementary level besides make up tests.
Kindergarten screening was held on April 13th and 14th and saw 38 future "Cadets" come through and sign up.
Two new faces were then introduced to the board. Ms. Kendal Pursel was recommended as a kindergarten teacher and Ms. Kara McCann was recommended as a 2nd grade teacher.
Mr. Richard Custar was also recommended to be a Cross Categorical Intervention Specialist but was not in attendance.
A Mini Manufacturing Day was held at Northwest State on April 6th that saw 6th graders attend. 5th and 6th Grade students who met their Accelerated Reader Goal attended a Toledo Mud Hens game on April 26th.
On the same day, another group of students took a trip to the Imagination Station where they were able to see a Think Tank Weather Exploration exhibit.
May 1st saw 1st graders take a trip to Sauder Village to see the living history museum and 5th and 6th grade band students showed off their talents at a band concert held in the high school gym.
The board then moved to approve the following items as part of a consent agenda. Minutes from the April 2023 board meeting and April 2023 financial statements.
A list of substitute teacher and classified substitutes reasonable assurance of employment list for school year 2023-2024. The FY23 updated five-year forecast and assumptions.
A transfer of money left in a Class Fund, to the H.S. Student Council Fund. Class of 2021 for $969.57 and Class of 2022 for $1,757.66.
A resolution to authorize the execution and delivery of a Master Electric Energy Sales Agreement with the district and Power4Schools endorsed electric supplier, Engie Resources, LLC. An agreement with NwOESC for Mentor Services for 2023-2024.
An overnight stay for FFA Officer Training at Bear Run Cottages in Logan, Ohio. Meal prices for FY24, the Senior Graduating Class of 2023, book and lab fees for 7-12th grades for the 2023-2024 school year, personnel changes, and NEOLA policy updates were also approved.
A list of donations made to the school, supplementals for the 2023-2024 school year, and changing the name of the "Drama Club" to the "Play Fund" was included as well.
With no further business to discuss, the meeting was adjourned at 6:25 p.m.
Jacob can be reached at jacob@thevillagereporter.com
---