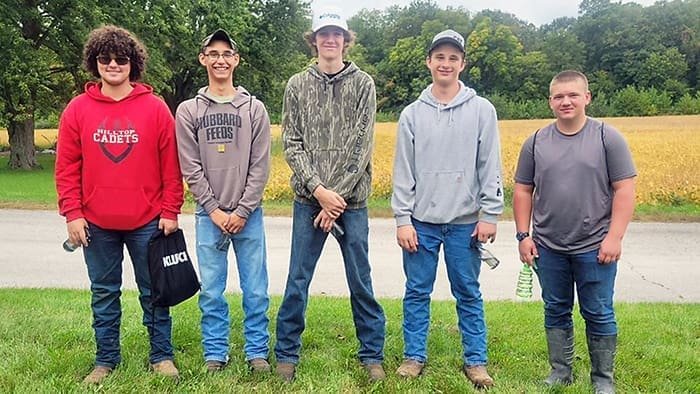 ---
By: Shealyn Brown
MILLCREEK-WEST UNITY FFA REPORTER
Our chapter had a busy month. To start, September 9th kicked off the Williams County Fair. In opening ceremonies, fair royalty was decided for Ingrid Hoffman and Conner Sanders. Our chapter's President, Ingrid Hoffman, got crowned Queen Runner-Up.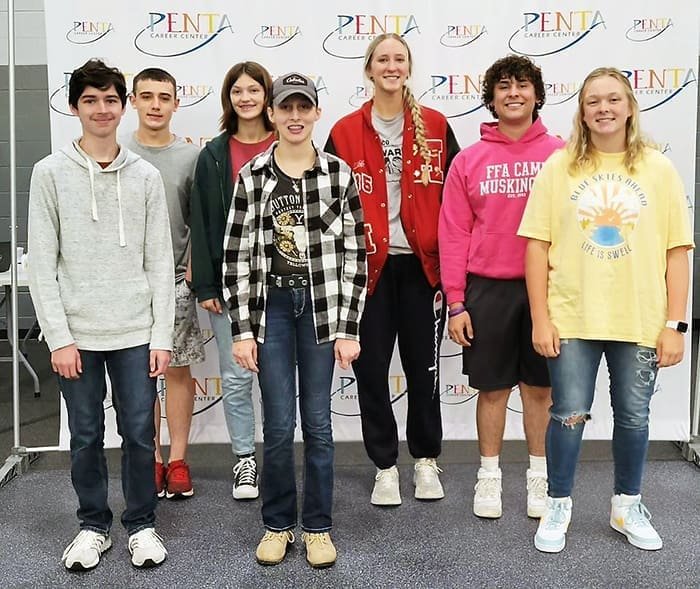 ---
We also had shop and crop projects judged in the new FFA building. Several of our members received top awards; Ingrid Hoffman was named Best of Show in Agriscience Research, Floral, and Soybeans. Lindee Lammon was Best of Show in SAE Posters. Jordan Schaffner received Best of Show in Field Corn. This same day, Myah Higgins got named the Reserve Grand Champion Market Wether in the Goat Show.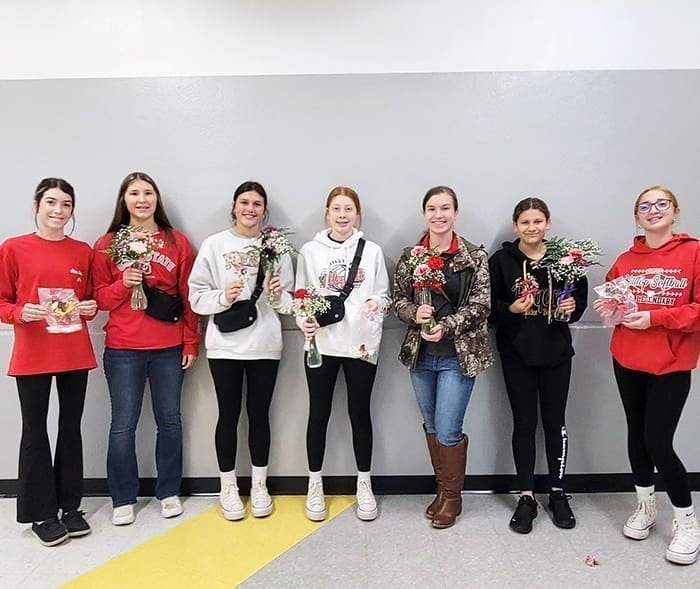 ---
On September 10th, our chapter worked at the Williams County Dairy Association Stand where they served milkshakes.
Five of our FFA members, Ayden Bennet, Rachel Dickinson, Lindee Lammon, Jordan Schaffner, and Grace Serrano, also showed their swine projects.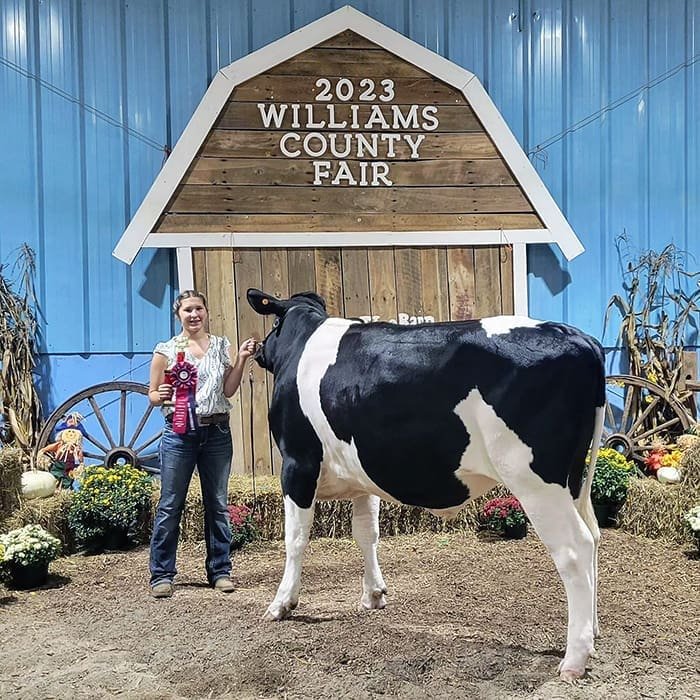 ---
Rachel was the 3rd Overall Intermediate Swine Showman, and Lindee Lammon exhibited the Reserve Champion Pair of Market Swine.
On Monday, September 11th, 12 of our members helped at the Williams County Beef Stand. We had five members, Scott Bowers, Carson Crossgrove, Sophia Crossgrove, Lindee Lammon, and Lakota Siegel, participate in the Beef Show.
---
Two of our members received top accolades! Carson Crossgrove exhibited the Grand Champion Dairy Steer and Sophia Crossgrove exhibited the Reserve Champion Dairy Steer.
September 12th, four of our members, Libbie Baker, Ashtyn Sanders, Conner Sanders, and Addi Smith, competed in the Rabbit Show. Libbie Baker exhibited the Reserve Champion Market Rabbit.
On September 14th, Ms. Frey, Ingrid Hoffman, and Shealyn Brown landed in Hartford, Connecticut for Ingrid to compete in the Agriscience Fair at The Eastern States Exposition (the Big E).
---
Ingrid's paper had been chosen in June as one of the top 8 research papers in Ohio, after the results of the State Agriscience Fair. This granted her the chance to present her research at the Big E. She presented her research on September 15th; she received 6th place at this fair.
After her interviews, we explored the fair. Here we got to practice some dairy cattle evaluations and tried out some new treats.
We saw all different aspects of agriculture from the New England states, and we especially enjoyed visiting the Hall of States.
---
On our last day in Massachusetts, September 16th, we toured the Yankee Candle Village, where we dipped and made our own candles.
The Ag Soils team of Drew Bailey, Levi Cox, Carson Crossgrove, Lakota Siegel, and Johnathon Stephens attended the D1 Soils CDE on September 26th. They judged 3 soil pits, completed a general knowledge test, and a soil survey. They placed 10th out of 22 teams with Levi placing 11th individually.
On September 27th, we traveled to Penta County Career Center to compete in District 1 Animal Management and Floriculture.
The Animal Management team of Maggie Altman, Libbie Baker, Aaden Judy, Bryce Peters, Conner Sanders, Olivia Rossman, and Gracelynn Weisz, identified small animals, feed, supplies, and diseases.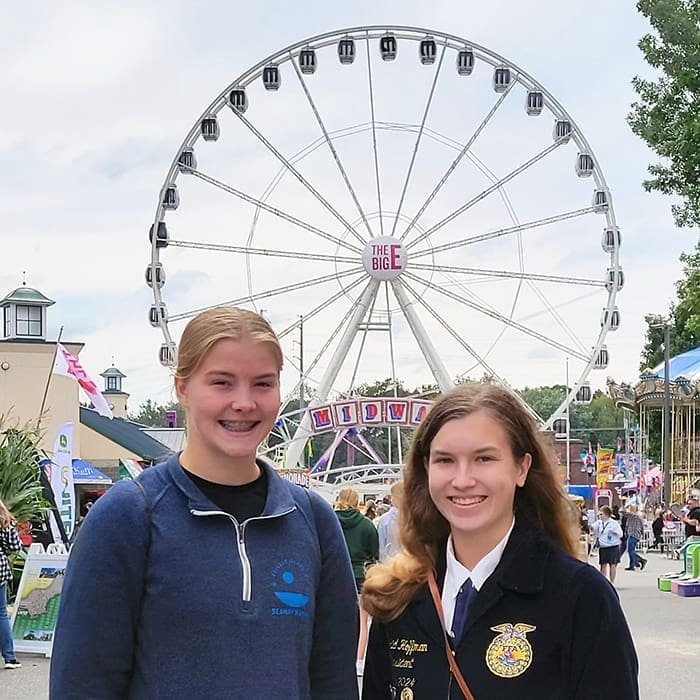 ---
They also completed a general knowledge test and two practicums. The team placed 6th with Olivia placing 22nd individually.
The Floriculture team of Kennadi Bailey, Sophia Crossgrove, Myah Higgins, Ingrid Hoffman, Aaliyah McCauley, Ashtyn Sanders, and Addi Smith, identified flowers and floral tools, placed classes, completed a bud vase practicum, a corsage practicum, and a fertilizer calculation practicum. The team placed 5th with Ingrid Hoffman placing 9th individually.
On September 30th, Maggie Altman and Sam Cox competed in the State Forestry CDE at Hocking College. They completed Tree and Equipment Identification, Timber Cruising, Chainsaw Parts Identification and Troubleshooting, Timber Stand Improvement, Forestry Disorders, and a General Knowledge test.
Of the 250 participants, Sam placed 4th and Maggie placed in the top half for her first year in this contest.
---