---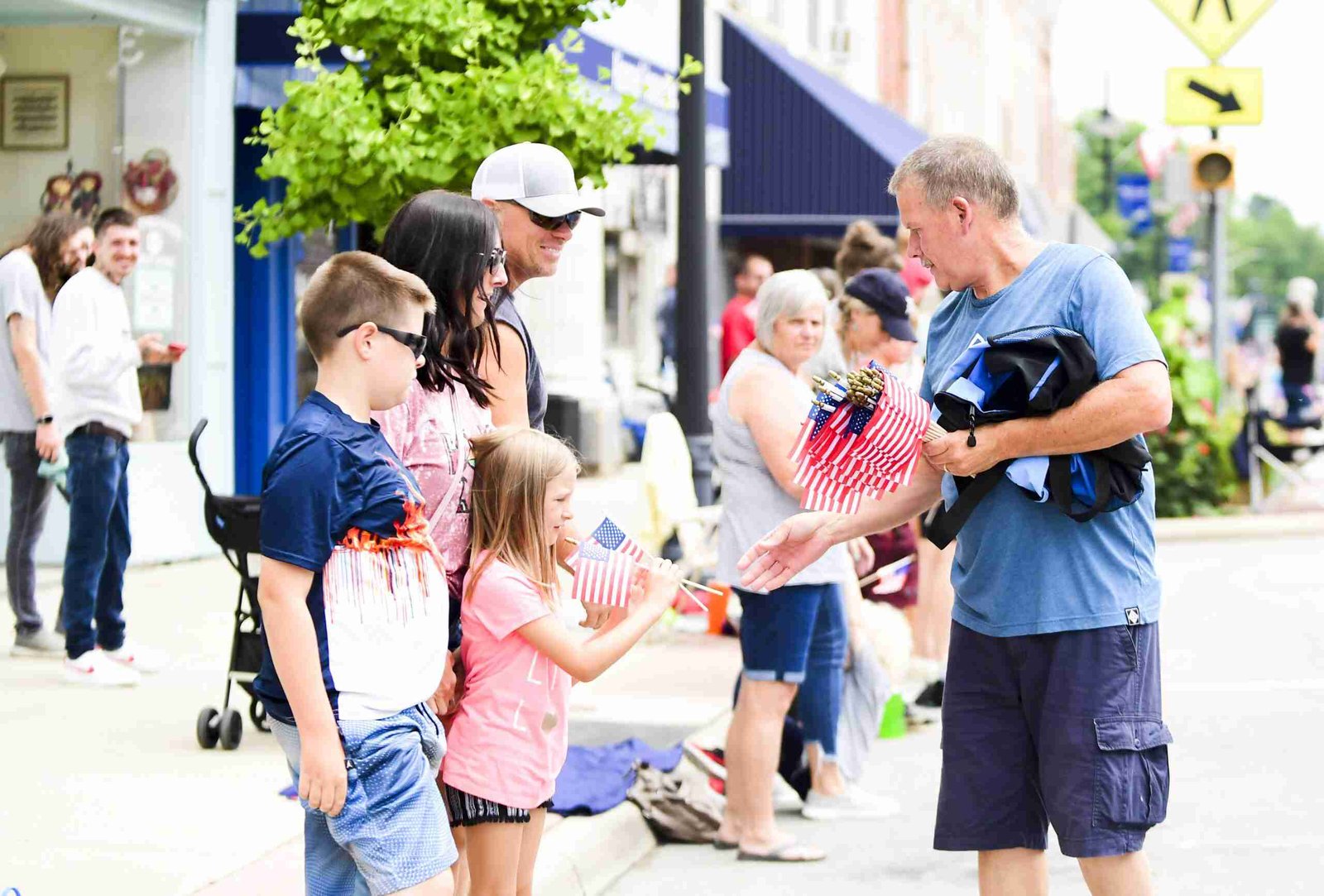 USA … Announcers took a moment to say thank you to the veterans carrying flags through the parade for their service and American flags were handed out to all to wave them on. (PHOTOS BY LINDSAY PHILLIPS, STAFF)
---
By: Lindsay Phillips
Montpelier's Annual Bean Day celebration began Friday, July 15th at 9:00 a.m. for St. Paul's UM Church basement sale, and continued through the evening Saturday, July 16.
The rain did not stop those from visiting the tent in front of St. John's Lutheran Church for a sausage sandwich and a root beer floats.
Live music provided by John & Jenn at Founders started at 4:00 p.m. while those in attendance enjoyed kids' crafts, inflatables and face painting.
Friday night ended with Bean tasting and judging, a beer garden, a car show and free live music provided by the Holbrook Brothers which ended up being moved to Drop Tine due to the rain.
Saturday's activities started off with the Montpelier Fire Fighter 5k at the school. Registration began at 7:00 a.m. with the race starting at 8:00 a.m.
At the Municipal Park, a Sand Volleyball tournament started at 8:00 with a twenty dollar per team fee.
The first round went off at 8:30, each player had to be sixteen or older and the winning team was awarded prize money. Also at Montpelier Municipal Park was a three-on-three basketball tournament with a fifteen-dollar fee, that began at 11:00 and continued after the parade.
Montpelier Rotary served breakfast at the fire station for a free will donation that started at 7:00 a.m. Many people attended the breakfast and just before closing time at 11:00 a.m. they ran out of food.
Throughout the day many festivities were enjoyed by all including a free show from Montpelier Trackside Modelers with their model trains.
The Trackside Modelers is a club located downtown Montpelier for those who take an interest in model trains. Founded in 1994, the club has 2,200 square feet of a digital two-story track that displays the rich history of the Montpelier railroad.
At Founders Park there were many activities including face painting, a blow-up soccer ball target and multiple bounce houses. A scavenger hunt for downtown buildings off Main Street was available and enjoyed by families.
A portion of West Madison Street was closed off for motorized animal cars. All events were free until noon.
Parade participants began showing up to the William's County Fair Grounds at noon. Starting at 1:00 p.m. the Bean Day's Parade began with a theme of "Let the Good Times Roll," led by parade judges, and police cruisers from surrounding police departments.
The parade consisted of jazzed up floats, multiple fire engines from local departments, tractors, four-wheelers and much more. Young ones enjoyed the candy being thrown off the floats
After the Bean Days Parade, Montpelier Municipal Pool hosted an Under the Sea Party. Swimming was free as well as the splash pad, and kids got the opportunity to meet with two mermaids and two pirates.
A Under the Sea craft under the pool pavilion with the Montpelier Public Library was free and enjoyed by many. At dark and under the pool pavilion, a movie night showing The Little Mermaid was free and a great way to end the evening.
Lindsay can be reached at publisher@thevillagereporter.com
---
BAND … Montpelier Locomotives Marching Band stopped during the parade to perform "Sail Away With Me" in front of the judges.
CHEER … Class Act All-Stars competitive cheerleading from Montpelier performed a short and sweet cheer routine creating a tower.
---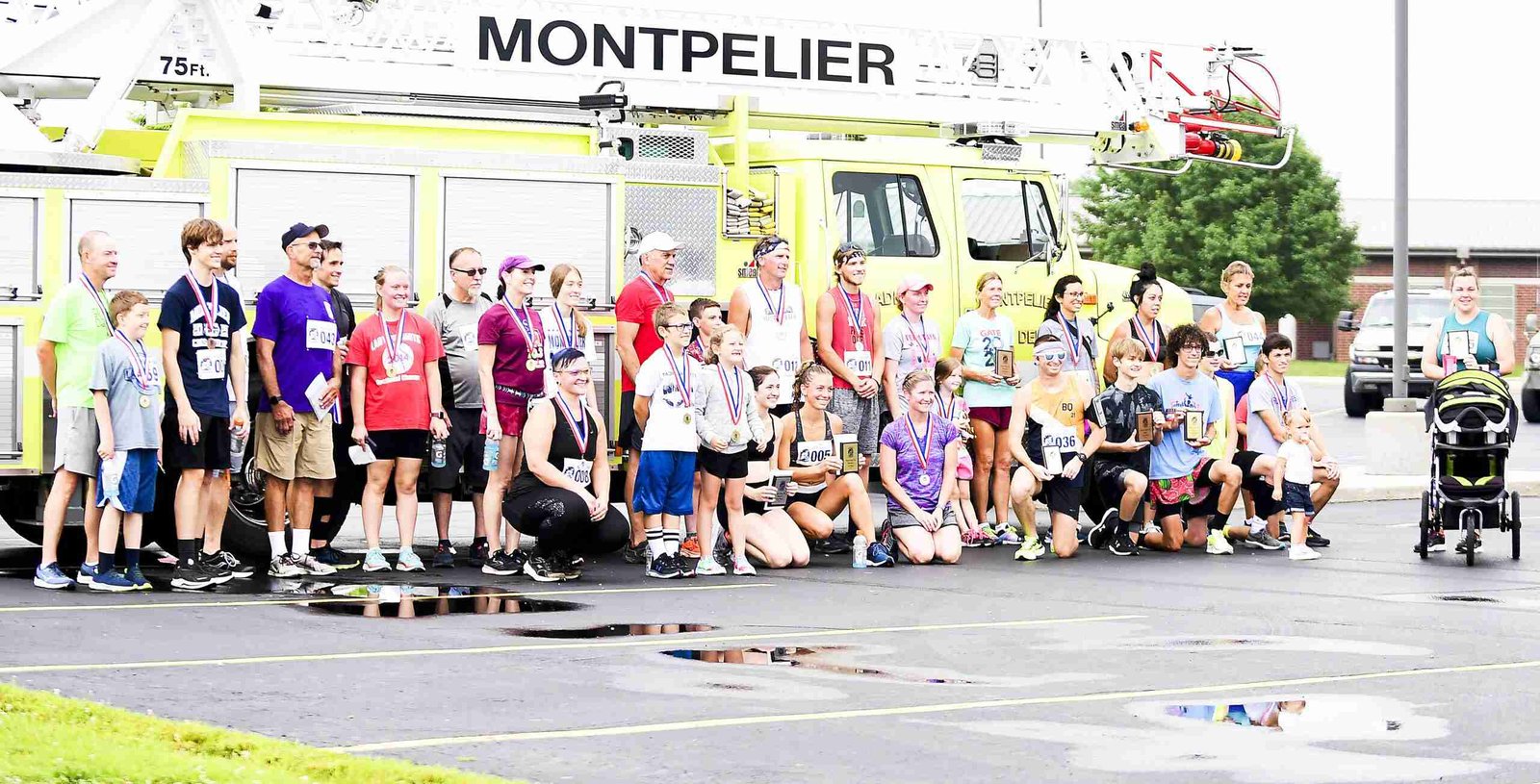 WINNERS … Pictured in front of the Montpelier Fire Department Ladder Truck are the winners from the Fire Fighters 5k at Montpelier Schools.
---